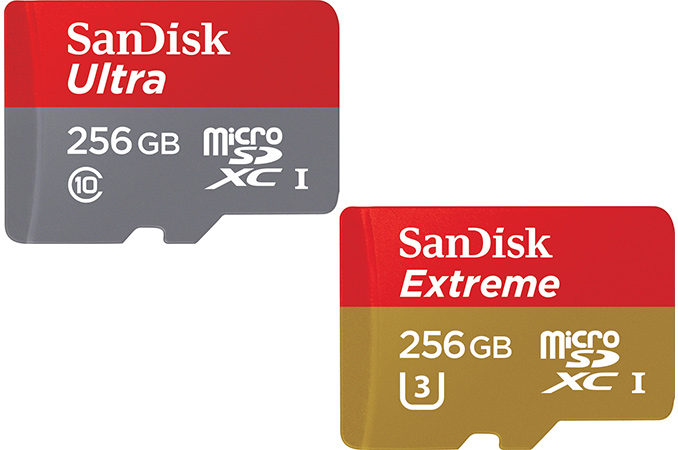 Coinciding with the Mobile World Congress at Shanghai, SanDisk owner Western Digital is introducing two new microSD memory cards that can store up to 256 GB of data. The new SanDisk-branded cards are designed for smartphones, tablets and content-capture devices. The capacities are akin to those of mainstream SSDs, albeit at a higher price.
The new 256 GB memory cards from Western Digital are the SanDisk Extreme microSDXC as well as the SanDisk Ultra microSDXC Premium Edition. Both cards use the UHS-I interface which supports transfer rates of up to 104 MB/s. Compatibility with existing microSDXC and microSDHC devices is retained, but, obviously at lower speeds.
The SanDisk Extreme microSDXC supports read/write speeds of up to 100/90 MB/s, while the SanDisk Ultra microSDXC Premium Edition is slightly slower and features transfer speeds up to 95 MB/s. The Extreme card also has higher minimum sequential write speed - 30 MB/s vs. 10 MB/s, which is important for recording high-bitrate 4K videos.
SanDisk 256 GB microSDXC Cards at Glance
SanDisk Extreme microSDXC
SanDisk Ultra microSDXC Premium Edition
Read Speed
up to 100 MB/s
up to 95 MB/s (?)
Write Speed
up to 90 MB/s
up to 95 MB/s
Minimum Sequential Write Speed
30 MB/s
10 MB/s
Interface
UHS-I
UHS-I
Availability
Q4 2016
August 2016
Price
$199.99
$149.99
Like other high-end Secure Digital cards, the new 256 GB microSDXC products from Western Digital are waterproof, temperature-proof, shock proof, and X-ray proof, which is useful for those who travel a lot and/or have to use memory cards in harsh conditions.
Western Digital's SanDisk 256 GB microSDXC cards will not be alone on the market and will compete against Samsung's EVO Plus 256 GB microSDXC card introduced in May. The latter also features a UHS-I interface and transfer speeds up to 95 MB/s. To build such card, Samsung had to use its 3D V-NAND memory. Meanwhile, SanDisk has not yet disclosed what type of NAND flash it uses to build its high-capacity memory cards.
The 256GB SanDisk Ultra microSDXC UHS-I Premium Edition card will be available worldwide in August 2016 for $149.99. The faster 256GB SanDisk Extreme microSDXC UHS-I card will be available in Q4 2016 for $199.99.
Source: SanDisk