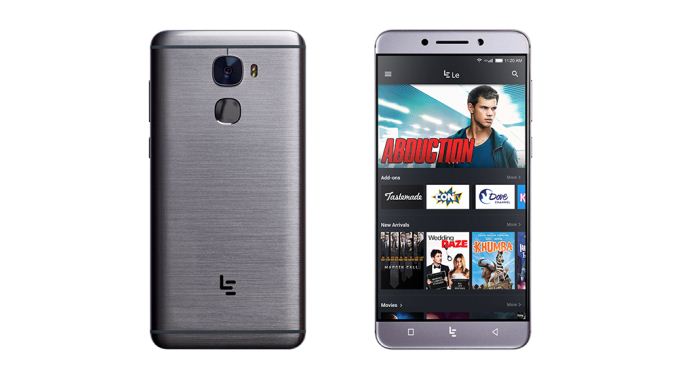 LeEco announced its official entry into the U.S. market at its "Ignite the Eco World" event in San Francisco, an important step in the company's globalization plan. Its initial products include two large-screen smartphones, a range of 4K TVs, and new content partnerships.
LeEco may be the biggest tech company you've never heard of. The Chinese company began life as LeTV in 2004 as a streaming content provider and is often referred to as the "Netflix of China." It then began creating its own movie and TV content with its Le Vision Pictures studio and then expanded into hardware, selling TVs that plugged into its streaming service. More recently, it has expanded its hardware lineup to include smartphones and even a connected bicycle and electric car. It even has its own Uber-like taxi service in China, Yidao.
LeEco now looks to extend its reach further west. Earlier this year it purchased U.S.-based TV maker Vizio, the second largest brand in the U.S., for $2 billion, giving it a familiar name and a foothold in a market wary of Chinese brands. LeEco also purchased Dichotomy Creative Group in September, rebranding it Le Vision Entertainment. The new division is headquartered in Los Angeles and will be responsible for creating original English-language content spanning movies, TV, VR, and the Web. LeEco is even setting up its global headquarters in Silicon Valley (its campus in Beijing will remain its headquarters for China), having purchased a 48-acre plot of land in San Jose, California from Yahoo that will eventually employ some 12,000 people.
LeEco's US Ecophone Lineup
Le Pro3
Le S3
SoC
Qualcomm Snapdragon 821
(MSM8996 Pro)

2x Kryo @ 2.34GHz
2x Kryo @ 2.19GHz
Adreno 530 @ 653MHz
Qualcomm Snapdragon 652
(MSM8976)

4x Cortex-A72 @ 1.80GHz
4x Cortex-A53 @ 1.44GHz
Adreno 510
Display
5.5-inch 1920x1080 IPS LCD
5.5-inch 1920x1080 IPS LCD
Dimensions
151.4 x 73.9 x 7.5 mm
177 grams
151.1 x 74.2 x 7.5 mm
153 grams
RAM
4GB LPDDR4
3GB LPDDR3-1866
NAND
64GB
32GB (eMMC 5.1)
Battery
4070 mAh
non-replaceable
Qualcomm Quick Charge 3.0
3000 mAh
non-replaceable
Qualcomm Quick Charge 3.0
Front Camera
8MP, 1.4µm pixels, f/2.2
8MP, 1.4µm pixels, f/2.2
Rear Camera
16MP, f/2.0, PDAF, dual-tone LED flash
16MP, f/2.0, PDAF, HDR, dual-tone LED flash
Modem
Qualcomm X12 LTE (Integrated)
2G / 3G / 4G LTE (Category 12/13)
Qualcomm X8 LTE (Integrated)
2G / 3G / 4G LTE (Category 7)
SIM Size
NanoSIM
2x NanoSIM (dual standby)
Wireless
802.11a/b/g/n/ac, BT 4.2, NFC, IrLED, GPS/GNSS
802.11a/b/g/n/ac, BT 4.1, IrLED, GPS/GNSS
Connectivity
USB 2.0 Type-C
Launch OS
Android 6.0.1 with EUI 5.8
Launch Price
$399
$249
To kickstart its U.S. strategy, LeEco is offering two smartphones: the Le Pro3 and the Le S3. Both phones have 5.5-inch 1080p displays, but use different internal hardware. The Le Pro3 includes Qualcomm's latest Snapdragon 821 SoC, 4GB of LPDDR4 RAM, and 64GB of internal storage. Given its emphasis on streaming content it's probably not too surprising it does not offer additional storage tiers or microSD card support. Its most interesting feature is a large 4070mAh battery, which should help keep the screen lit for extended movie watching.
The Le S3 comes with a Qualcomm Snapdragon 652 SoC, which combines four ARM Cortex-A72 CPU cores, four Cortex-A53 cores, and an Adreno 510 GPU that supports all of the latest 3D graphics APIs. We saw its smaller sibling, the Snapdragon 650 that comes with two fewer A72 cores, push the performance of Xiaomi's Redmi Note 3 Pro to near flagship levels, so the Le S3 has good performance potential; however, in my brief time with the phone, I noticed some stuttering when navigating the UI and far too many instances where frame rate dropped below 60fps, more so than with the Redmi Note 3 Pro.
The Le S3 also comes with 3GB of LPDDR3 RAM, which should be adequate, but only 32GB of internal storage. For a device that needs to cache lots of music and videos, and still have room for pictures and apps, we definitely would like to see more NAND, especially without microSD card support. The Le S3 also does not get a big battery like the Pro3; its 3000mAh cell is a typical size for 5.1- to 5.2-inch phones rather than a 5.5-inch phablet.
Both phones have a similar camera setup, with an 8MP front-facing camera and a 16MP primary camera that has an f/2.0 lens and PDAF for faster focusing but does not include optical image stabilization (OIS). Video recording options are pretty basic, supporting only 2160p30 (4K), 1080p30, and 720p30 modes, and with no electronic image stabilization (EIS) option, videos can look pretty shaky.
LeEco eliminated the 3.5mm headphone jack from its phones before Apple axed the analog port in its iPhone 7, opting to pass audio over the USB Type-C port instead. Both the Le Pro3 and Le S3 support LeEco's Continual Digital Lossless Audio (CDLA) technology that passes digital audio over USB. CDLA compatible earphones, included with both phones, have their own DAC and audio processor that's supposed to reduce noise and improve channel separation relative to traditional analog audio from a 3.5mm jack. A Type-C to 3.5mm adapter is also included so you can use traditional headphones too.
Both phones also support Dolby Atmos surround-sound technology thanks to the Snapdragon SoCs, which produces more realistic positional audio and even accounts for an object's vertical position in the soundfield as well.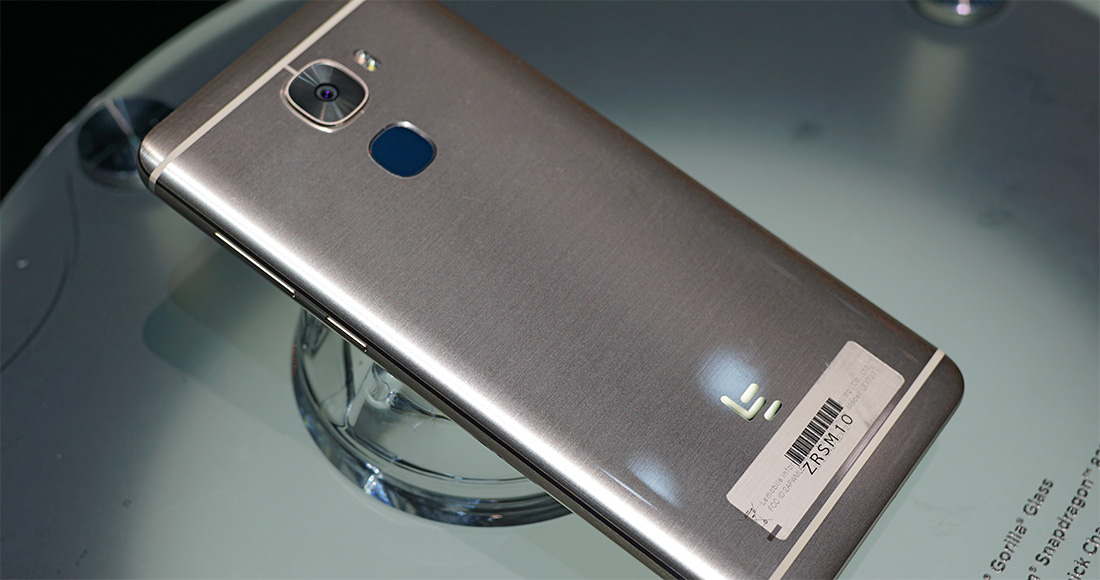 The Le Pro3 and Le S3 both use aluminum unibody construction and share a similar design language. On the back of the phones we find horizontal plastic antenna lines at the top and bottom, with a large, not-quite-circular camera surround and fingerprint scanner. LeEco was the first company to use Qualcomm's ultrasonic Sense ID fingerprint sensor, but these phones are using the more common capacitive variety. The most obvious visual difference between the phones is the finish applied to the aluminum: The Le Pro3 has a brushed finish while the Le S3 has a sandblasted finish.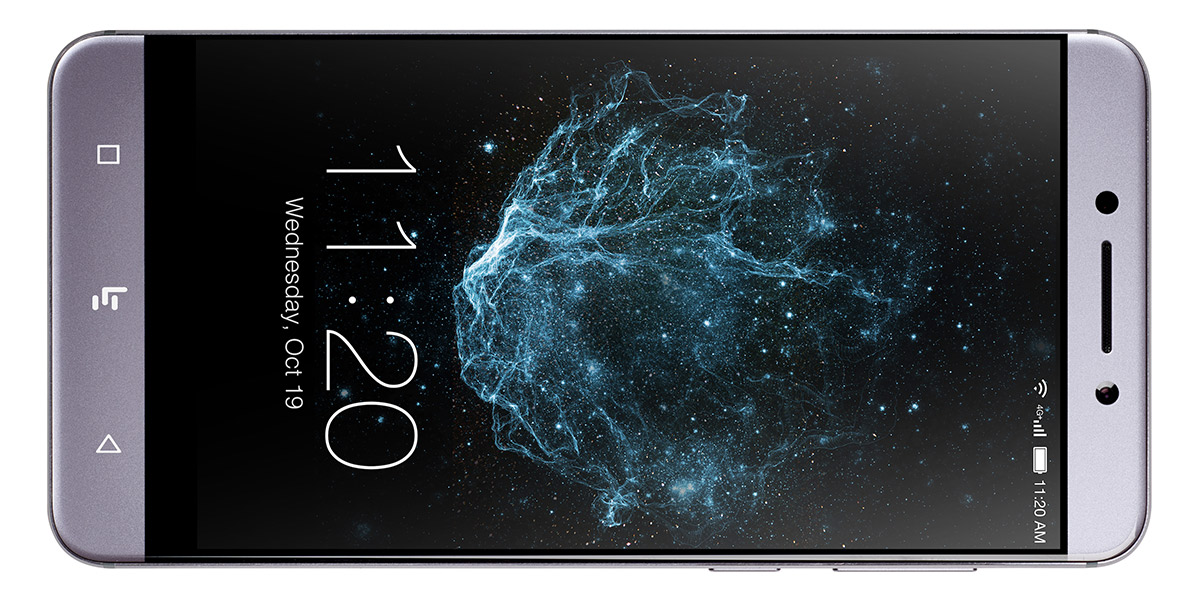 The phones also look quite similar from the front, with relatively small upper and lower bezels and a symmetric layout. Hiding behind the lower bezel is a set of capacitive, backlit buttons. The LeEco logo replaces the standard home glyph on the Pro 3 and is flanked by the recents and back buttons of the left and right, respectively. The only other difference is that the Pro 3 uses 2.5D curved glass, while the S3's edge-to-edge Corning Gorilla Glass 3 is flat all the way to the edge, giving it a sharper feeling in the hand.
One thing that's immediately obvious as soon as you turn on either phone is the ridiculously large black bezel on all sides of the screen. The black area is significantly larger in person than LeEco's press renderings show. I have not seen a border this large on a phone in some time, at least not on a phone that costs more than $200. For me, it's large enough to be distracting and, in my opinion, it gives the phones a low-cost look.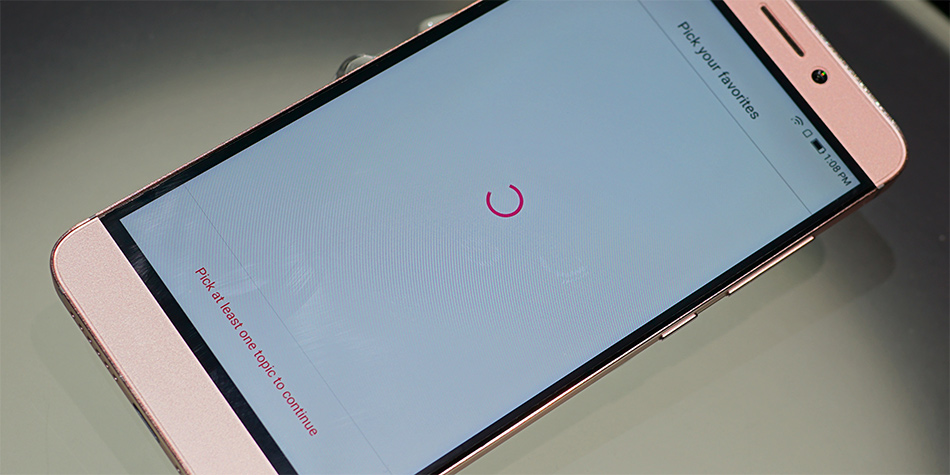 Both phones include an infrared LED on the top edge for remote control duties, which fits in with LeEco's philosophy of enabling its hardware to work together. Centered on the bottom edge is a USB 2.0 Type-C port flanked by two perforated grilles. On the Pro 3 they're covering a pair of speakers, although, having both so close together and firing downward will diminish the stereo effect.
Switching our focus to software, we find that both phones are still running Android 6 Marshmallow with LeEco's Ecosystem User Interface (EUI) 5.8 running on top. It's disappointing that the phones will not ship with Android 7, but the demo models I handled were at least running recent security patches (either September or October). What's unique about EUI are the included apps and built in support for accessing LeEco's streaming content. Swiping to the left of the default home screen opens LeView, a list of suggestions for video content that learns from your viewing habits, somewhat analogous to HTC's BlinkFeed or Flipboard for news. Tapping the Live icon opens a 3x3 grid of live video previews of content available for streaming. The Le app gives more comprehensive access to LeEco's catalog of videos, TV episodes, and music.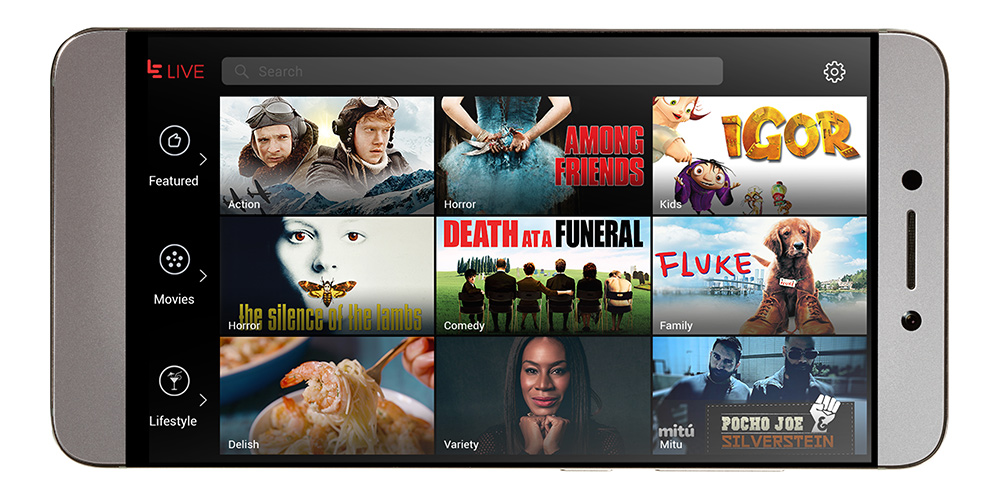 It should be obvious by now that LeEco's business strategy is more Amazon than Apple; it makes money from selling content and uses hardware as a delivery system. Because its revenue is not hardware-focused like with many of its competitors, it can sell its products at competitive prices, even at cost if necessary. LeEco's ultimate goal is to create an internet-connected ecosystem encompassing hardware, software, and content that provides seamless access to all forms of digital entertainment. That's no easy task, especially in the U.S. where many entrenched companies, including cable providers, movie studios, TV broadcasters, and internet companies provide similar services, albeit not always in a holistic way.
LeEco thinks it has the answer to this problem with its EcoPlatform that's open to third-party content providers and hardware partners, essentially giving them access to LeEco's content delivery system with its apps and LeCloud network that encompasses more than 750 CDN nodes. LeEco announced a number of launch partners at its event, including Lionsgate, Showtime, Esquire, the History Channel, and Metro-Goldwyn-Mayer to name just a few, and it mentioned that another major content partner will be announced on November 2.
To get the most from an ecosystem, whether it's Apple's or Google's or Amazon's, you need to fully buy in. This is especially true with LeEco, where signing up for Le EcoPass grants you access to 5TB of cloud storage, unlimited monthly movie viewing, extended warranties on LeEco hardware, and access to two EcoPass days (think Black Friday sales) at LeMall.com, its online storefront. It also offers the LeRewards program that grants further discounts on products.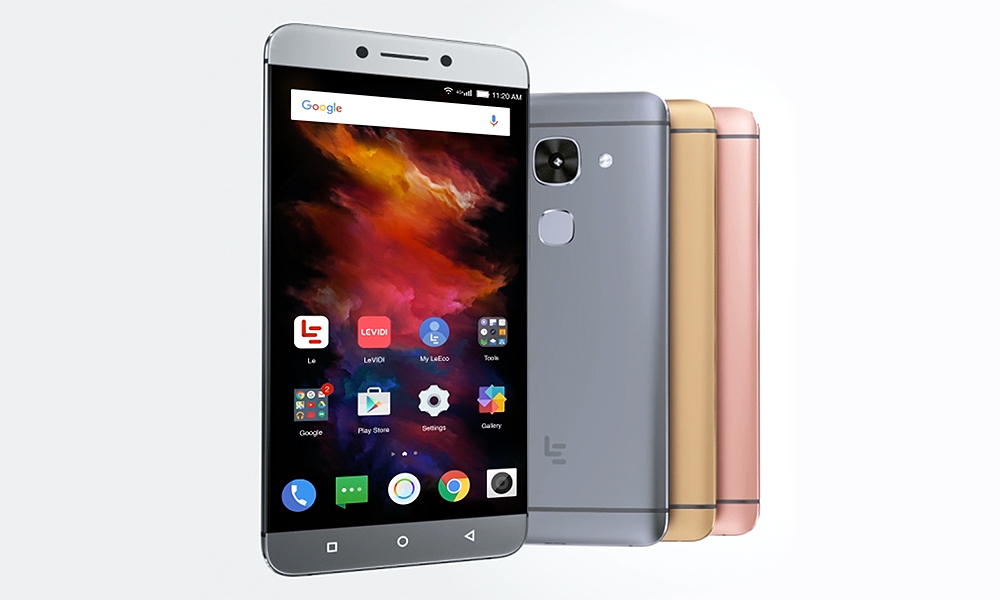 Both the Le Pro3 and Le S3, along with LeEco's other products, will be available for purchase on November 2 at LeMall.com. The Le Pro3 will cost $399 and the Le S3 will cost $249. There will be a $100 LeRewards discount available for both phones, which will drop the prices to $299 and $149, respectively. The Le Pro3 will be available in two colors—gray and gold—while the Le S3 will be available in three colors—gray, gold, and rose gold. Both phones will be unlocked and are compatible with GSM networks from AT&T, T-Mobile, MetroPCS, and Cricket Wireless.