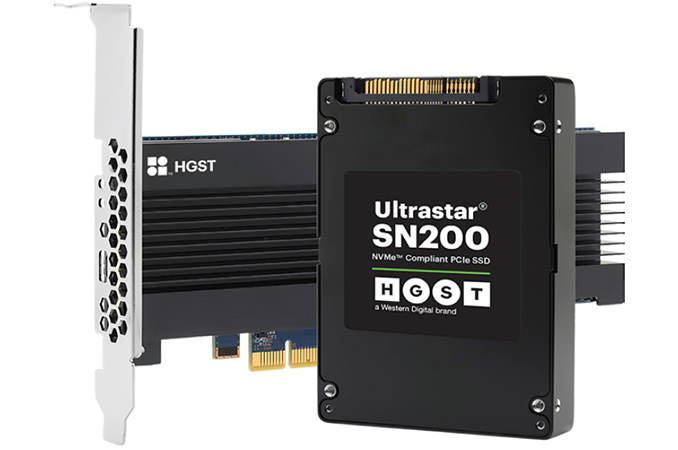 Western Digital this week announced two high-end HGST Ultrastar families of SSDs designed for high-frequency workloads in cloud and hyperscale environments that require instant response time. The new drives will act like application accelerators and will thus offer very high sequential and random performance as well as very low latency.
The manufacturer does not reveal a lot of information about the HGST Ultrastar SN200 family, but we do know that it is based on a proprietary controller that is compliant with the NVMe 1.2 specification, uses PCIe 3.0 interface and supports "advanced ECC" (which is probably a marketing way of saying LDPC). The HGST Ultrastar SN200 family of solid-state accelerators consists of two lineups: the SN260 and the SN200. The Ultrastar SN260 is designed for maximum performance, which is why it uses PCIe 3.0 x8 interface and is set to be available in half-height/half-length add-in card form-factor. By contrast, the Ultrastar SN200 uses a more traditional 2.5"/15 mm form-factor along with dual-port U.2 connector featuring PCIe 3.0 x4 interface (dual-port is needed for high-availability systems).
To appeal to different types of customers and workloads, the SN200 and the SN260 SSDs will come in endurance-optimized and capacity-optimized models with the former offering up to three drive writes per day (DWPD) for five years and the latter offering up to 7.68 TB capacity (see the table for details) as well 1 DWPD for five years. Power consumption and other features of different types of drives are similar: they do not consume more than 25 W under load and they support end-to-end data path protection, secure erase, power-loss protection and so on.
When it comes to performance, the HGST Ultrastar SN260 with 800 GB – 7.68 TB capacity is the absolute champion in Western Digital's product stack and is also among the fastest high-capacity NVMe PCIe SSDs today (it only pales in comparison with Seagate's Nytro XP7200, which is a PCIe 3.0 x16 SSD with read speeds speced at 10 GB/s). The SN260 is rated at up to 6.4 GB/s for sequential reads and up to 2.2 GB/s for sequential writes (both capacity and endurance models). The new SSDs can perform up to 1.2 million random read IOPS as well as up to 200K/75K random write IOPS (endurance/capacity models).
The HGST Ultrastar SN200 is considerably slower than the SN260 (as expected) with sequential and random reads, but write performance of the two drive families is similar. The SN200 SSD supports sequential read speeds of up to 3300 MB/s as well as sequential write speeds of up to 2100 MB/s.
HGST Ultrastar SN200 Series Specifications
SN260
SN200
Capacities
800 GB
1,600 GB
3,200 GB
6,400 GB
960 GB
1,920 GB
3,840 GB
7,680 GB
800 GB
1,600 GB
3,200 GB
6,400 GB
960 GB
1,920 GB
3,840 GB
7,680 GB
Form Factors
HHHL add-in card
2.5"/15mm U.2
Interface
PCIe 3.0 x8 (NVMe 1.2)
PCIe 3.0 x4 (NVMe 1.2)
or 2x2 U.2
Controller
Proprietary
NAND
128 Gb MLC made using 15 nm process technology (?)
Sequential Read
6100 MB/s
3300 MB/s
Sequential Write
2200 MB/s
2100 MB/s
Random Read (4 KB) IOPS
1,200,000
830,000
Random Write (4 KB) IOPS
200,000
75,000
200,000
75,000
Mixed Random Read/Write
(max IOPS 70%R/30%W, 4KB)
560,000
270,000
500,000
240,000
Write Latency 512 B
20 ms
Power
Idle
9 W
Operating
25 W
Endurance
3 DWPD
1 DWPD
3 DWPD
1 DWPD
Encryption
AES-256
Power Loss Protection
Yes
MTBF
2 million hours
Warranty
Five years
Western Digital is sampling its HGST Ultrastar SN200 NVMe family of SSDs to select customers and plans to start their commercial shipments in the first quarter of 2017. The drives will be covered with a five-year warranty and will come with two million-hour MTBF rating.
Related Reading:
Source: Western Digital