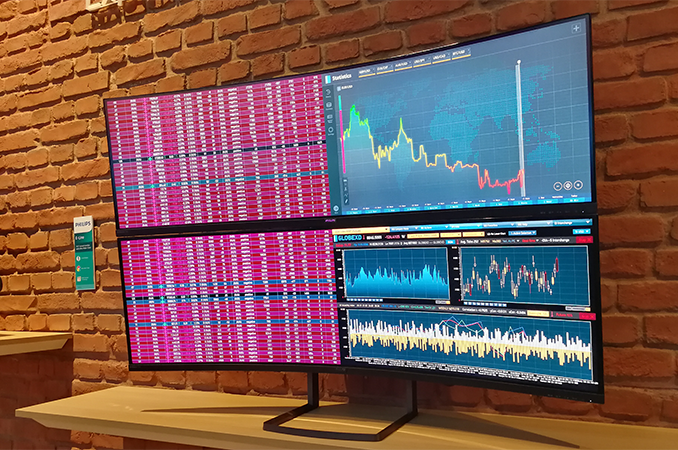 Wrapping up our IFA coverage, at least week's trade show TPV demonstrated a preproduction version of its upcoming ultra-wide (32:9 aspect ratio) 49" Philips display. The 492P8 monitor will have something in common with Samsung's C49HG90 introduced earlier this year, but it will lack quantum dots and a number of other features. A good news is that it will cost less, at a little over $1000.
Over the past few quarters companies like Philips, LG, Samsung, JapanNext and some other have introduced computer displays with diagonals significantly exceeding 30" – 34", setting a new trend for ultra large monitors. Separately, ASUS, Dell, Samsung, LG and other have launched LCDs with a 21:9 aspect ratio, setting another trend, this time for ultra-wide monitors. Different suppliers of monitors target their ultra-large LCDs at different audiences, but it is clear that these wide and/or huge displays are not niche products, but represent new market trends. Being one of the largest maker of LCD panels in the world, Samsung recognized both trends early enough and this year introduced the world's first mass-market monitor with a 49" diagonal and an ultra-wide 32:9 aspect ratio.
Samsung gave the backlighting on its C49HG90 a quantum dot treatment to expand its color space to 95% of the DCI-P3, while also equipping it with AMD's FreeSync 2 technology and increasing its maximum refresh rate to 144 Hz in order to address the high end of the gaming market. At present, the display is indeed one of the most advanced and expensive ($1499) gaming monitors in the industry. Meanwhile, gamers are not the only category of users, who can benefit from a massive ultra-wide screen. There are users of multi-monitor configurations in finance, engineering, design, audio/video production and other industries, who would gladly swap two displays for one ultra-wide one or four LCDs for two. Apparently, Philips plans to address these industries with its upcoming 492P8 monitor. The company confirms that Samsung is the supplier of its 49" 32:9 panel, but given the fact that this is a rather niche product (there are not a lot of people who have enough space for a 49" monitor on their desks at home or in office), it is highly likely that Samsung will remain the only producer of such panels for a while.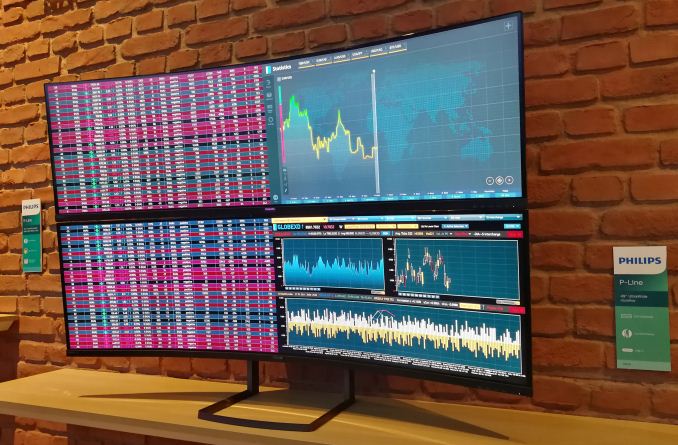 As the name implies, the Philips 492P8 belongs to the brand's P-line offerings aimed at professionals. Although Philips has demonstrated the 492P8 in action at IFA, the company is not releasing the monitor's complete specifications just yet, as some things may change between the current prototype and the final product. Nonetheless, the basic details about the display panel itself are already known: a 3840x1080 resolution, up to 600 nits brightness, up to 5000:1 contrast ratio, 178º/178º vertical/horizontal viewing angles, 1800R curvature and so on. Unlike Samsung, Philips will not be using QLED backlighting to improve color gamut, citing the different target audiences. For the same reason, peak brightness could be limited and since we do not have the final specs of the 492P8 at hand, we'd rather not speculate about the specifications of the monitor itself.
Connectivity capabilities of the Philips 492P8 look rather good: the monitor has a DisplayPort, an HDMI port, a USB Type-C input, a D-Sub connector, as well as a built-in dual-port USB 3.0 and an Ethernet hub (the USB-C acts like an upstream port for both). The presence of the D-Sub looks a bit odd, but it could be used to connect an additional computer and display its output in picture-by-picture (PBP) or picture-in-picture (PiP) mode. In addition, there are two 3.5-mm audio connectors for headphones and a microphone.
Philips Ultra-Wide 49" Display
492P8
Panel
49" VA
Native Resolution
3840 × 1080
Maximum Refresh Rate
unknown
Response Time
unknown
Brightness
up to 600 cd/m² (?)
Contrast
up to 5000:1 (?)
Backlighting
LED
Viewing Angles
178°/178° horizontal/vertical
Curvature
1800R
Aspect Ratio
32:9 (3.56:1)
Color Gamut
sRGB
Dynamic Refresh Rate Tech
unknown
Pixel Pitch
0.312 mm²
Pixel Density
81.41 PPI
Inputs
1 × DP
1 × D-Sub
2 × HDMI
Audio
3.5 mm input and output
USB Hub
2 × USB 3.0 Type-A connectors
Ethernet
1 GbE port
MSRP
€899/$1077 (preliminary)
Philips plans to bring the 492P8 to the market sometimes in Q2 next year and intends to sell the unit for about €899 ($1077). Keeping in mind that we are at least a half of a year away from the launch of the 492P8, some specs and/or MSRP may change due to various circumstances.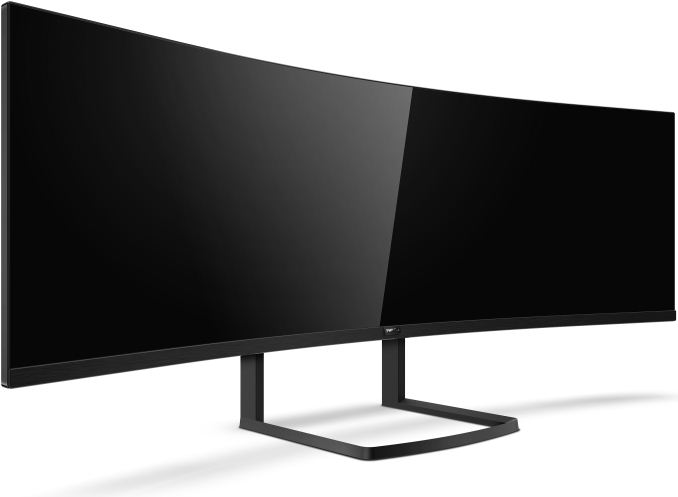 Related Reading:
Source: Philips