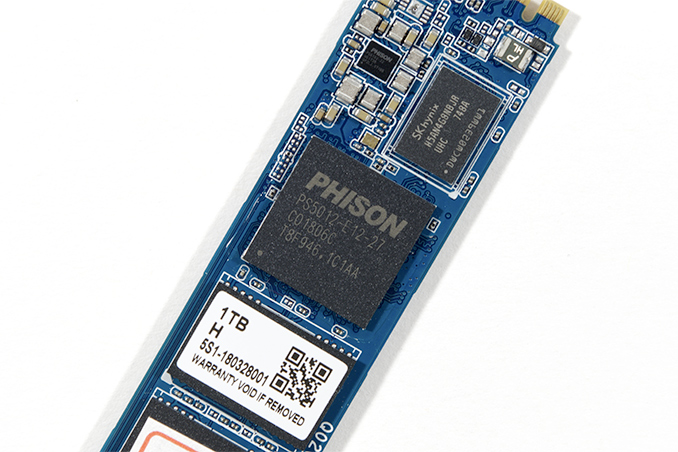 Phison and its partners have been absent from the high-end SSD market in the past couple of years. This is partly because its memory supplier, Toshiba, was somewhat late with its SSD-grade 3D NAND memory, but also partly due to its own product planning. Looking to put an end to this absence, this week the company has announced that it has initiated mass production and shipments of its latest PS5012-E12 controller, which is expected to bring Phison and its allies back to the high-end market segment.
The Phison PS5012-E12 controller features eight NAND channels with 32 CE targets, a DDR4/DDR3L interface for DRAM caching, and a PCIe 3.0 x4 interface. As for features, the chip supports the NVMe 1.3 protocol, LDPC-based error correction, a variety of encryption methods (AES-256, TCG Opal, TCG Pyrite), and a number of proprietary technologies to improve reliability and durability of SSDs. Notably, the controller is made using a 28 nm manufacturing technology, which is a very advanced fabrication process for SSD processors. This should ensure that it packs enough compute horsepower for proper ECC and signal processing when working with modern 3D TLC and 3D QLC NAND memory.
Phison will offer three versions of the PS5012-E12 controller: the original one for high-end client SSDs, the PS5012-E12C with a reduced number of channels and CE targets for mid-range drives, and the PS5012-E12DC for enterprise drives with some additional performance and feature set enhancements.
Speaking of performance, Phison promises that high-end SSDs based on the PS5012-E12 will offer up to 3450 MB/s sequential read speeds, up to 3150 MB/s sequential write speeds, as well as up to 600K random read/write IOPS.
Phison says that its partners have started development of over 20 projects based on the PS5012-E12, but does not disclose whether this includes the cheaper and datacenter variations of the controller. Keeping in mind that the chip is in volume production and Toshiba's 64-layer 3D TLC NAND is readily available, expect drives based on the PS5012-E12 to hit the market in the coming months.
So far, Patriot and MyDigitalSSD have confirmed plans to use Phison's PS5012-E12 controller, with the latter already taking pre-orders for the BPX Pro. In the meantime, Phison has a long list of partners who currently offer higher-end, mid-range, and entry-level SSDs powered by Phison's controllers, including Corsair, GIGABYTE, Kingston, Lite-On, TEKQ, Team Group, Toshiba, Palit (Galax, KFA2, etc.), PNY, ZOTAC, and so on.
Phison NVMe SSD Controller Comparison
Controller
E12
E12C
E8
E8T
E7
Model Number
PS5012-E12
PS5012-E12C
PS5008-E8
PS5008-E8T
PS5007-E7
Host Interface
PCIe 3.0 x4
PCIe 3.0 x4
PCIe 3.0 x2
PCIe 3.0 x2
PCIe 3.0 x4
Protocol
NVMe 1.3
NVMe 1.2
NVMe 1.1b
NAND Channels
8
4
4
4
8
NAND Chip Enable lines
32
16
32
32
64
Typical NAND
3D TLC, 3D QLC
64L 3D TLC
15nm MLC
Max Capacity
8 TB
2 TB
2 TB
1 TB
2 TB
DRAM Support
DDR4, DDR3L
DDR3(L)
None (HMB)
DDR3(L)
Error Correction
LDPC, StrongECC
StrongECC
BCH
Manufacturing Process
TSMC 28nm
UMC 40nm
TSMC 28nm
Sequential Read
3200 MB/s
1700 MB/s
1600 MB/s
1600 MB/s
2600 MB/s
Sequential Write
3000 MB/s
1700 MB/s
1300 MB/s
1300 MB/s
1300 MB/s
4KB Random Read
600k IOPS
340k IOPS
240k IOPS
120k IOPS
300k IOPS
4KB Random Write
600k IOPS
400k IOPS
220k IOPS
130k IOPS
200k IOPS
Retail SSD Availability
Soon
?
Q4 2017
?
Q1 2016
MyDigitalSSD plans to start shipping the BPX Pro within a few weeks, and they are currently taking pre-orders. They are often one of the first to ship Phison's new controllers and have historically offered some of the best prices with drives like the original BPX and the more recent SBX. Most Phison E12 consumer drives will probably feature specs similar to the BPX Pro, though later drives may move to Toshiba's 96-layer 3D NAND:
MyDigitalSSD BPX Pro Specifications
Capacity
240 GB
480 GB
960 GB
1920 GB
Controller
Phison PS5012-E12
NAND Flash
Toshiba 64-layer BiCS3 3D TLC
Form-Factor, Interface
PCIe 3.1 x4, single-sided M.2 2280
Sequential Read
3.4 GB/s
3.4 GB/s
3.4 GB/s
3.4 GB/s
Sequential Write
1.1 GB/s
2.1 GB/s
3.1 GB/s
3.1 GB/s
Random Read IOPS (QD1)
50 MB/s
55 MB/s
55 MB/s
55 MB/s
Random Write IOPS (QD1)
315 MB/s
325 MB/s
325 MB/s
325 MB/s
Idle Power Consumption
< 900 mW
PCIe L1.2 Idle
< 2 mW
Pseudo-SLC Caching
Yes
DRAM Buffer
Yes
TCG Opal Encryption
Yes
Warranty
5 years
Write Endurance
380 TB
0.9 DWPD
800 TB
0.9 DWPD
1665 TB
0.9 DWPD
3115 TB
0.9 DWPD
Pre-Order Price
$92.77 (39¢/GB)
$138.55 (29¢/GB)
$263.17 (27¢/GB)
$563.63 (29¢/GB)
Related Reading:
Source: Phison