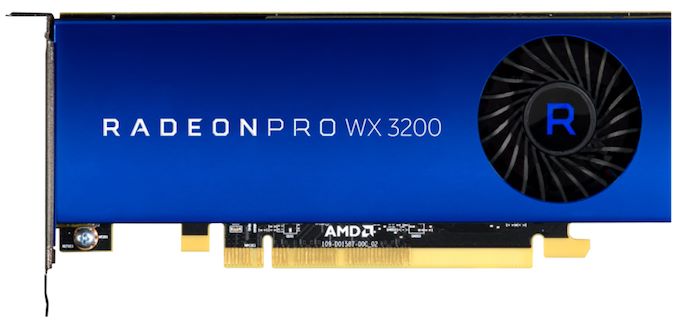 AMD on Tuesday introduced one of the industry's most affordable professional graphics cards with drivers certified by leading vendors of CAD/CAM software. The Radeon Pro WX 3200 comes in a low-profile single-slot form-factor and can address the most compact workstations available today.
The AMD Radeon Pro WX 3200 is based on the company's Polaris architecture GPU featuring 640 stream processors that offers up to 1.66 TFLOPS of single precision compute performance. The card carries 4 GB of GDDR5 memory and has four mini DisplayPort 1.4 outputs to drive four 4K displays, or two 5K monitors, or one 8K LCD.
The Radeon Pro WX 3200 card fully supports 10-bit color required by professional graphics applications. Since the board is designed for mainstream CAD/CAM projects it comes with certificates from such ISVs as Adobe, Autodesk, Dassault, Siemens, and others for Windows 10 and Linux operating systems.
Since the card is extremely small (it is just 6.6 inch/168 mm long), it is compatible with almost any desktop workstation that has a PCIe 3.0 x16 slot and can supply up to 50 W of power to the board.
AMD's Radeon Pro WX 3200 replaces the company's Radeon Pro WX 3100 board introduced two years ago and brings in enhanced performance along with refined software. Just like its predecessor, the new card will retail for $199
Related Reading:
Source: AMD