Mac Pro vs. PowerMac G5
As the world around waited for the unveiling of a brand new chassis that would tempt PC users everywhere, Apple introduced the Mac Pro in none other than the same chassis we've seen for years with the PowerMac G5.  The internals are totally revamped, but the outside looks pretty much unchanged.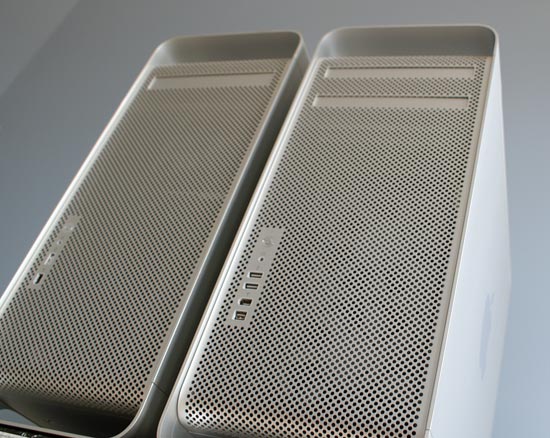 There are now two optical drive bays in the system as you can see by this comparison shot: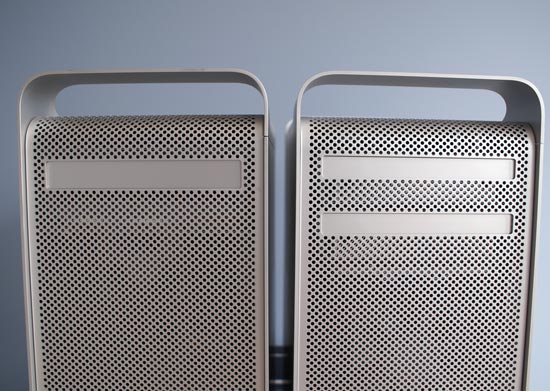 Click to Enlarge
You get twice as many peripheral ports on the front with two USB 2.0, one 400Mbps and one 800Mbps FireWire port:
| | |
| --- | --- |
| PowerMac G5 Front Panel | Mac Pro Front Panel |
| | |
The rear port configuration also gets an overhaul with an extra USB 2.0 port and two Gigabit Ethernet jacks (the PCIe based PowerMac G5s already had the dual GigE jacks):
The previous PowerMac G5 design was in dire need of additional USB 2.0 ports, and the Mac Pro addresses that need.  Of course the Apple keyboard that ships with the system gives you another two USB 2.0 ports, but they are unpowered making them useless for pretty much everything but a mouse.  Apple's Cinema Displays also feature built in hubs (USB 2.0 and FireWire) to help give you more places to plug in.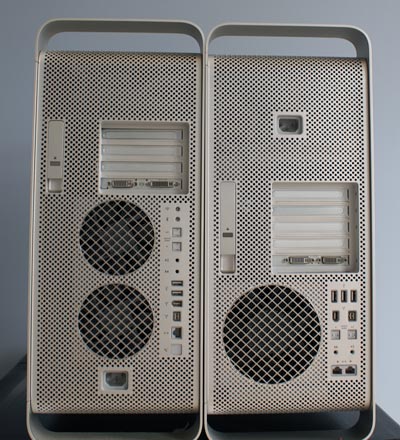 Click to Enlarge