The SATA 3Gbps vs. 1.5Gbps Issue
All unibody MacBook/MacBook Pros use NVIDIA's GeForce 9400M chipset. The chipset includes native support for up to six SATA ports running at 3.0Gbps (300MB/s max transfer rate). Here's a copy of OS X's system profiler showing 3.0Gbps as the interface speed on the previous generation MacBook Pro: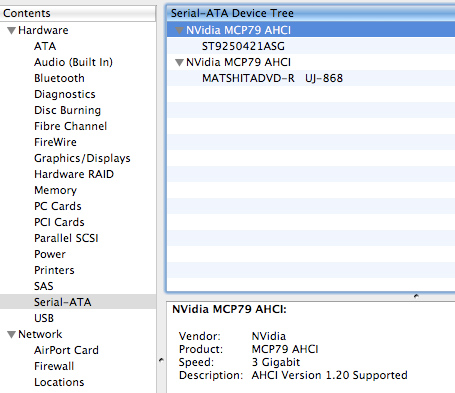 3 Gigabit...only on the first unibody MacBook Pro
Unfortunately, the current version of the MacBook Pro appears to only support 1.5Gbps SATA. I'm not sure whether this is an OS, drive or hardware problem, but your drive is limited to transfer rates of 150MB/s. For most laptop drives, this isn't a problem. Your 5400RPM SATA drive just isn't going to be moving anything at 150MB/s. The real problem lies with high performance SSDs.
Let's look at the read/write performance of the three top SSDs on the market today: the Intel X25-M, the OCZ Vertex and the Corsair P256:
| | | | | |
| --- | --- | --- | --- | --- |
| New 15-inch MacBook Pro (73WHr battery) | 4KB Random Read | 4KB Random Write | 2MB Sequential Read | 2MB Sequential Write |
| Intel X25-M | 54.2 MB/s | 22.2 MB/s | 230 MB/s | 71 MB/s |
| OCZ Vertex (Indilinx) | 34.9 MB/s | 6.55 MB/s | 256 MB/s | 137 MB/s |
| Corsair P256 (Samsung) | 29.1 MB/s | 0.78 MB/s | 207 MB/s | 178 MB/s |
You'll see four categories of performance: random read, random write, sequential read and sequential write speed. All four categories matter to the performance of your hard drive but some are more noticeable than others depending on what you do.
Random read/write performance actually contributes to your system feeling fast more than anything else. These are the sorts of transactions that happen when you're launching applications or searching for files. Sequential read/write transactions happen when you're copying large files to/from your drive. The latter is less common than the former for most users but that's why you don't see the 1.5Gbps issue really impacting real world performance on the new MacBook Pro.
All three of the SSDs in the table above would be interface limited on the new MBP because of their high sequential read speeds. If you were copying large files from the SSD in your MacBook to a similarly fast device, the transfers could take longer. I doubt the performance difference would be significant or noticeable in real world notebook usage, but it doesn't change that there's no reason to take a step backwards like that. In the coming years we'll see more drives that can consistently break 150MB/s; Apple artificially limiting performance today would just hinder progress.
I'm not sure what the issue is since the 9400M does support 3Gbps SATA. Perhaps it could be one of the mystery optimizations Apple did to increase battery life well beyond reasonable expectations? Or perhaps it's just an issue with the firmware and something that will be corrected in the near future. It's worth noting that the version of OS X 10.5.7 that ships with the new MacBook Pro is a different build than the one everyone else gets to download.
It's something to keep an eye on and I've already sent out some probes trying to gather more on the issue.