When I think about ASUS, the first thing that comes to mind are their PC components like motherboards, GPUs and the like. I also think of their desktop and laptop computers. Part of that is probably due to my longstanding interest in PCs and PC gaming, but even so, the idea of ASUS as a smartphone company is one that I don't think about that often. However, ASUS has been offering smartphones since the days of Windows Mobile, and they've been a very important player in the Android tablet space with their transformer tablets and both generations of the Nexus 7. With smartphone + tablet hybrids like the ASUS PadFone, it was seemingly inevitable that ASUS would become a competitor in the world of discrete Android smartphones.
While ASUS has been making progress in the Asia-Pacific region, they haven't made as much progress in North American markets as I suspect they had hoped to. That brings us to today with the ZenFone 2. After initially going on sale in ASUS's home country of Taiwan on March 8th, and more recently in Japan and India, the ZenFone 2 has now made its way to the shores of countries around the globe. As a phone that marks a new generation of ZenFone devices from ASUS, the ZenFone 2 represents another chance for ASUS to break into the markets of Western Europe and North America.
Although the ZenFone 2 is a second generation ZenFone, the device it most directly succeeds is the ZenFone 5. The naming may seem strange, but it's due to ASUS moving away from their original naming scheme where the number represented the size of the display. That type of naming doesn't scale well when you need to refresh your devices every year, and so the 2 in ZenFone 2 designates it as a second generation ZenFone.
Although the ZenFone 2 starts at just $199, you shouldn't be deceived by the price. The ZenFone 2 has some extremely impressive specifications for a low-cost smartphone, launching with a fairly powerful Intel quad-core Atom SoC, 2GB+ of RAM, and a 5.5" 1080p IPS screen. We'll be taking a look at each of its components in depth over the course of the review, but you can take a look at an overview of the ZenFone 2's specs below.
ASUS ZenFone 2 (Base)
ASUS ZenFone 2 (High-End)
SoC
Intel Atom Moorefield Z3560
4x Silvermont @ 1.8GHz
Intel Atom Moorefield Z3580
4x Silvermont @ 2.33GHz
GPU
PowerVR G6430 @ 533MHz
RAM
2GB LPDDR3
4GB LPDDR3
NAND
16GB + microSDXC
64GB + microSDXC
Display
5.5" 1920x1080 IPS LCD
Dimensions
77.2 x 152.5 x 10.9 mm, 170g
Camera
13MP Rear Facing with F/2.0 aperture
5MP Front Facing with F/2.0 aperture
Battery
3000mAh (11.4Wh)
OS
Android 5.0 Lollipop with ASUS Zen UI
Cellular Connectivity
2G / 3G / 4G LTE (Intel XMM7262 Category 6 LTE)
Second SIM 2G GSM (Intel XMM2230)
Other Connectivity
802.11a/b/g/n/ac + BT 4.0, GNSS, NFC, microUSB2.0
SIM
Dual MicroSIM slots
Price
$199
$299
Due to the large variations in the frequencies and technologies used in networks worldwide, ASUS has five different SKUs of the ZenFone 2. Four of the models are for FDD-LTE networks, while the fifth is for TDD-LTE in China and India.
Although it's not listed on their global website, the North American version of the ZenFone 2 has support for the AWS band on UMTS networks. ASUS was unaware of this when I contacted them about it. However, I have been able to use the phone on WIND mobile, which is a Canadian carrier that only operates their HSPA network on the AWS band. ASUS has also updated their Canadian and US websites to reflect the support for AWS since the time that I contacted them about it.
Design
In recent history, ASUS has adopted a form of industrial design that I consider to be very unique and recognizable. Many of their products are made out of machined aluminum, with a brushed finish that reflects light in a unique manner. This design extends to their products made of other materials like plastic, where the design often imitates the appearance and color of their aluminum devices. This type of design ties in well with the Zen branding across all of ASUS's product lines, as it's inspired by the lines and circles in the sand of Rock Gardens that were created by Zen Buddhists in fourteenth century Japan.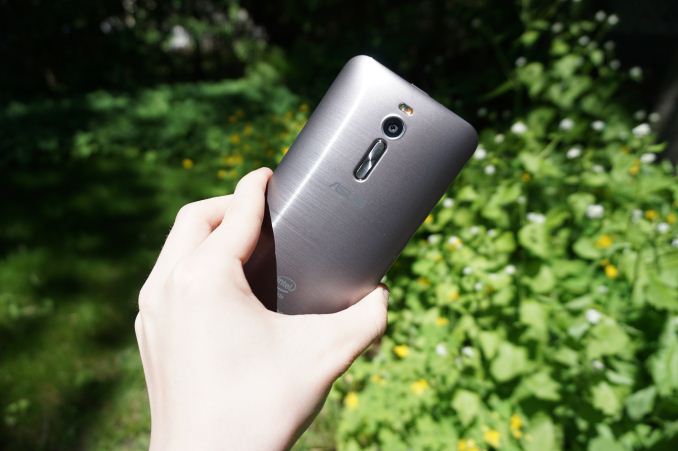 Owing to its removable back cover and very affordable design relative to its specs, the ZenFone 2 is primarily made of plastic. However, it does a very good job of looking like a device made of aluminum. It's difficult to expose in photos, but the back cover reflects light in a very similar manner to my ASUS Zenbook which is actually made of aluminum. The color on the grey model is also spot on as well, and using plastic allows ASUS to offer a variety of different colors and patterns. I personally would have preferred an aluminum build, but that's far too much to ask for when you consider everything else that ASUS is packing into a $199 device.
Although the back cover of the ZenFone 2 is removable, it actually has a very solid attachment to the phone. When removing it to access the MicroSD and two MicroSIM slots I was actually worried I might break one of the plastic tabs that holds it on. Since the battery isn't removable, I don't think users will be removing the back cover very often.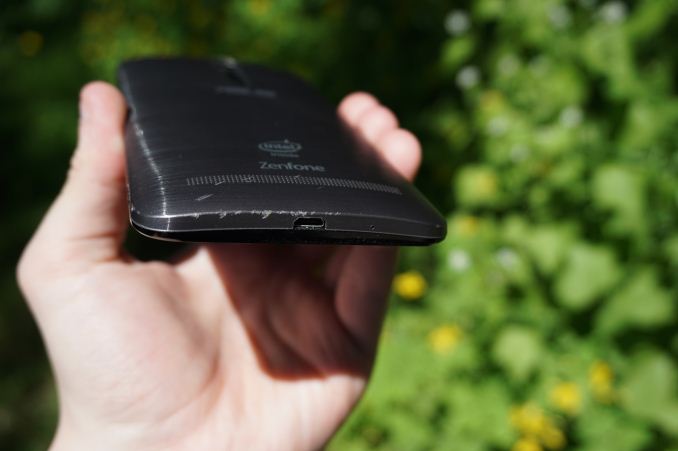 ZenFone 2 After One Unscheduled Drop
Unfortunately, while I think the plastic on the ZenFone 2 looks good, I can't speak very highly about its durability. When photographing the ZenFone 2, I accidentally dropped it from about half a foot high onto a concrete step. I'm usually very careful with my devices, but I lost my grip while trying to hold both my camera and the phone. Since it was such a small drop, I expected that the ZenFone 2 would be unscathed. As you can see above, I was mistaken. That small fall onto concrete heavily damaged the bottom edge of the back cover, and put some serious scuffs and scratches near the speaker holes. While it was completely my fault for dropping the phone, the lack of durability is pretty shocking. I would definitely recommend investing in a case, and all I can do is hope that ASUS starts selling the different back covers separately.
A consequence of the back cover also covering the sides of the device is that the power button on the phone actually comes off when you remove it. This is similar to the 2015 Moto E which has a removable outer frame with the plastic button caps attached to it. Unfortunately, the power button on the ZenFone 2 has absolutely no tactile response, and barely even feels like it's being pushed down. It's also located on the top of the phone, which makes it very difficult to press when trying to turn the phone on and off. Thankfully, ASUS supports double tapping on the display to wake up the phone, which eliminates around 50% of the times you would normally have to use the button.
Update: Some users have let me know in the comments that ASUS also supports double tapping to shut the screen off. This can definitely be helpful, but since you need to tap on a blank area you'll usually need to double tap on the status bar which can still be difficult to reach on such a large device. A side mounted power button definitely would have been most optimal, but the double tap to wake and shut off definitely mitigates the issue of having it on the top.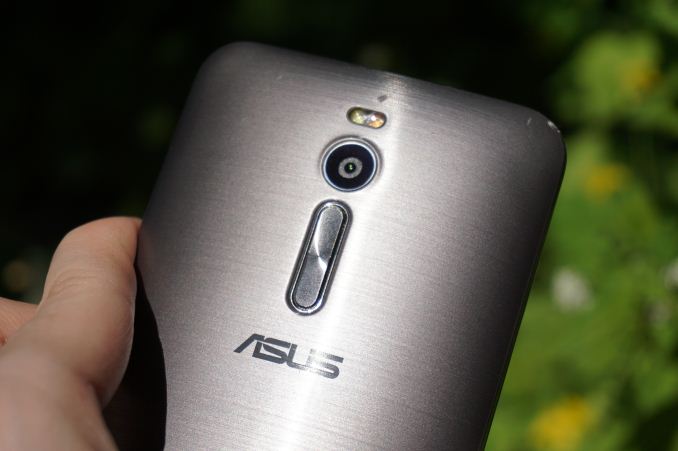 While the power button placement on the ZenFone 2 is questionable, I think ASUS has made a good call with their volume button placement. Much like the LG has been doing on their similarly sized devices, the ZenFone 2 places its volume rocker beneath the camera on the back of the phone. I have not heavily used any of LG's phones, and I was surprised at how quickly I adapted to having the volume buttons on the back. It's much more ergonomic than placing them on the left side on such a larger device, and it avoids the potential awkwardness of placing them on the right side. The volume rocker also has a circular spun finish much like ASUS's laptops, and I appreciate those types of very small details that ASUS could have easily left out but chose not to.
Overall I'm quite happy with the aesthetics and the feel of the ZenFone 2. Without holding it you could definitely be fooled into thinking it's made of aluminum, and when you do pick it up it still feels pretty good in the hand. I would be lying if I said I wasn't bitter about how easily the back got damaged though, and unless you're sure you'll never drop it I suggest getting a case or some other form of protection.