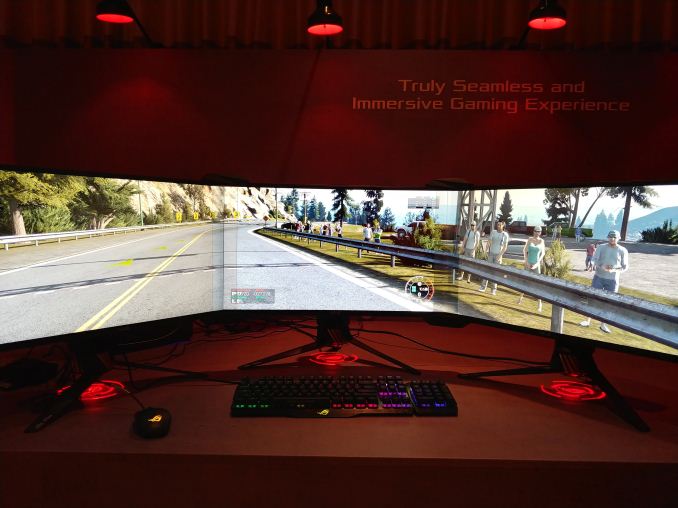 LAS VEGAS, NV –Do you ever buy more than one monitor, and then the brain adjusts such that instead of focusing on the next headshot you end up looking directly into a bezel? Or perhaps you bought two monitors, and have a post-it with crosshairs in the middle? Apparently ASUS has a solution for you – at least for specific monitors.
Introducing ASUS' Bezel Free kit: the design is overtly simple – by using a flexible plastic bi-prism where two monitors meet, the screen will be distorted enough that a gamer brain will not be able to see the bezel. Normally bending light is very difficult, but ASUS solves the issue by not showing the bezel at all.
As an initial concept, this sounds great. Looking at the set of monitors with the kit applied and not applied did make a difference for sure, even if the 130-degree monitor angles were really tight compared to how most multi-gaming setups happen. When looking directly at the bi-prism, it is very obvious that it is there, but during normal game-play for peripheral vision, it did seem to make a difference. The bi-prism has rubber mounts at the top and the bottom, which fit with the depth of the monitor very easy for no fuss and no scratches.
ASUS stated that they will sell the kit as a pair, and it works initially with the ROG Swift PG258Q. If a user has happened to buy two or three of them, then this now becomes an optional accessory. ASUS said it the kit works on a couple of other similar sized ROG monitors, and they are looking at expanding the design to bigger monitors as well. While this doesn't mean there will be a future universal kit for all monitors (even ASUS monitors) of the same size, it is something that we are likely to see other vendors offer in due course.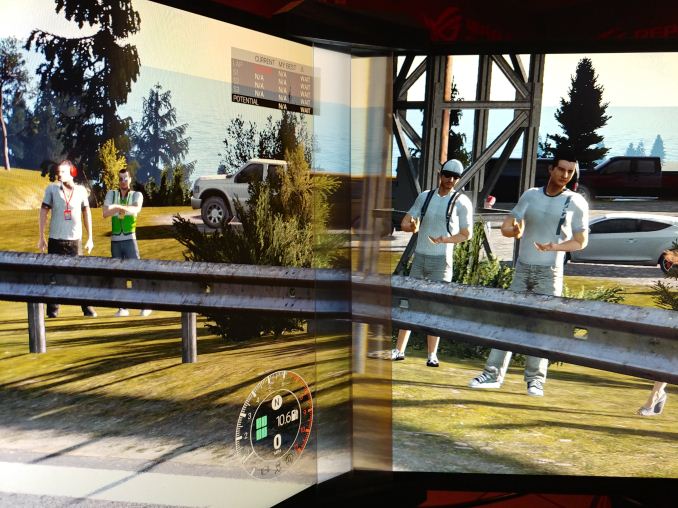 Related Reading