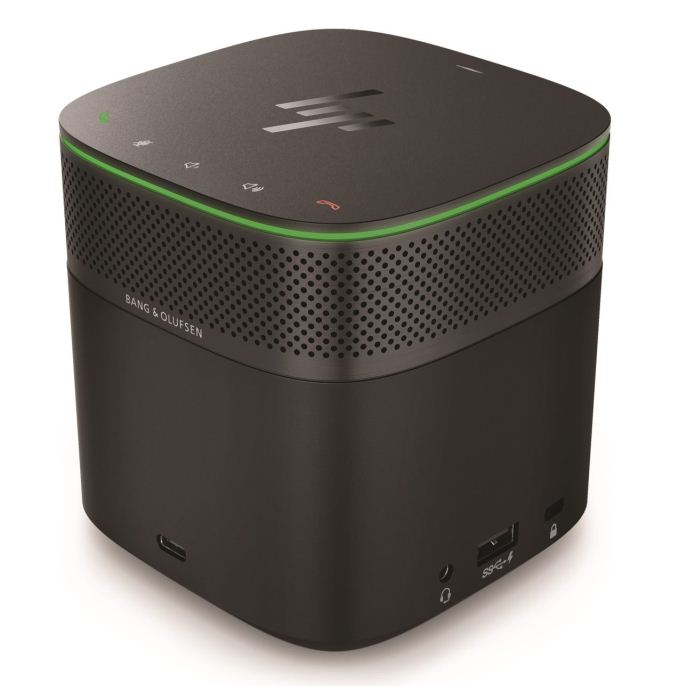 Along with the other announcements today, HP is also bringing forth a compact the new Thunderbolt Dock G2 with an (optional) audio conferencing module - a first of its kind according to HP. The unique cube-shaped design and optional audio will save desk space and allow for great flexibility especially in collaborative instances.
HP Elite Thunderbolt Dock G2
HP's new Thunderbolt-based dock designed to 'power the modern workspace'. The design is said to allow users to have a clean and functional workspace due to its small cube shape and ability to connect to devices with one cable. The small dock will provide power (up to 100W), support for up to two 4K displays (4 max at lower resolution), offer wired network access, and HP states it is the world's first TB dock with an (optional) audio conferencing module.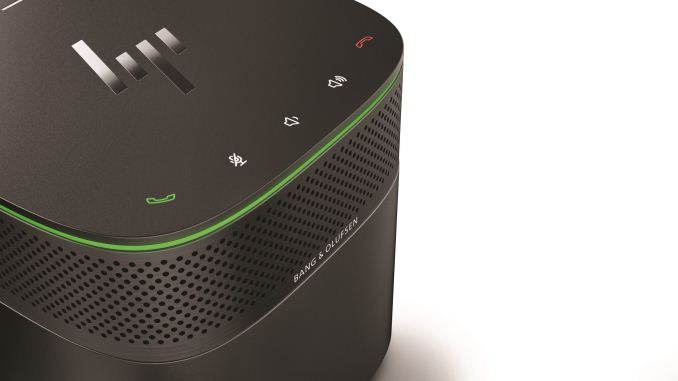 The optional audio conferencing module is a unique feature which can be used in a closed office, small huddle rooms, or focus rooms through that single cord. The TB dock is said to work in shared environments, or hot desk environments saving desk space and giving the work area more room and added flexibility. It also is able to control Skype conference calls with one-touch keys.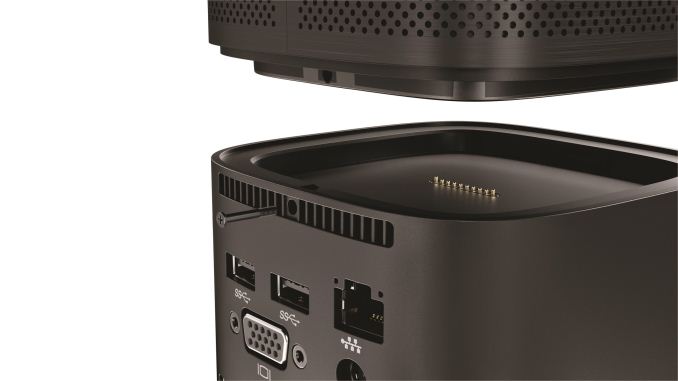 The small black dock (about the size of a 4" cube), has connectors on both the sides and back. The side has one powered USB3.0 port, the combo audio jack, and a Kensington lock slot. The back hosts the lions share of ports and has dual USB 3.0 ports, gigabit Ethernet, VGA, 2 x DisplayPort, USB-C DisplayPort, data and power out port (15W), and Thunderbolt ports. The network does have the ability to PXE Boot, Wake on LAN, MAC address pass through, and WLAN-LAN switching capabilities. The HP Thunderbolt Dock G2 will connect to HP ProBooks, EliteBooks, Elite x2, up to HP ZBooks and ZBook x2 devices.
HP Thunderbolt Dock G2
Dimensions (H x W x D)
3.9" x 3.9" x 2.7"
Weight
1.76 lbs
Top Components
LED and Power button
to power/wake host system
Side Components
1 x powered USB 3.0 port
1 x combo Audio jack
1 x Kensington lock slot
Back Components
1 x Thunderbolt port
1 x USB-C DisplayPort (15W power)
2 x DisplayPort ports
1 x VGA port
2 x USB 3.0 ports
1 x RJ-45 port
AC Adapter connector
Network Manageability Features
PXE Boot
Wake on LAN
External Monitor Support
Up to 4
Power to System
Up to 100W
The HP Elite Thunderbolt Dock G2 is expected to be available in May sometime with pricing TBD closer to availability.
Related Reading:
Source: HP