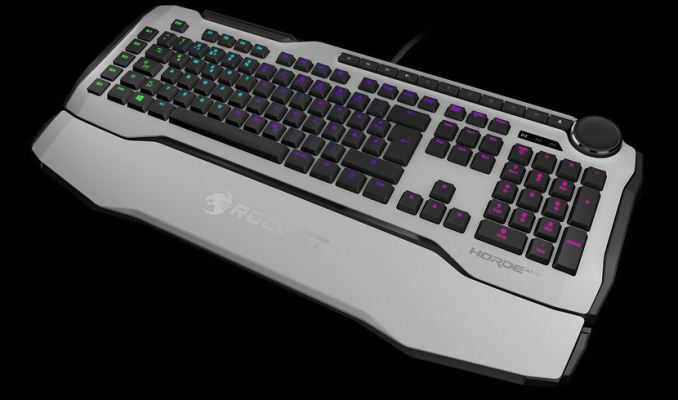 ROCCAT has unveiled their latest keyboard, the 'Horde AIMO'. The Full-size Horde features ROCCAT's 'Membranical' keys which are claimed to combine the strengths of mechanical and membrane keys in one. Typically users only have a choice of one or the other, but the Horde is attempting to offer the best aspects of both switch types. Along with its unique underpinnings, the keyboard has several low latency macro keys, a configurable tuning wheel, as well as multi-zone RGB illumination to give it that gaming flare.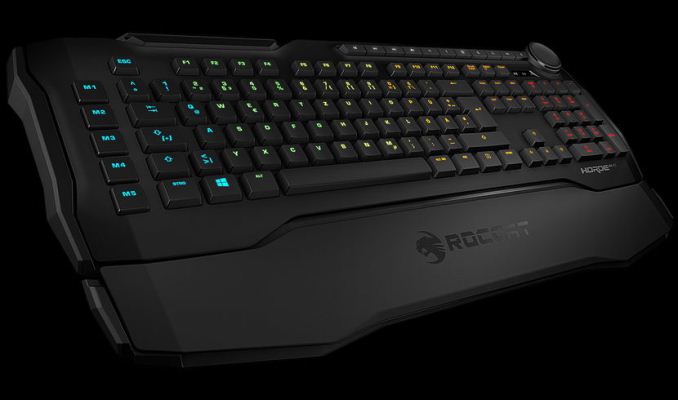 The most notable item here is the 'Membranical' keys. While there aren't a lot of details on these, ROCCAT says they have a fast mid-travel actuation point as well as a silent typing feel (no clicking). The keys are 'mid-height' with an actuation speed of 7.8ms for the regular keys and 5ms on the low profile macro buttons. ROCCAT compares this to a standard membrane keyboard at 9ms but does not reference mechanical keyboard latency. Additionally, the keys sit in a laptop-like island layout said to resist dirt.
Another unique feature on the keyboard is the Tuning Wheel located on the upper right-hand corner. This wheel, and its associated buttons surrounding it, provides control from multimedia, illumination, brightness, DPI, volume, and is Windows Dial compatible. When rotated the wheel gives users a tactile response when turning (20 steps for 360°). The wheel can also be customized through the Swarm software as well as through Windows settings.
Control over the illumination is handled by ROCCAT's Swarm software and the Horde integrates with the Roccat AIMO ecosystem of products. The application controls the macro buttons as well as the rest of the keys which are divided into six independently controlled sections. Each section can be personalized with their own effects and colors – individual key control is not possible). If RGB lighting is not your thing, this can be disabled, or a non-AIMO version is also available at a lower price point. Outside of that, the board has its own 512kB onboard memory to save profiles, a 1000Hz polling rate, and anti-ghosting technology - features gamers will certainly appreciate. The Horde connects the PC via a 1.8m braided USB 2.0 cable.
ROCCAT Horde AIMO Gaming Keyboard
Main Key Switches / Cap
Membrane / ABS
Keyboard Interface
Wired USB 2.0
Normal Keys
104/105 Key
Keystroke Life
N/A
Multimedia Keys
Volume, Play/Pause/Fwd/Rev, Mute
Dimensions (mm)
530 x 235 x 60mm
Cable
1.8m Braided
Windows Support / Requirements
W10, 8.1, 8, 7 -
System with a USB Port and Internet connection (drivers)
Backlight
12 RGB Illumination (16.77M Colors)
Weight
1100g
The crossover Horde AIMO is currently available for $89.99 directly through ROCCAT.org as well as Amazon and Newegg. The non-AIMO version due soon (Q2) is $69.99.
Related Reading:
Source: ROCCAT