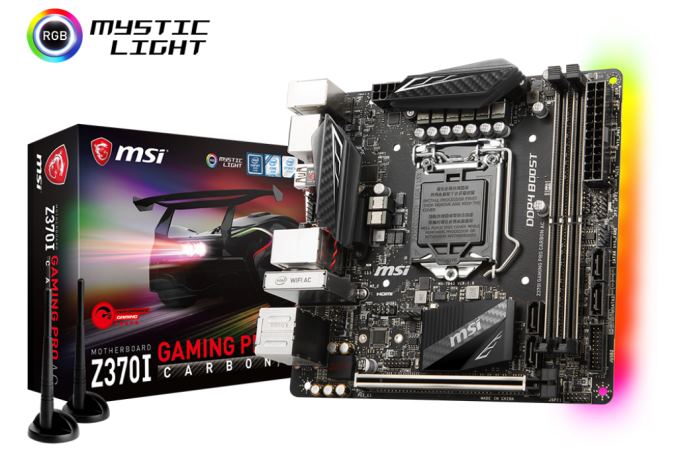 Today we're looking at one of MSI's Mini-ITX motherboards, the Z370I Gaming Pro Carbon AC. The Gaming Pro Carbon AC supports 8th Gen Intel Core Coffee Lake-based processors with DDR4 memory support up to DDR4-4600. The board includes the latest Realtek audio codec, along with Nahimic 2+ audio processing, Intel-based LAN and wireless, USB 3.1 ports out back, a well as a single M.2 drive. RGB is also in abundance, all in a Mini-ITX package.
AnandTech Intel 300-Series Motherboard and CPU Coverage
MSI Z370I Gaming Pro Carbon AC Overview
The Mini-ITX space of the mainstream Z370 platform typically attracts users who would like a powerful PC in a small package. Generally this includes those who would also like to take advantage of some of the Z-exclusive features, otherwise, there are H-series boards in this form factor that are usually less expensive and more cost-effective. Users are able to build a high-performance machine on this platform but with fewer cores and higher frequency.
With board partners always keeping their ear to the rails, all major board partners have at least one Mini-ITX offering. Buyers are always looking for a combination of performance, appearance, and feature set to help select the right board for their needs. The MSI Z370I Gaming Pro Cabon AC will support the flagship i7-8700K processor (with overclocking), has a single M.2 slot, Wi-Fi, RGB LEDs, all in a 6-inch square package.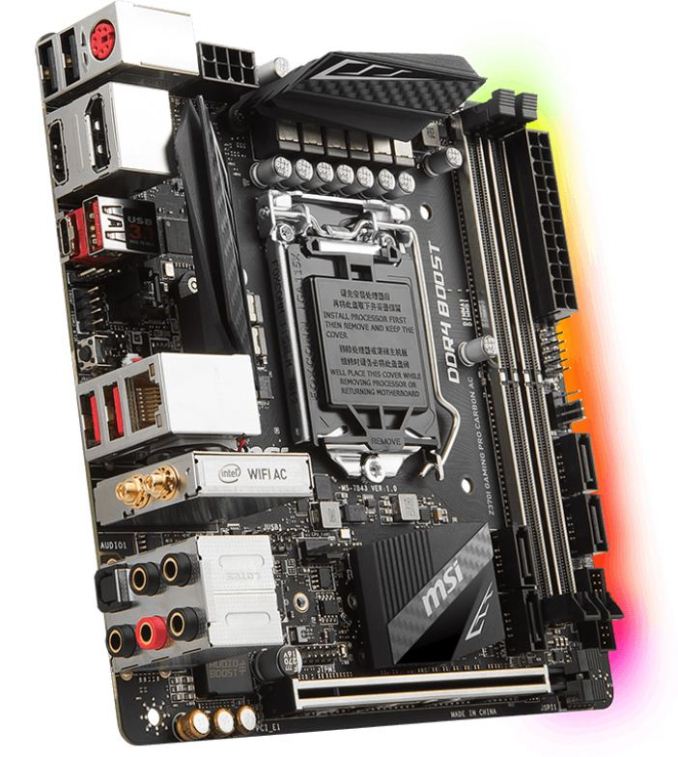 Performance wise, the MSI Z370I Gaming Pro Carbon AC performed well in our testing suite, typically landing in a good average of the boards we have tested. Idle power use was average while load testing showed the board to use a few watts less than the other Z370 boards tested. Boot times were also quick with the Gaming Pro Carbon AC POSTing the 2nd fastest time. Overall, there was nothing out of line, including the gaming results, with performance testing.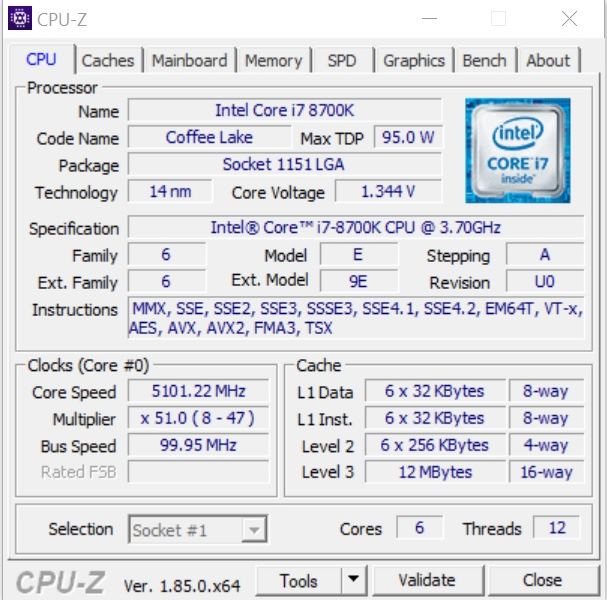 Our overclocking results showed the small board did not have any issues reaching 5.1 GHz, which is where most all other boards topped out. We did need to raise the default power limits a bit early (4.5 GHz), but that is par for the course anyway. As with most overclocking endeavors on this platform, we are limited by cooling and not by the board. Delidding would drop temps on this sample and allow a push for 5.2 GHz and the board wouldn't mind a bit.
The Gaming Pro Carbon AC has a total of four SATA ports along with one M.2 slot. The four SATA ports support RAID 0, 1, 5, and 10 and do not share ports/bandwidth when an M.2 device is in use. The M.2 slot supports up to a 2280 size module as well as supporting both SATA and PCIe based devices.
The board has a single full-length PCIe slot and with this does not support SLI or Crossfire configurations (no details on lane bifurcation). Audio duties are handled by the latest Realtek ALC1220 codec along with MSI's supporting cast of hardware in Chemi-Con audio capacitors and a built-in dedicated headphone amplifier capable of supporting up to 600Ω cans.

The back panel IO is fairly devoid of most colors that are not black or red which fits MSI's Gaming theme but does little to visually separate the ports. That said, we are able to see a legacy PS/2 port for mouse and keyboard, two USB 2.0 ports, two USB 3.0 ports (red below the NIC), and two USB 3.1 ports (Type-A and Type-C). The board includes HDMI (1.4) and DisplayPort (1.2) connectivity used for the integrated GPU on the Coffe Lake CPUs. Next, we can see a simple CMOS reset button, the Wi-Fi stack, as well as a 5-jack audio stack and SPDIF connections. Overall, it covers the gamut well and should have plenty of ports for most users.
The price for the MSI Z370I Gaming Pro Carbon AC comes in at $168 (Amazon). That price point has it slotting in nicely between the other Mini-ITX sized boards. The ASUS ROG Strix Z370-I Gaming costs $179 (Newegg), the ASRock Fatality Z370 Gaming-ITX/ac $180, the SuperO C7Z370-CG-IW at $186, and the GIGABYTE Z370N WiFi at $150. The price point places it in the middle of its other Mini-ITX sized cousins and in the end, selecting an appropriate board will come down to the features, appearance, and cost, with few differences (M.2 slot count, USB support, etc) between them.
MSI Z370 Strategy
MSI brings a total of 13 motherboards to the table ranging in size from Mini-ITX to ATX and pricing starting off around $110 and ending up well over $200. MSI more than likely has a board for everyone here as they have the Enthusiast, Performance, and Arsenal Gaming lines represented well here along with a couple of options in the Pro Series. The flagship of them all is the Z370 Godlike Gaming which also happens to be a limited run board (no price as it is not found online) but there are many boards below it in the product stack that has the right features, look, and price tag for a wide range of users.