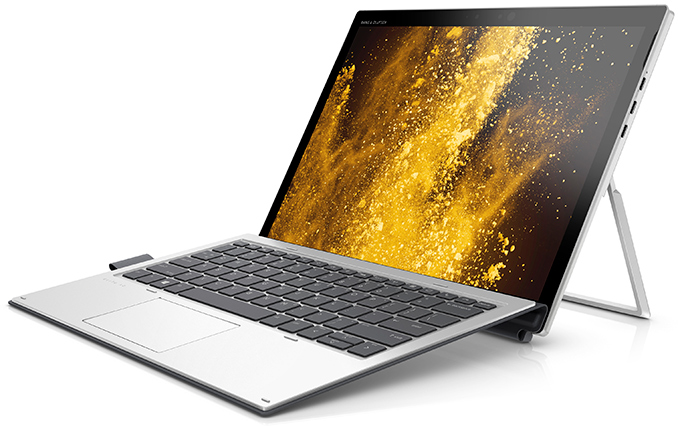 HP has announced its third-generation Elite x2 2-in-1 hybrid PCs for enterprise and government clients. The new Elite x2 1013 systems received faster quad-core processors along with a larger display while retaining approximate weight and dimensions when compared to previous-gen convertibles released a year ago.
When HP introduced its first-gen Elite x2 2-in-1 two years ago, the company revealed its "power of a notebook, flexibility of a tablet" design philosophy and has been following it since then. The first-gen Elite x2 was powered by a Skylake-Y ULV SoC and outfitted with as 12.1-inch display. By contrast, HP's third-gen Elite x2 1013 2-in-1 hybrid computers are based on Intel's 8th Generation Core processors with two or four cores and are equipped with a larger 13-inch LCD with a 3000×2000 resolution and a 450 bits brightness or a 1920×1280 resolution with a 700 nits brightness as well as HP's Sure View privacy screen. When it comes to memory and storage, the system features 16 GB of LPDDR3-2133 memory, and a 128 GB – 512 GB SSD (SED or FIPS 140-2 encrypted for models aimed at government agencies). Essentially, HP's latest Elite x2 2-in-1s offer performance of 13-inch high-performance laptops, but in a modern form-factor.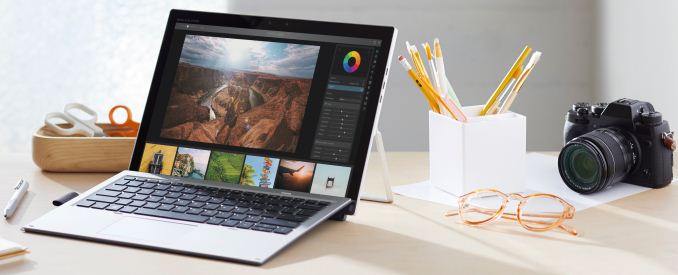 When it comes to wireless connectivity, the HP Elite x2 1013 G3 is equipped with an 802.11ac Wi-Fi + Bluetooth module, and a 4G/LTE modem with GPS. Unlike the previous-gen model, the new Elite x2 does not support WiGig, so the new hybrid is not compatible with wireless docks developed for earlier PCs. As for wired I/O, the Elite x2 1013 G3 comes with two Thunderbolt 3 ports and one USB 3.1 Gen 1 Type-C connector, eliminating a USB Type-A header and an SD card reader featured on the previous-gen Elite x2 machine. Apparently, HP believes that two TB3 ports are enough for docking and connecting to necessary devices (e.g., an external graphics subsystem).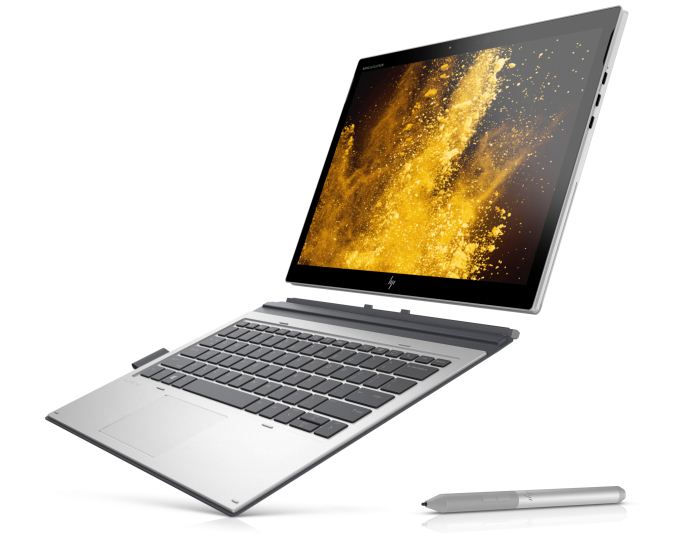 Moving on to other features of the HP Elite x2 1013 G3. Since this is a hybrid PC, it is equipped with all the sensors found in modern tablets, including an accelerometer, a gyro, an ambient light sensor, a magnetometer, a proximity sensor, and a Hall sensor. Obviously, the system also has a triple-microphone array, stereo speakers co-developed with Bang & Olufsen, a 5 MP front-facing webcam with IR sensors for Windows Hello, and an 8 MP back-facing camera on the rear.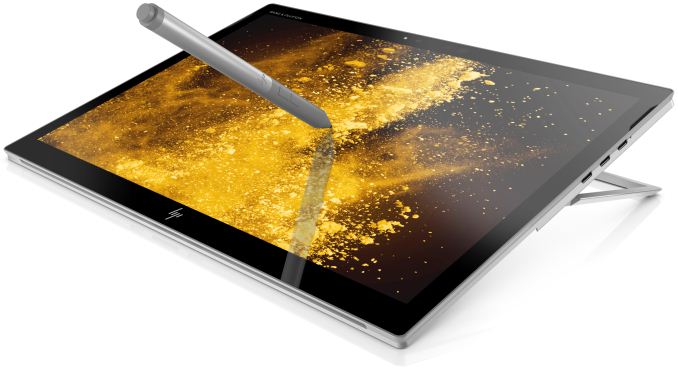 Now, time to talk about portability and battery life of the Elite x2 1013 G3. The tablet itself weighs 820 grams and is 7.9 mm thick, in line with the previous-generation product (in fact, it is ~1 mm thinner). When equipped with a keyboard the weight increases to 1.17 kilograms, whereas the thickness rises to 1.33 cm (lower than the previous-gen Elite x2). Due to space constraints, HP could only squeeze a 50 Wh battery into the new hybrid PC and this battery pack enables 10.5 hours of work on one charge.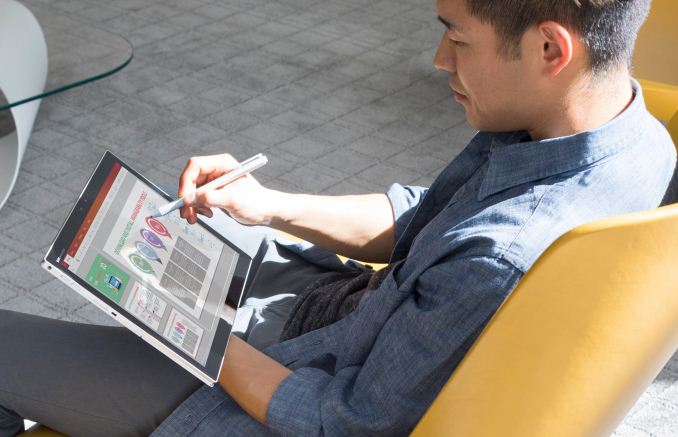 HP's Elite x2 1013 G3 2-in-1 convertible computers will hit the market this June with prices starting at $1,499, which is considerably higher than $1,099, the starting price of the Elite x2 1012 G2.
Specifications of the HP Elite x2
HP Elite x2
1012 G2
HP Elite x2
1013 G3
LCD
Diagonal
12.3"
13"
Resolution
2736×1824
3000×2000
1920×1280 with SureView
Brightness
450 cd/m²
450 cd/m²
700 cd/m²
CPU
Core i7-7600U (2C/4T, 4 MB, 2.8/3.9 GHz)
Core i5-7300U (2C/4T, 3 MB, 2.6/3.5 GHz)
Core i5-7200U (2C/4T, 3 MB, 2.5/3.1 GHz)
Core i3-7100U (2C/4T, 3 MB, 2.4 GHz)
Core i7-8650U (4C/8T, 8MB, 1.9/4.2 GHz)
Core i7-8550U (4C/8T, 8 MB, 1.8/4 GHz)
Core i5-8350U (4C/8T, 6 MB, 1.7/3.6 GHz)
Core i5-8250U (4C/8T, 6 MB, 1.6/3.4 GHz)
Core i3-8130U (2C/4T, 4 MB, 2.2/3.4 GHz)
Graphics
HD Graphics 620 (24 EUs)
UHD Graphics 620 (24 EUs)
RAM
16 GB LPDDR3
16 GB LPDDR3-2133
Storage
128 GB M.2 SATA SSD
256 GB - 1 TB M.2 PCIe NVMe TLC SED SSD
256 GB - 512 GB M.2 SATA TLC SSD
360 GB M.2 PCle 3.0 x4 TLC SSD
256 GB - 512 GB M.2 PCIe SSD
256 GB - 512 GB M.2 PCIe SSD
256 GB - 1 TB PCIe NVMe M.2 SSD
256 GB - 512 GB PCIe M.2 SED SSD
512 GB M.2 SATA FIPS 140-2 SSD
128 GB PCIe M.2 SSD
Wireless: Wi-Fi, Bluetooth, LTE, GPS and WiGig options
Intel Dual Band Wireless-AC 8265 802.11ac Wi-Fi + BT 4.2
HP hs3210 WW HSPA+ Mobile Broadband
HP lt4132 LTE/HSPA+ 4G Mobile Broadband
Intel Tri Band Wireless-AC 18265 802.11a/b/g/n/ac (2x2) and Bluetooth 4.2 WiGig Combo
HP lt4120 LTE/EV-DO/HSPA+ Mobile Broadband
HP lt4226 LTE/HSPA+ Qualcomm Gobi 4G Module
HP lt4225 LTE/EV-DO Qualcomm Gobi 4G Module
u-blox EVA-M8M M.2 GPS module 8,9,10,11
Intel Dual Band Wireless-AC 8265 802.11a/b/g/n/ac (2x2) Wi-Fi + Bluetooth 4.2 non-vPro

Intel Dual Band Wireless-AC 8265 802.11a/b/g/n/ac (2x2) Wi-Fi + Bluetooth 4.2 vPro;

HP lt4132 LTE/HSPA+ with GPS Mobile Broadband Module

HP lt4220
LTE/HSPA+ with GPS Mobile Broadband Module
USB
3.1
1 × TB 3
2 × TB 3
3.0
1

× Type-A

1

× Type-C (with charging)

Thunderbolt
1 × TB 3 (for charging, data, DP 1.2 displays)
1 × TB 3 (for data, DP 1.2 displays)
Card Reader
MicroSD
-
Cameras
Front
5 MP front-facing camera + IR camera for face authentication
5 MP front-facing camera + IR camera for face authentication
Back
8 MP rear-facing camera with flash LED
8 MP rear-facing camera
Fingerprint Sensor
Yes
Yes
Other I/O
Microphone, stereo speakers, audio jack
Microphone, stereo speakers, audio jack
Other Sensors
Tablet
Accelerometer, magnetometer, gyro, ambient light sensor, proximity (SAR for WWAN)
Accelerometer, magnetometer, gyro, ambient light sensor, proximity (SAR for WWAN)
Keyboard
Hall effect, dual
Accelerometers
Hall effect, dual
Accelerometers (?)
Battery
47 Wh
50 Wh
Thickness
91 mm (tablet)
146 mm (with keyboard)
79 mm (tablet)
133 mm (with keyboard)
Weight
800 grams (tablet)
1.15 kg (with travel keyboard)
1.33 kg (with advanced keyboard)
820 grams (tablet)
1.17 kg (with keyboard)
Launch Price
Starting at $1099
Starting at $1499
Related Reading: