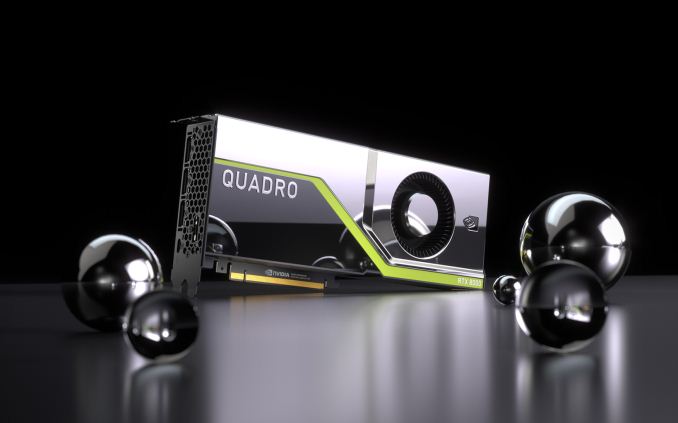 Alongside today's announcement of their new Turing GPU architecture, NVIDIA has also announced the first three products that will use the first Turing GPU. Breaking from tradition, NVIDIA has announced the workstation-class Quadro parts first. Part of the new Quadro RTX family, the Quadro RTX 8000, RTX 6000, and RTX 5000 are NVIDIA's fastest workstation cards yet, and are set to arrive in the fourth quarter of this year.
For complete details on the Turing architecture, please see our companion article. But in short Turing is an evolution of the Volta architecture, taking everything that made the GV100 fast, and then improving on it. For professional visualization (ProViz) users, the big news here is that the cards feature hardware ray tracing acceleration, thanks to the combination of NVIDIA's new RT cores, and the tensor cores brought over from Volta. Used together, the new cores can be used to speed up ray tracing, and then implement further post-processing tricks to cut down on the amount of work required to generate a photorealistic image.
The new GPUs and resulting Quadro cards are also the first NVIDIA cards to get GDDR6 memory – up to 48GB of it – doubling the amount of memory available versus NVIDIA's Quadro P6000, and also offering a significant bandwidth increase at the same time. Going one step further, NVIDIA has also included support for NVLink, their proprietary multi-GPU cache coherent interlink, which will allow Quadro RTX cards to be installed in pairs and share their frame buffer memory. NVLInk isn't as good as local memory, but with a reported 100GB/sec of bandwidth between the two cards, it's also nothing to sneeze at.
As a result of these features NVIDIA is aiming very hard at the visual effects industry (e.g. movie and TV production), as they are some of the most demanding users in terms of performance needs, and have some of the deepest pockets as well. NVIDIA of course is no stranger to this market, but this is the biggest play they've ever made for it. They greatly want to bend users away from CPU-based ray tracing farms and on to more compact GPU farms.
This also means that NVIDIA has been pushing very hard behind the scenes to get software ready for their cards and the underlying RTX ray tracing functionality. While we're still in the very early days, NVIDIA has already lined up Autodesk, Adobe, the Chaos Group, Dassault Systèmes, and of course Epic Games (among others) to support the technology in some fashion. There's still a definite chicken-or-the-egg element in play, but NVIDIA is making a concentrated effort to get the proverbial eggs out there.
NVIDIA Quadro Specification Comparison
RTX 8000
RTX 6000
RTX 5000
GV100
CUDA Cores
4608
4608
3072
5120
Tensor Cores
576
576
384
640
Boost Clock
~1730MHz?
~1730MHz?
?
~1450MHz
Memory Clock
14Gbps GDDR6
14Gbps GDDR6
14Gbps GDDR6
1.7Gbps HBM2
Memory Bus Width
384-bit
384-bit
256-bit
4096-bit
VRAM
48GB
24GB
16GB
32GB
ECC
?
?
?
Full
Half Precision
32 TFLOPs?
32 TFLOPs?
?
29.6 TFLOPs
Single Precision
16 TFLOPs
16 TFLOPs
?
14.8 TFLOPs
Tensor Performance
500T OPs
(INT4)
500T OPs
(INT4)
?
118.5 TFLOPs
(FP16)
Ray Performance
10 GRays/s
10 GRays/s
6 GRays/s
N/A
TDP
?
?
?
250W
GPU
Unnamed Turing
Unnamed Turing
Unnamed Turing
GV100
Architecture
Turing
Turing
Turing
Volta
Manufacturing Process
?
?
?
TSMC 12nm FFN
Launch Price
$10,000
$6,300
$2,300
$9,000
Launch Date
Q4 2018
Q4 2018
Q4 2018
March 2018
All told, there are 3 Quadro RTX cards initially launching. The Quadro RTX 8000 and RTX 6000 are nearly spitting images of each other; both offer the same GPU performance and memory bandwidth thanks to the combination of 4608 CUDA cores, 576 tensor cores, and GDDR6 memory. The difference between the two is that the RTX 8000 is equipped with a full 48GB of VRAM (24 chips in a clamshell configuration), while the RTX 6000 has just 24GB of VRAM. It's only in the final card of the stack, the RTX 5000, that NVIDIA offers a lower performing card for less money. This partially-enabled card gets 3072 CUDA cores, 384 tensor cores, and 16GB of GDDR6.
At this point we're still waiting on more information on power consumption for these cards. But the images NVIDIA has released thus far shows them using a typical NVIDIA blower configuration, so expect sub-250W parts.
Meanwhile NVIDIA has confirmed that all of the cards come with 4 DisplayPort 1.4 outputs. Along with that, all of the cards will feature a 5th output: a VirtualLink-capable USB Type-C port. The recently introduced VirtualLink standard is a USB-C alt mode, and it allows a single cable to carry all of the video, data, and power a VR headset requires, allowing headsets to be directly tethered to a video card without requiring multiple cables. There are no VirtualLink-capable headsets yet, but with Oculus, Valve, and Microsoft all backing the standard, it will only be a matter of time.
Wrapping things up, the new Quadro RTX cards will be available in Q4 of this year. Prices start at $2,300 for the RTX 5000, and quickly get more expensive from there. An RTX 6000 will set buyers back $6,300, while the flagship RTX 8000 will be a full $10,000.
Source: NVIDIA