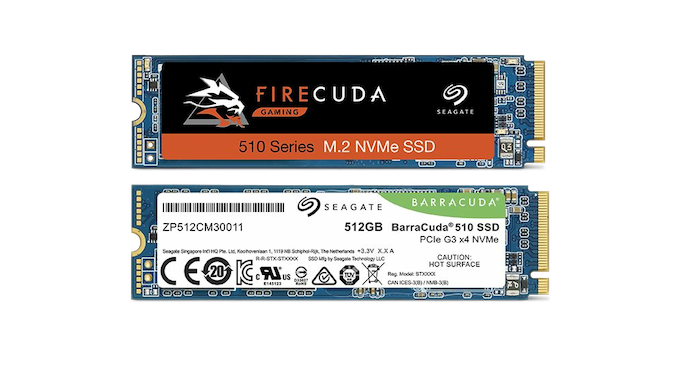 Seagate recently returned to the consumer SSD market with the BarraCuda SSD. It didn't make much of a splash, but Seagate got their feet wet and kicked off a new strategy as a seller of Phison-based consumer SSDs. Now Seagate is using Phison's new E12 NVMe controller to enter the high-end market segment with a lineup of M.2 NVMe SSDs: the BarraCuda 510 and FireCuda 510.
At first glance, it may seem silly for Seagate to use two different names to refer to what are essentially two halves of the same product line. However, the current state of high-end consumer NVMe SSDs is that only the largest models are able to reach the impressive speeds that are closing in on the limits of a PCIe 3 x4 link. Smaller models are held back by having too few NAND flash memory dies for the SSD controller to access in parallel. This has always been true to some extent, but now that each 3D TLC die is providing either 256Gb or 512Gb, the small-drive performance penalty is affecting rather mainstream drive capacity points. For this reason, it makes sense for Seagate to reserve their gaming/enthusiast-oriented FireCuda branding for the 1TB and 2TB models, while their more mainstream BarraCuda branding is applied to the 256GB and 512GB models.
Seagate BarraCuda 510 & FireCuda 510 SSD Specifications
Model
BarraCuda 510
FireCuda 510
Capacity
256 GB
512 GB
1000 GB
2000 GB
Form Factor
single-sided M.2 2280
double-sided M.2 2280
Controller
Phison PS5012-E12
NAND Flash
Toshiba 64L 3D TLC
Sequential Read
3400 MB/s
Sequential Write
2100 MB/s
3150 MB/s
Random Read (QD256)
340k IOPS
620k IOPS
Random Write (QD256)
500k IOPS
600k IOPS
Max Active Power
5 W
5.4 W
Warranty
5 years
Write Endurance
140 TB
0.3 DWPD
280 TB
0.3 DWPD
912 TB
0.5 DWPD
1825 TB
0.5 DWPD
Aside from capacity, there are a few minor differences between the BarraCuda 510 and the FireCuda 510. The BarraCuda 510 models have less overprovisioning, with power of two capacities of 256GB and 512GB while the FireCuda 510 is 1000 or 2000 GB. This difference also affects the write endurance rating, which is 0.3 drive writes per day for the BarraCuda 510 and 0.5 drive writes per day for the FireCuda 510; both figures are more typical of mainstream consumer SSDs rather than high-end models. The lower capacity of the BarraCuda 510 models allows them to be single-sided M.2 cards, which helps fit them into thinner notebook systems. The BarraCuda 510 will also be available in versions with or without TCG Opal encryption support, while the FireCuda will only ship in non-encrypting form.
The two drives are still essentially the reference hardware designs from Phison, and we expect real-world performance to be in line with other drives based on the same platform, such as the Corsair MP510 or the MyDigitalSSD BPX Pro. Seagate has not announced pricing for the new models, which will ship in March 2019. Seagate's pricing on the BarraCuda SATA SSD has been nothing special but still falls within the reasonable range for a mainstream drive. With the new NVMe models, we hope to see Seagate be a little more aggressive in order to reestablish their brand in an era where consumers no longer have much need for mechanical hard drives.
Source: Seagate