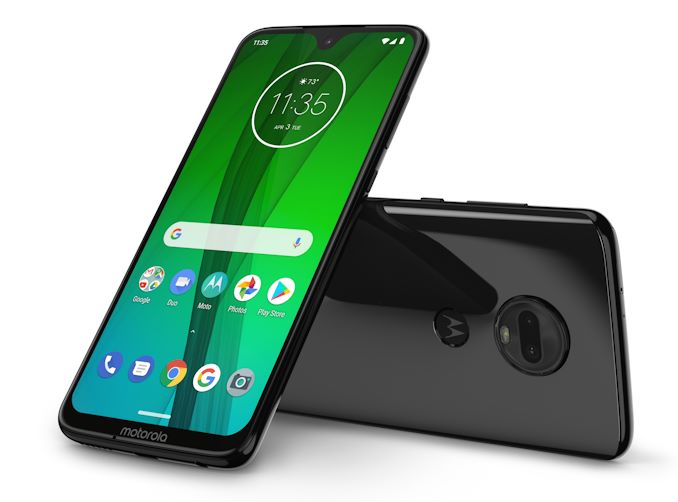 It's been a less than a year since Motorola released its g6 line-up late last April, but today we see the company announcing new refreshes and a brand new generation of phones, introducing the new Moto g7s. The new line-up continues what seems to have become a quite established formula for Motorola, with the new phones each respectively having updated hardware and features to keep pace with the ever evolving mid-range smartphone segment.
A big change over last year's setup is that the new Moto g7 plus and the regular Moto g7 now both come in the same form-factor, a marked difference to last year's models where the g6 plus was a notably larger phone. The new Moto g7 power adds a new variant alongside the g7 play in terms of lower priced positioning – offering a similarly lower specced model, but which focuses on battery longevity.
Going over the specification of the new phones:
Motorola Moto g7 variants
Moto g7
Moto g7 plus
Moto g7 power
Moto g7 play
SoC
Snapdragon 632

4x Kryo 250 (CA73)
@ 1.8GHz

4x Kryo 250 (CA53) @ 1.8GHz
Snapdragon 636

4x Kryo 250 (CA73)
@ 1.8GHz

4x Kryo 250 (CA53)
@ 1.8GHz
Snapdragon 632

4x Kryo 250 (CA73)
@ 1.8GHz

4x Kryo 250 (CA53)
@ 1.8GHz
Display
6.2" 2270x1080 (19:9)
LTPS LCD
6.2" 1570x720 (19:9)
LTPS LCD
5.7" 1512x720 (19:9)
LTPS LCD
Dimensions
157.0 x 75.3 x 8.0 mm
172 grams
157 x 75.3 x 8.3 mm
176 grams
160.8 x 76 x 9.4 mm
198 grams
148.7 x 71.5 x 8.1 mm
168 grams
RAM
4GB
3GB
2GB
NAND
64GB
+ microSD
32GB
+ microSD
32GB
+ microSD
Battery
3000 mAh (11.55Wh)
5000 mAh (19Wh)
3000 mAh (11.55Wh)
Front
Camera
8MP 1.12µm
12MP 1.25µm
8MP 1.12µm
F/2.2
8MP 1.12µm
F/2.2
LED selfie flash
Primary
Rear Camera
12MP, 1.25µm
DP-PDAF

F/1.8 lens
16MP, 1.22µm

F/1.7 lens
OIS
12MP, 1.25µm PDAF

F/2.0
13MP, 1.12µm PDAF

F/2.0
Secondary
Rear Camera
5MP Depth sensor

-

SIM Size

NanoSIM
(Dual-SIM in some markets)

NanoSIM

Wireless
802.11a/b/g/n,
BT 5.0 LE, NFC, GPS/GLSS/Galileo/
BDS
802.11a/b/g/n/ac,
BT 5.0 LE, NFC, GPS/GLSS/Galileo
802.11a/b/g/n,
BT 4.2, GPS/GLSS
Connectivity
USB Type-C
3.5mm headset
Features
Fingerprint reader,
face unlock
Fingerprint reader,
face unlock,
stereo speakers
Fingerprint reader,
face unlock
Fingerprint reader,
face unlock
Launch OS
Android 9.0
Launch Price
USD $299
EUR 299€
USD $249
USD $199
All four phone models come with major upgrades in the SoC: The new g7 and g7 power come with a Snapdragon 632, while the g7 plus comes with a Snapdragon 636. The SoCs share the same high-level CPU configuration: four Cortex A73 derived cored running at 1.8GHz, along with four Cortex A53 derived cores at also 1.8GHz. What is important to note here, is that compared to last year's g6 offerings, all the g7 models now offer big CPU cores. In practical terms, this means that we should expect 2-2.5x performance increases in many workloads, a one-time generational jump we won't see any time soon again in this price category.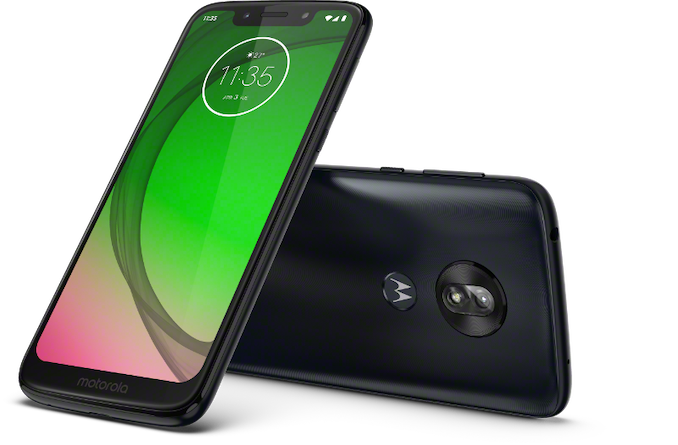 g7 play
Motorola has streamlined the offerings in terms of DRAM and storage capacities, and as such we see both the g7 and g7 plus offered with 4GB and 64GB base options. The g7 power comes at a lower specced 3GB/32GB option, while the g7 play only offers 2GB.
As previously mentioned, a big change in the new line-up is the fact that the new g7 and g7 plus are now actually identical form-factor devices, both coming with 6.2" 2270x1080 LCD screens. It's to be noted that the screen is of an 19:9 aspect ratio, so don't let the wide diameter scare you as the phone's body still is at a reasonable 75.3mm wide. Both these variants come with a 3000mAh battery.
The g7 power also comes in a similar form-factor, but it is quite bulkier in all metrics, especially in terms of thickness as the phone figures in at 9.4mm. The bigger thickness serves to house the new 5000mAh battery of the phone, undoubtedly the feature that made Motorola market the phone as the "power" variant of the new g7 series. This variant also comes with a 6.2" 19:9 screen, however it features a lower resolution coming in at 1570x720.
The g7 play has the same low-resolution screen, but in a 5.7" diameter which makes this the smallest of the series with a lesser width of 71.5mm. The play's smaller size also applies to its thickness which is of a more normal 8.1mm and housing a 3000mAh battery.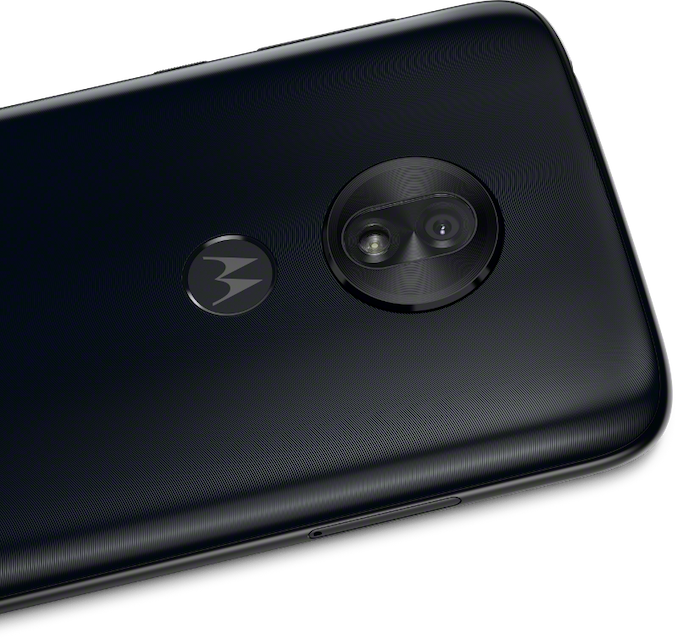 g7 plus
Camera wise, it looks like both the g7 and g7 power feature 12MP sensors with 1.25µm pixels – on the former we find a dual-pixel PDAF sensor while the latter only has a more traditional PDAF sensor. Other differences are an f/1.8 aperture lens on the g7 while the g7 power's lens comes in at f/2.0.
The g7 plus is actually the model with the highest grade camera system: a 16MP sensor with 1.22µm pixels and an f/1.7 aperture lens. This is also the only model whose camera module offers OIS. Like on the g7, we find a 5MP depth sensor alongside the main unit.
The g7, g7 power and g7 play come with an 8MP front camera – while the g7 plus upgrades this to a 12MP unit with bigger pixels. The g7 play offers a front-facing LED flash for selfies. This latter feature is house in a display notch – the g7 plus and g7 play come with a notch design more similar to that of an iPhone X, while the g7 power has one more reminiscent of an OnePlus 6. The regular g7 comes with a teardrop notch, actually offering the highest screen-to-body ratio of the series.
The g7 becomes available today in Brazil and Mexico, and will follow up in a few day in Europe. It will also be rolled out in other global markets including North America over the coming months at a price of $299 USD. The g7 plus comes at 299€ EUR and won't be available in NA, the g7 power and g7 play come at respectively $249 USD and $199 USD with the same global roll-out as the g7.