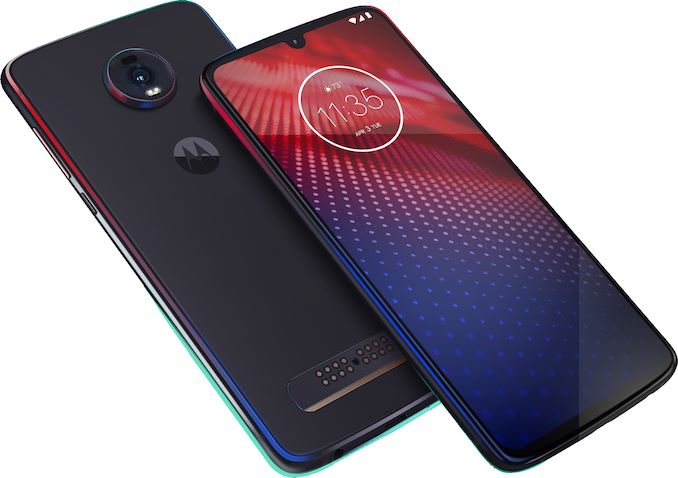 Today Motorola launches the new Moto Z4 (stylised: moto z4). The Z4 follows up on last year's Z3 and represents Motorola flagship device for 2019. Yet the Z4 isn't targeting the flagship segment per se; the company attempts to target the "premium" segment, the category of devices just below common flagship phones, yet still offering most of the specifications and features at a lower price point.
The Moto Z4 comes with a brand-new 48MP camera as well as Qualcomm's newest Snapdragon 675 SoC, all in an bezel-less OLED display that has a screen-to-body ratio competing against the best flagship devices from the competition.
moto z4
moto z4
SoC
Snapdragon 675

2x Kryo 460 (CA76)
@ 2.0GHz
256KB L2

6x Kryo 460 (CA55)
@ 1.7GHz
64KB L2

Adreno 612
DRAM
4GB LPDDR4X
Storage
128GB
Display
6.39" OLED
2340 x 1080 (19:9)
Size
Height
158 mm
Width
75 mm
Depth
7.35 mm
Weight
165g
Battery Capacity
3600mAh
Wireless Charging
(Moto Mod only)
Rear Cameras
Main
48MP IMX586
0.8µm pixels (1.6µm 4:1 12MP binning)

f/1.7 lens
OIS

PDAF & Laser Autofocus
Telephoto
-
Wide
-
Extra
-
Front Camera
25MP
0.9µm pixels (1.8µm 4:1 6.25MP binning)

f/2.0 lens
I/O
USB-C

3.5mm headphone jack
Wireless (local)
802.11ac Wave 2 Wi-Fi
Bluetooth 5.0 LE
NFC
Other Features
Under-screen optical fingerprint sensor
Dual-SIM
1x nanoSIM
Colours
Flash Grey, Frost White
Launch Price
$499.99
The new Moto Z4 is powered by Qualcomm's newest Snapdragon 675 SoC which was announced in October last year. The chipset differs quite a lot from past 600-series iteration by the fact that it uses a new high-end based Cortex-A76 / Kryo 460 CPU configuration with two cores at up to 2GHz. So although the Z4 doesn't quite use a flagship SoC like the Z3's previous Snapdragon 835, it should represent a performance upgrade in user experience due to the newer IP. Gaming wise, we're still not quite sure how the new Adreno 612 will compare to the Z3's Adreno 540, but we're not expecting large performance boosts, if at all.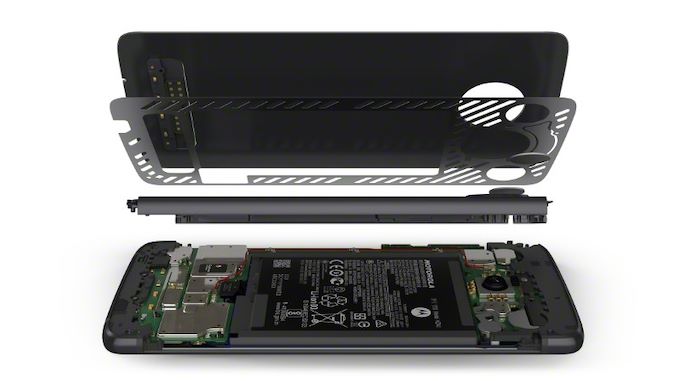 The SoC's 11nm LPP manufacturing node along with a large 3600mAh battery should provide the new Z4 with plenty of battery life, and represents a big capacity upgrade over the Z3's 3000mAh battery even though Motorola was able to keep the dimensions largely in check.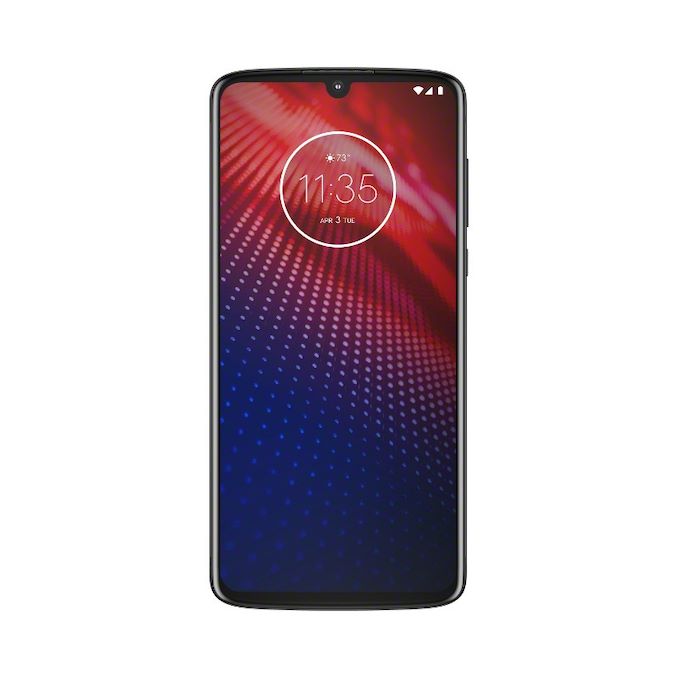 In terms of dimensions, the phone is characterised by the 6.39" AMOLED screen. The new design has a modern full-screen panel with minimal bezels and uses a dew-drop notch for the front camera. The resolution remains FHD with an exact 2340 x 1080 to be precise, resulting in a 19:9 aspect ratio.
The elongated aspect ratio over last year's 18:9 display explains the Z4's larger screen dimensions: The actual width of the phone hasn't gone up over the Z3, it actually has gone down as it's now 1.5mm narrower, down to 75mm.
Where Motorola did compromise a bit is in the thickness, as it's now 8% thicker to 7.35mm, most possibly due to the new larger battery capacity. Weight has also gone up from 158g to 165g, which however is still very light for a phone of its size, compared to the designs of some other vendors.

The speaker design of the Z4 is a bit weird: Here Motorola places the main speaker at the top of the phone instead of the usual bottom location. It's also a single speaker design.

At the bottom of the phone there's a large surprise: A 3.5mm headphone jack. Indeed this is quite a big deal for the Z4 because this is a change compared to all previous generation Z phones starting from 2016 – which all had been released without a jack.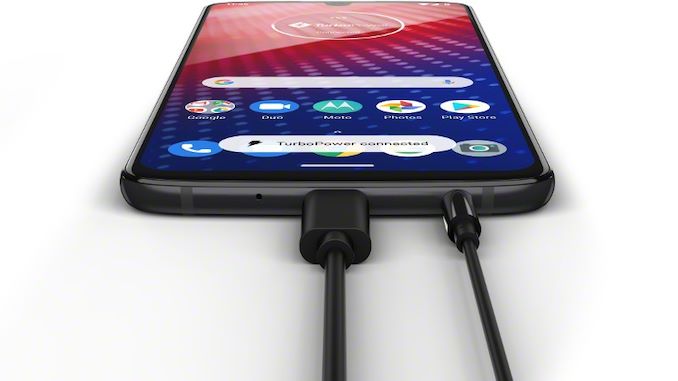 The fact that Motorola's marketing materials have several press shots advertising the headphone jack, along with the hilarious jab of a shot of the USB-C port along with the 3.5mm connected at the same time, means that the company is aware that this is indeed a better solution for user experience than having no headphone jack. I think in general Motorola here needs to be applauded for the decision. The move points out that the industry's removal of headphone jacks has indeed been stupid, and there's real consumer need and demand for it, otherwise they wouldn't have brought it back.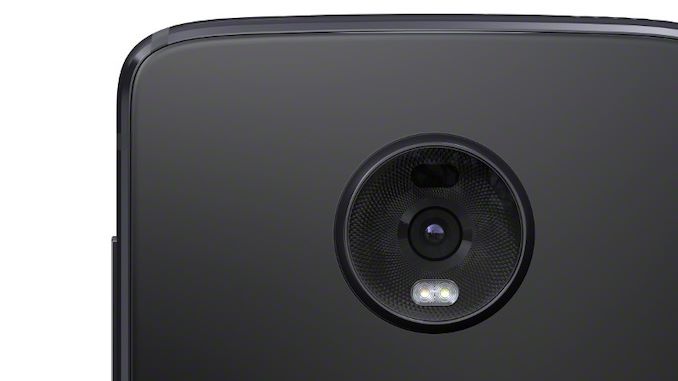 One of the main features of the Z4 is the new camera. I feel like a broken record here given how many vendors this year have gone for the same design: The Z4 is one of the many phones employ's Sony's new IMX586 camera sensor. The module is characterised by its native 48MP resolution, which is mostly used in a 4:1 pixel binning mode resulting in 12MP shots with effective 1.6µm large pixels.
The large MP sensor allows for quite good digital zooming/cropping in well-lit scenarios, which partly makes up for the fact that the phone doesn't have any other rear camera modules. In fact, at zoom factors over 2x, Motorola uses a computational super zoom mode that is promised to work similarly to Google's super zoom on the Pixel phones.
For low-light, Motorola has a special "Night Vision" mode which makes use of computational photography and stacks 8 capture frames together to achieve better sensitivity and dynamic range. Motorola actually looks to be quite competitive in terms of the various camera capture modes as it makes use of machine learning for modes such as "AI Portrait Lighting", "Cinemagraph Mode", "Spot Color Mode", "Live Filters" and AR stickers.
The rear-camera optics are an f/1.7 aperture lens along with OIS. Focusing is achieved by regular PDAF on the sensor, augmented by a laser autofocus module.
The front-camera also isn't a slouch: The sensor is a 25MP unit with an f/2.0 lens. In bright conditions the sensor can use its full resolution and makes use of its 0.9µm pixels, which in low-light mode it's able to use pixel binning to capture 4x more light in a 6.25MP / 1.8µm effective pixel mode.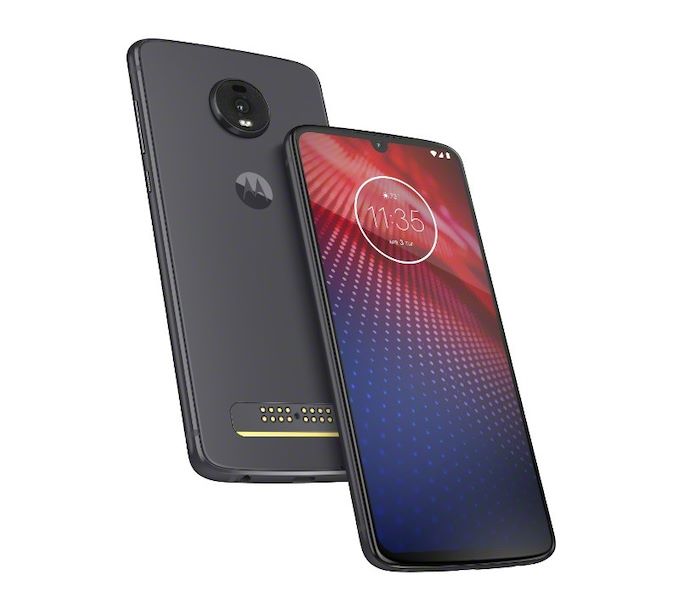 The Moto Z4 comes with compatibility for Motorola's Moto-Mods, featuring the characteristic connector port at the back of the phone. All existing Moto-Mods can be used on the Z4, including the 5G Moto-Mod.
Finally, the pricing of the Moto Z4 comes in at $499.99 and will be available in "Flash Grey" and "Frost White" colours, with a fixed memory configuration of 4GB RAM and 128GB of NAND storage. The phone represents tough competition for Google's Pixel 3a XL, offering a better SoC, on paper a more capable camera, a more modern design, although lacking stereo speakers.
The Moto Z4 will be available June 13th on Verizon in the US, with later availability this summer in Canada.
Related Reading: