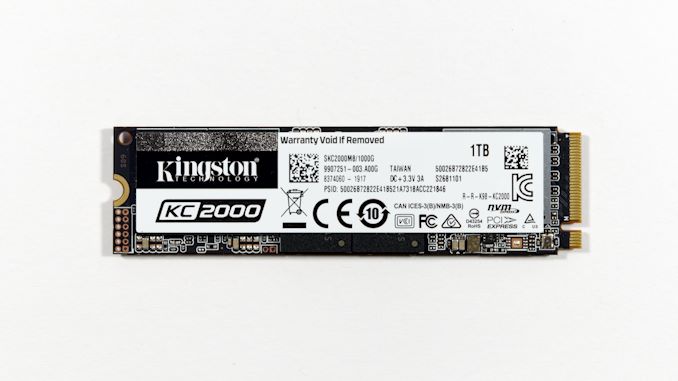 The Kingston KC2000 is a new high-end consumer M.2 NVMe SSD. Kingston had been neglecting this market segment for a while, but the two year old KC1000 has finally been replaced by a proper successor using the latest flash memory and controllers.
The SSD market is in the midst of two significant-but-protracted transitions. First off, PCIe 4.0 has arrived in one small corner of the market, but so far it offers little aside from increased power usage. Meanwhile the second transition is the move from 64-layer to 96-layer 3D NAND; this is a bit more widespread, but is still moving slowly. Toshiba started shipping their 96L NAND almost a year ago, but in the first half of 2019 we saw more new retail SSDs launch with 64L NAND than with 9xL NAND. Kingston's not the first to use 96-layer 3D TLC in a retail drive, but they're still generally ahead of the curve and have even beat Toshiba and Western Digital to market using their BiCS4 96L NAND.
The Kingston KC2000 illustrates a broader trend of diversification that we've been seeing signs of with this new generation of flash memory. SSD vendors that don't make their own controllers or NAND are exploring a wider range of options than in recent years. With 32-layer and 64-layer NAND, there was a strong association between Silicon Motion SSD controllers and Intel/Micron NAND, while at the same time Toshiba's 15nm and 64L NAND were mostly used with Phison SSD controllers. (Marvell's presence in the retail consumer SSD market has dropped significantly, and newer controller suppliers like Realtek haven't had much impact.) With the 96-layer generation, Silicon Motion and Phison are both fully supporting multiple NAND vendors, and SSD vendors are trying out the new options.
Kingston has been a fan of the Phison+Toshiba combinations for quite a while, but the KC2000 pairs Toshiba's 96L NAND with the Silicon Motion SM2262EN controller instead of the Phison E12 or E16 we would have predicted. That gives us the chance to make a very direct comparison between Micron 64L TLC and Toshiba 96L TLC, since we have tested several drives using the SM2262EN controller with the Micron NAND. We already have some idea how Toshiba's 96L NAND compares against their own previous generation thanks to our testing of the XG5 and XG6, but those are OEM-only drives with performance constrained by a somewhat outdated controller. The Kingston KC2000 is one of the first drives to bring Toshiba's 96L NAND to the retail market, and it will be followed by many others over the next year.
Kingston KC2000 SSD Specifications
Capacity
250 GB
500 GB
1 TB
2 TB
Form Factor
M.2 2280 PCIe 3.0 x4
Controller
Silicon Motion SM2262EN
NAND Flash
Toshiba 96L BiCS4 3D TLC
Sequential Read
3.0 GB/s
3.0 GB/s
3.2 GB/s
3.2 GB/s
Sequential Write
1.1 GB/s
2.0 GB/s
2.2 GB/s
2.2 GB/s
Random Read IOPS
350k
350k
350k
250k
Random Write IOPS
200k
250k
275k
250k
Power Consumption
3 mW Idle, 2.1 W Max Read, 7 W Max Write
Encryption
AES 256, TCG Opal 2.0, eDrive
Warranty
5 years
Write Endurance
150 TB
0.3 DWPD
200 TB
0.3 DWPD
600 TB
0.3 DWPD
1200 TB
0.3 DWPD
The Silicon Motion SM2262EN controller is a very familiar chip at this point, especially this late in the product cycle. It's a minor update over last year's SM2262 that mostly brings firmware optimizations for improved peak performance. When paired with Micron 64L NAND it has repeatedly proven capable of delivering very high performance for a drive with a PCIe 3 x4 interface., and it's unlikely to be the bottleneck when used with Toshiba's 96L NAND. Kingston's specs for the KC2000 agree: most of the performance ratings are a bit lower than the competition using Micron NAND. The power consumption specs suggest that we may see some of the impressive efficiency that Toshiba/WD BiCS NAND has been providing in first-party drives like the Toshiba XG series and the recent WD Black models.
The Kingston KC2000 lineup spans from 250GB to 2TB. That smallest capacity point has started to disappear from some flagship high-end product lines because it isn't able to deliver the same level of performance that larger models can. For the KC2000, Kingston is keeping the smallest and most affordable capacity around, but with significantly slower write speed ratings.
The 5-year warranty and 0.3 DWPD write endurance ratings for the KC2000 are standard for this market segment. The support for TCG Opal and eDrive encryption are still relatively uncommon among retail NVMe drives, and probably result from Kingston's strong focus on the business market.
Kingston uses a double-sided layout for the KC2000. The DRAM and NAND were binned and packaged by Kingston, and they generally prefer to use more packages with fewer dies each. This means we have eight total NAND packages of 128GB (1024Gb) each and two DRAM packages of 512MB each on our 1TB sample; a tight fit overall, especially compared to the loose spacing seen on previous SM2262EN drives.
The Competition
The most interesting comparison for the Kingston KC2000 is another drive using the same Silicon Motion SM2262EN controller. For this review, that role is filled by the ADATA SX8200 Pro. The Toshiba XG6 is the only other drive we have so far that uses Toshiba 96L TLC, but it's an OEM-only product. The Silicon Power P34A80 is the representative from the wide field of products that combine Toshiba's 64L TLC with the Phison E12 controller. Also from the Phison camp is Kingston's entry-level NVMe drive, the A1000 that uses the Phison E8 controller and Toshiba 64L TLC. We also include results for flagship drives from Intel, Samsung and Western Digital.
AnandTech 2018 Consumer SSD Testbed
CPU
Intel Xeon E3 1240 v5
Motherboard
ASRock Fatal1ty E3V5 Performance Gaming/OC
Chipset
Intel C232
Memory
4x 8GB G.SKILL Ripjaws DDR4-2400 CL15
Graphics
AMD Radeon HD 5450, 1920x1200@60Hz
Software
Windows 10 x64, version 1709
Linux kernel version 4.14, fio version 3.6
Spectre/Meltdown microcode and OS patches current as of May 2018