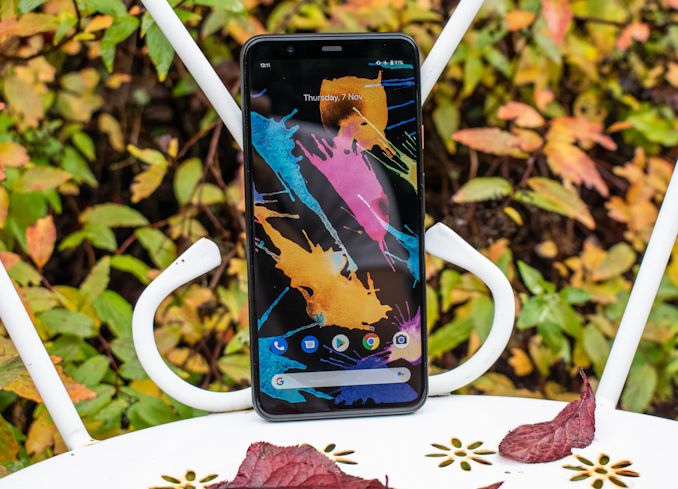 Amongst the last big smartphone releases of 2019 is Google's Pixel 4 series. Google's own flagship devices come late in the generational product cycle whose timing is mostly dictated by the SoC release schedule – it's always hard to be able to make a case for your product knowing in a few months' time we'll be seeing a barrage of new competing products raising the bar again. Google's forte in this regard is that it promises to augment its products with features beyond what the hardware can provide, yet in a sense, the Pixel 4's biggest improvements (and weaknesses) this year are actually mostly related to its hardware.
The new Pixel 4 is again a camera centric phone – it's the topic that Google talked about the most and dedicated the most time to during its launch event in New York. The Pixel 4 adds for the first time a second camera module that acts as a telephoto unit, and also promises to have improved the capture quality on the new main camera. Whilst Google has a reputation for having good cameras, the Pixel 4 this year faces incredible competition as essentially every other vendor this year has launched devices with triple cameras and have stepped up in terms of their computational photography capabilities.
Other big features of the Pixel 4 include a new 90Hz capable display panel that allows for a new ultra-smooth device experience, a feature that's still quite rare amongst flagship devices this year, but quickly catching up with many vendors. Another big change for the Pixel 4 is the dropping of the fingerprint sensor in favour for a new full-blown face unlock feature. This latter feature is augmented by another novelty of the Pixel 4: A radar sensor that's able to detect movements and gestures pointed at the phone.
We'll be putting the new Pixel 4 XL through our test benches and determine if Google has managed to create a compelling product worth your money.
Google Pixel 4 and Pixel 4 XL
AnandTech
Pixel 4

Pixel 4 XL
(Reviewed)
SoC
Snapdragon 855
1 x 2.84 GHz Kryo 485
3 x 2.42 GHz Kryo 485
4 x 1.78 GHz Kryo 485
Adreno 640 Graphics
DRAM
6 GB LPDDR4X
Storage
64 GB or 128 GB UFS
Display
5.7" POLED
2280 x 1080 (19:9)
90 Hz
6.3" AMOLED
3040 x 1440 (19:9)
90 Hz
Size
Height
147.1 mm
160.4 mm
Width
68.8 mm
75.1 mm
Depth
8.2 mm
8.2 mm
Weight
162 grams
193 grams
Battery Capacity
2800 mAh
3700 mAh
Charging
18 W Wired Quick Charge 2.0
Qi Wireless Charging
Rear Cameras
Main
12.2MP 1.4µm Dual Pixel PDAF
f/1.7 1/2.55" sensor with OIS
Telephoto
16 MP f/2.4 1.0 micron
PDAF, OIS, 1.7x Optical Zoom
Wide
-
Extra
-
Front Camera
8MP 1.12µm f/2.0
+ ToF 3D Camera
I/O
USB-C 3.1 (5 Gbps)
No 3.5mm headphone jack
Wireless (local)
802.11ac Wave 2 Wi-Fi
Bluetooth 5.0 LE + NFC
Cellular
UE Category 18 (DL) / Category 12 (UL)
1200 Mbit/s DL (5xCA 2x2 MIMO)
150 Mbit/s UL
Other Features
Stereo Speakers
IP68
Android 10
Project Soli Radar Motion Sensng
No fingerprint sensor, face ID only
Dual-SIM
1x nanoSIM + 1 x eSIM
Colors
White
Black
Orange
Launch Price
€749 / $799 for 64GB
$899 for 128GB
€899 / $899 for 64 GB
$999 for 128 GB
As noted, the internal hardware of the Pixel 4 XL isn't all particularly exciting at this point in time. The Snapdragon 855 is the same SoC that we've seen in devices launched in February and March. Google could have opted to use the slightly faster and better binned Snapdragon 855+ this year, but for whatever reason it didn't make it. That being said, Google is known to be able to create amongst the best implementations of a given SoC, so we're expecting a very fast device experience.
One big criticism that the Pixel 3 suffered from last year and that the Pixel 4 series partly addresses is the RAM. Android is quite memory hungry and Google has now updated the line-up from 4GB to 6GB which should help in keeping more applications alive. It's still a step below what other vendors offer this year as 8 and 12GB variants have become relatively standard in the high-end.
One aspect that isn't high-end at all is Google's choice to go with 64GB of storage in the base models. This is a bit painful to see as more and more vendors go with 128GB as the minimum. The up-sell to 128GB costs $100 which is even more than Apple's $50 premium for the same upgrade, putting the Pixel 4 in an even more awkward situation.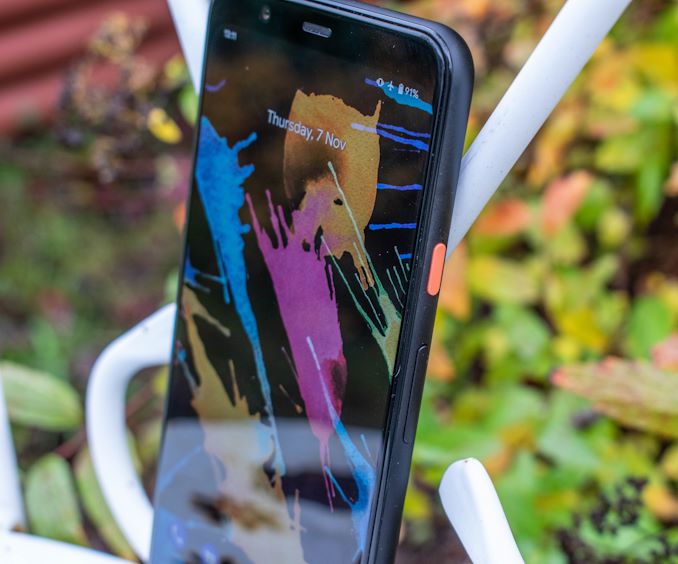 Key to the Pixel 4's are the new display panels. The Pixel 4 XL goes for a more elongated 6.3" 3040 x 1440 resolution screen, resulting in a 19:9 aspect ratio, whilst the regular Pixel 4 remains at the smaller 2280 x 1080 for the smaller 5.7" form-factor. The big news here is the inclusion of 90Hz refresh rates. High refresh displays in mobile have really made an impact this year, with the OnePlus 7 Pro particularly making a lasting impression. Google's implementation is slightly more subdued as it's adaptive refresh rate switching feature between 60 and 90Hz is still a bit quirky – however one can force the devices to be in 90Hz mode all the time, although it comes at a cost in power consumption.
Google promises that this year they've paid a lot more attention to the colour calibration of their screens. In the past we've seen some major oddities in terms of the target gamma that Google had employed and a few miscalibration issues in regards to the average picture level scaling of the screen. This year the Pixel displays are again dual-sourced between LG and Samsung. The regular Pixel 4 receives an LG panel, whilst the Pixel 4 XL we tested today employs a Samsung unit.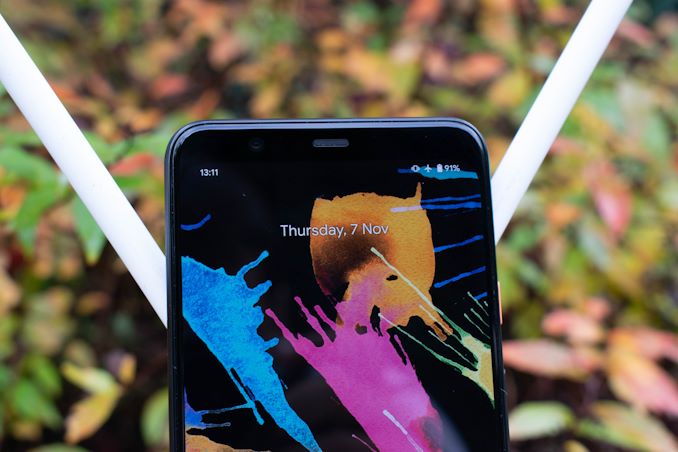 One aspect of the phone's new designs is that they're not trying to be that extravagant. Both have larger display bezels on the top ("foreheads") instead of going for cut-outs or notches. Good riddance to monstrosity that was the double-height notch of the Pixel 3 XL.

Google needed to use a forehead design this year simply because the Pixel 4s are packed to the brim with sensors. Whilst the phones see a downgrade from dual front-facing cameras to a single unit this year, we see the addition of an IR camera, a flood illuminator and a dot projector, the usual array of hardware we've seen for the more advanced facial unlock implementations out there.
On the right side of the earpiece speaker, we see another big novelty: Project Soli. In essence this is a miniature radar emitter and receiver and is at the heart of Google's take on motion gestures. I'll be blunt here: the feature is very much a gimmick that serves very little practical purpose. We've seen gestures attempted in the past by vendors such as Samsung and LG, and they never managed to win any kind of adoption. Google's implementation work "ok" in the few tasks that are currently available such as skipping between music tracks, but these are just coarse gestures that aren't any different than what we've seen from other vendors. The one big actual practical advantage of the system is that it aids face unlocking: the phone is able to detect you reaching for it and is able to wake up sooner in order to fire up the face unlocking sensors and cameras – reducing the reaction time and unlock time, which is pretty good.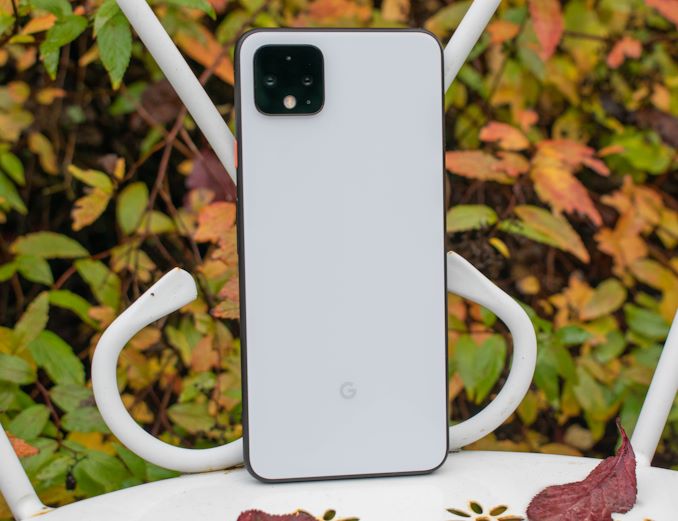 The back design of the phone is relatively simple as we see a glass backplate with only the camera square as the dominating feature. The back glass on the orange and white models this year is fully matte with an etched finish, similar to the one we've seen last year on the Pixel 3. The black unit however for some reason is a glossy finish which means it'll be more prone to smudges; I would have hoped Google had went with the matte finish across all colours.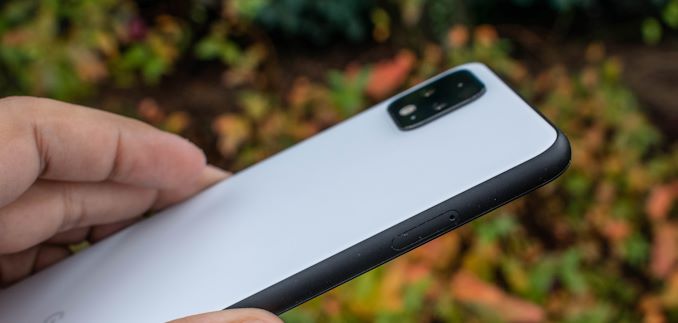 The frame of the Pixel 4 is very odd in terms of feeling. The frame is made of aluminium; however, it's coated in a new special material. It doesn't feel like metal anymore but it's also not plastic feeling. Personally, I like it because it's matte and gives good grip on the phone. What I didn't like is the new ergonomics of the frame. Google this year no longer tappers/rounds off the edges towards the back of the phone, and what this results in is that the phone feels thicker than it is – the Pixel 3 had a much better in-hand feel in this regard.
Talking about thickness, it's at 8.2mm for both devices. Oddly enough even though it's at the higher end of the thickness spectrum, Google wasn't able to employ quite as big batteries as one might expect. The Pixel 4 XL comes with a 3700mAh battery, which whilst still around 10-20% smaller than what we see from the competition, is still relatively adequate. The smaller Pixel 4 however only has a 2800mAh unit, which is not only quite far from what we see in competing devices of the same form-factor, but also an actual downgrade from the Pixel 3 last year. It's really unfortunate we weren't able to get the regular Pixel 4 for testing as I think the battery life is going to be especially problematic for that variant of the phone.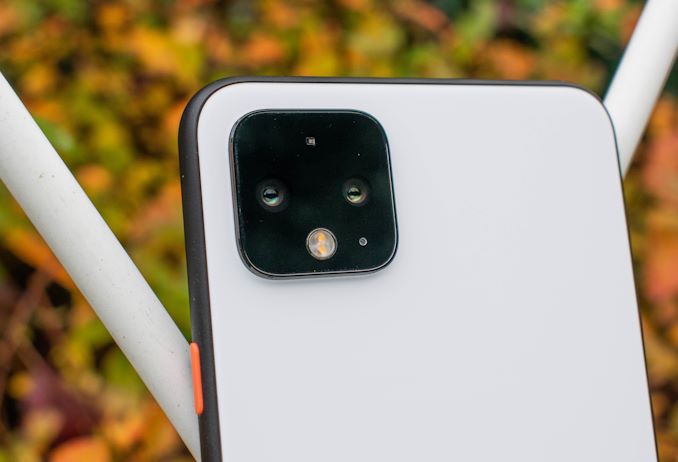 The camera "square" for the Pixel 4 is a bit of an odd design choice, simply because it's really only housing two camera modules, whilst the square/circle design of other vendors was introduced because they needed to house three or more cameras. It's a practical design in the Pixel 4, but feels a bit bare compared to Apple or Huawei's implementations.
The main camera of the Pixel 4 remains similar to its predecessors in specification: It's a 12.2MP sensor with 1.4µm pixels and Dual Pixel PDAF, but it's not the same sensor as on the Pixel 3. The newer unit promises to have better noise characteristics and it'll be able to perform better in low-light situations and also offering more dynamic range in daylight. The optics have been slightly improved as the aperture is upgraded from f/1.8 to f/1.7, allowing for more light.
The Pixel series' first secondary rear camera module is a telephoto unit. Here Google has chosen a 16MP sensor with 1µm pixels and an f/2.4 aperture lens. The optical magnification compared to the main sensor isn't 2x as what we'd expect, but more precisely 1.7x. It's an odd combination what we hadn't seen before and we'll investigate the benefits and drawbacks later in the camera section.
There's been a bit of a unanimous consent amongst media and users that Google's choice to go with a telephoto lens instead of an ultra-wide-angle module as the second camera was a mistake, and I'm of the same opinion. 2019 saw essentially every single vendor adopt UWA modules in their cameras, not only because it's in vogue, but because it's a more worthwhile camera experience than a telephoto module.
Google claims new HDR+ and Night Sight algorithms, and the computational photography aspect of the Pixel 4 is augmented by a new accompanying processing chip called the Pixel Neural Core which offloads computations from the SoC.

Finally, the last big change that's notable for the Pixel 4 is that Google has dropped its dual-front facing speaker design. The Pixel 4 now instead uses a regular earpiece & bottom firing stereo speaker setup. It's adequate enough, but doesn't match the stereo balance and quality of Samsung's Galaxy series or Apple's iPhones.
Also related to the audio, the Pixel 4 doesn't ship with any kind of headphones or even a 3.5mm adapter so you'll have to have compatible USB-C units at hand or buy them extra (I really do not recommend the Pixel USB-C units). Or you can also be a schmuck and chose to spend a heavy premium getting wireless earbuds – but again, not the new Pixel Buds as they won't even be available till sometime in early 2020.
Overall, the Pixel 4 XL's hardware seems rather underwhelming, but that's been the case of previous generation Pixel devices as well. What matters, is how the new phone performs and if the new cameras are up to the task. Let's start with performance.