Hot Test Results (~45°C Ambient)
The MSI MPG A1000G PCIE resists high ambient temperatures well enough for an 80Plus Gold certified unit, with an average efficiency degradation of 0.65% across the nominal load range. However, the degradation while the unit is very heavily loaded is high, at over 1.5%, suggesting very high thermal stress.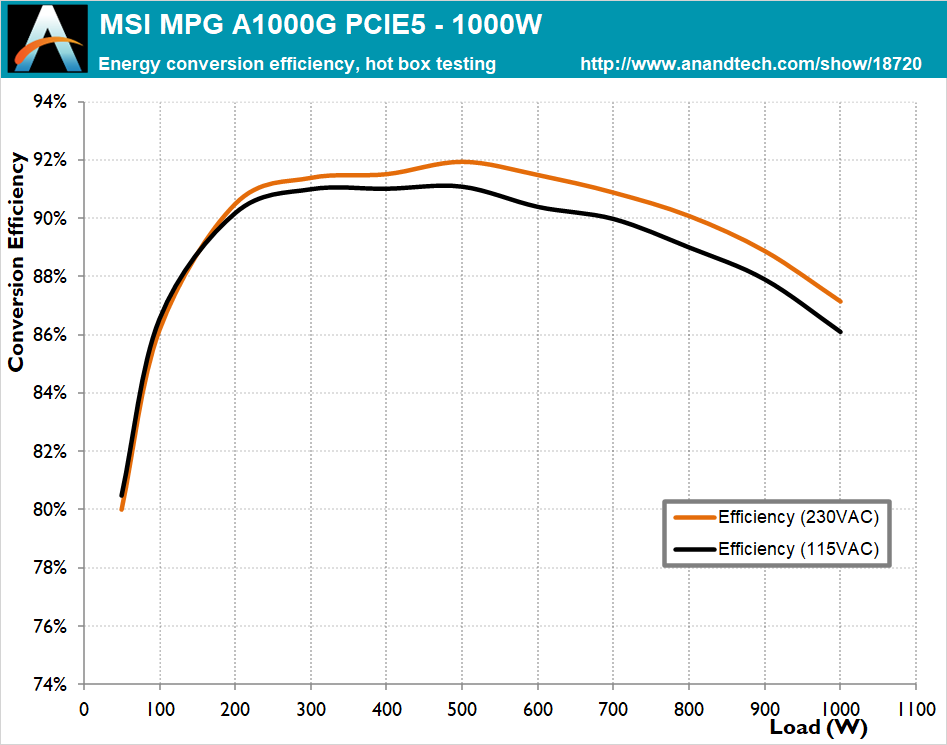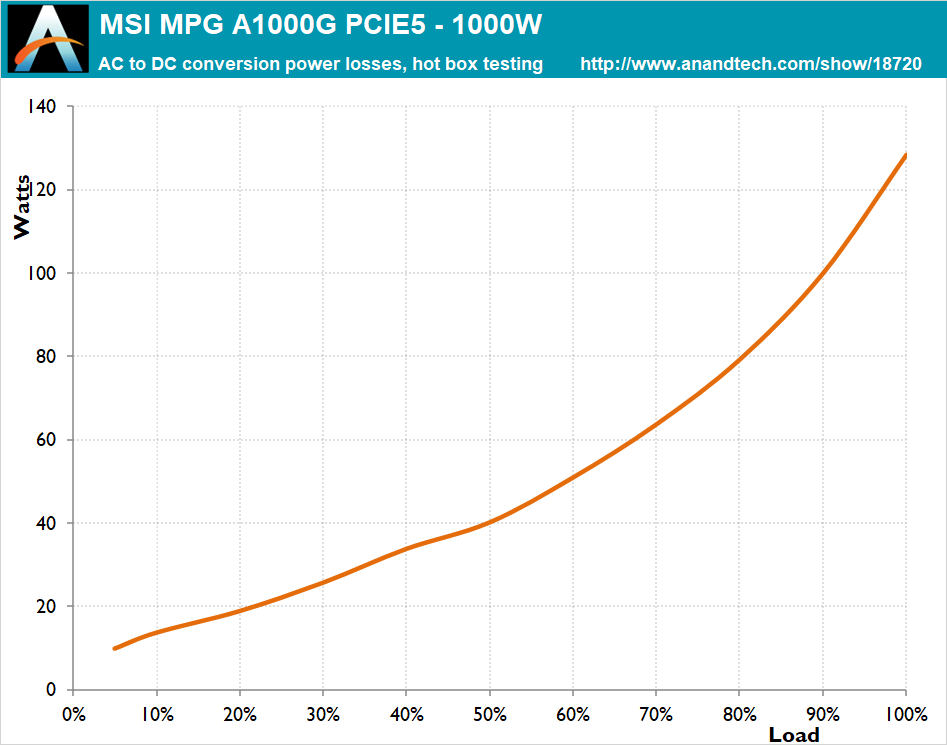 Due to the aggressive cooling profile, the internal temperatures of the MSI MPG A1000G PCIE are quite low for a unit with that kind of power output. The thermal losses of this PSU at maximum load are over 125 Watts, with the fan giving its all by the time the load is at 80% of the unit's capacity, and even then the component temperatures are of the lowest we have seen in products of similar class and power output. The irregular observation here is that there is a sharp efficiency drop at maximum load while the PSU's primary components are not too hot. We ruled out the common culprit which is undersized components, as the components used in the MPG A1000G are more than capable of delivering the required currents, as well as the possibility of a poorly attached part to its heatsink that would cause a massive hot spot. That implies that the MPG A1000G PCIE simply is based on a platform strongly optimized for low-end performance, or that the platform was not originally meant to be used for 1+ kW units.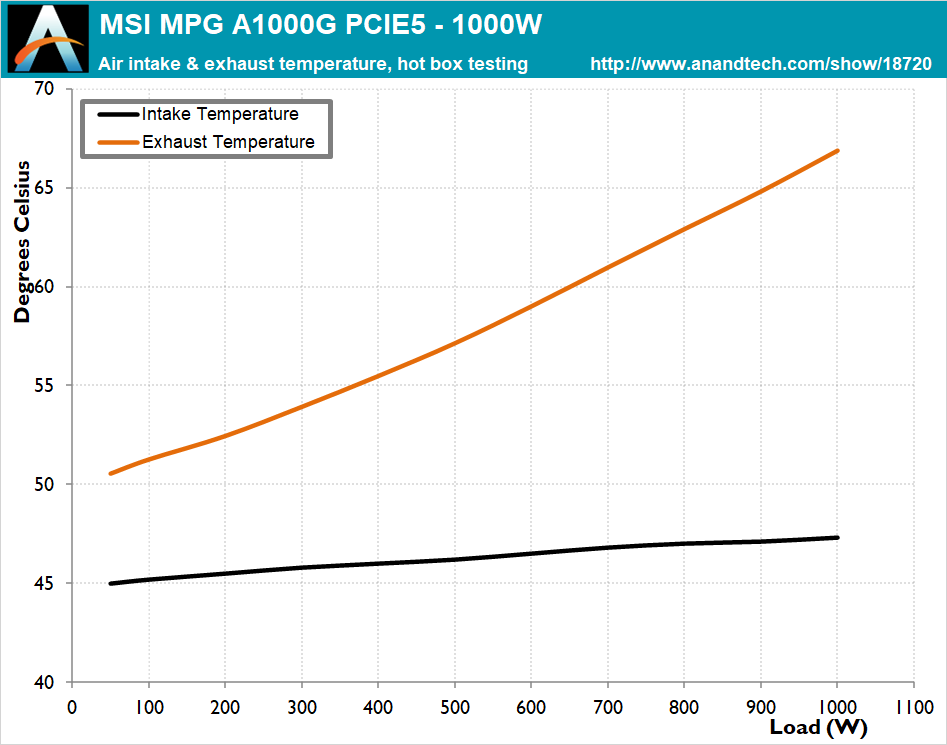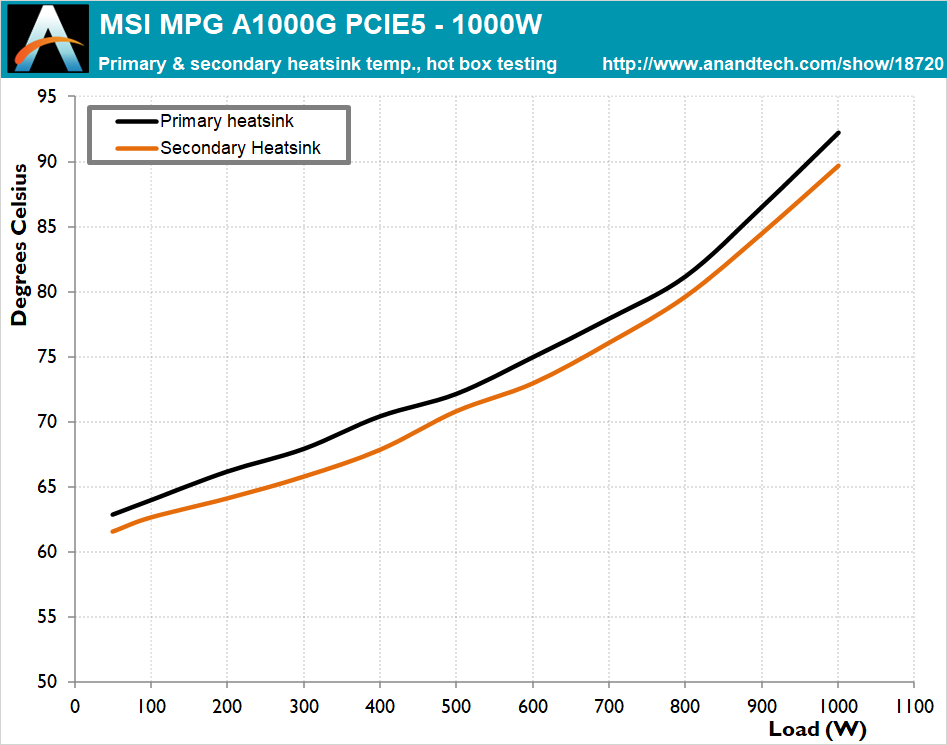 As we mentioned above, the internal temperatures of the MSI MPG A1000G PCIE are quite low for a product of its class and power output. The culprit behind this is the aggressive cooling profile and the large Hong Hua 135 mm fan. With the PSU operating inside our hotbox, the unit is relatively quiet while the load is very low, with the fan's speed increasing almost linearly alongside with the load if the latter is greater than 200 Watts. The controller had the fan running at maximum speed by the time the load was 800 Watts, making the MPG A1000G PCIE5 annoyingly loud. Typical PCs (at least not those available today) will not continuously draw that kind of power from the PSU but it can become a problem under certain usage scenarios.