The Chipset
A very little talked about aspect of the new Mac Pro is the chipset used, which appears to be Intel's 5000X. The only other option is the Intel 5000P, but the 5000P only has x8 PCIe slots off of the MCH and thus it wouldn't make sense given that Apple is only really touting single GPU or multi-display configurations with the Mac Pro.
The 5000X is by no means a desktop chipset, it supports up to four FB-DIMM memory channels and has two independent 64-bit FSB interfaces, one for each Xeon socket. With two FSBs running at 1333MHz a piece, there's a total of 21.3GB/s of bandwidth between the chipset and the CPUs, which matches up perfectly with the 21.3GB/s of memory bandwidth offered if you populate all four FB-DIMM channels on the motherboard. Note that if you only use two FB-DIMMs, you'll only be running in two channel mode, which will limit you to 10.67GB/s of bandwidth. While we have yet to test it, there may be a performance penalty when running in two channel mode.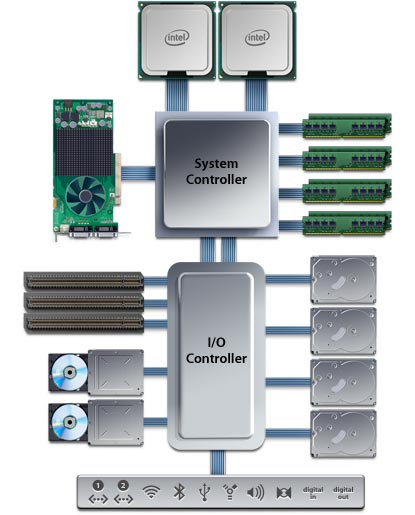 The 5000X MCH (the "System Controller") supports a total of 24 PCIe lanes, divided into one x16 and one x8. The x8 appears to connect to the ICH (labeled in the graphic above as the "I/O Controller") while the x16 is what drives the primary PCIe slot (the one that has enough room for a double height card).
The ICH have another 12 PCIe lanes coming off of it, and it looks like Apple splits them off into two x4s and one x1 for its remaining PCIe slots. Apple continues to exclusively use physical x16 slots, so each slot can be used by any sort of card (video card or not) rather than having x1 and x4 slots on the motherboard. Because of the Mac Pro's four x16 slots, you can order the system with up to four GeForce 7300GTs for some 8 monitor action.
The ICH used on the motherboard is what we believe to be Intel's 6321ESB and it supports up to 6 SATA devices and 2 PATA devices, which is where you get the expansion capabilities that are built into the system. You've got four SATA hard drive bays and support for up to two SuperDrives. Apple still relies on OS X to provide RAID support, so only RAID 0 and RAID 1 are supported through software.