Test Setup
As with our last game article, we grouped the performance tests into three different categories: low-end, mainstream/midrange, and high-end graphics performance. However, we only have one benchmark for Rainbow Six: Vegas, which will mean fewer numbers. In two of the three sections, the low-end and mainstream/midrange, we have performance results for the game at both highest and lowest quality settings. We chose the same types of cards from ATI and NVIDIA for testing this game as with Double Agent, and we used these solutions because they cover a broad spectrum of current-generation cards at different performance levels.
The NVIDIA cards we tested Vegas with are the 7300 GT, 7600 GS, 7600 GT, 7900 GS, 7950 GT, 7900 GTX, and the 8800 GTS and GTX. From ATI, we have the X1300 XT, X1650 Pro, X1650 XT, X1900 XT 256, and X1950 XTX. We are happy to report that unlike with Double Agent, Rainbow Six: Vegas runs on the 8800 without any strange graphical artifacts at all. Also, because the game doesn't yet officially support SLI, the 7950 GX2 doesn't see the type of performance in this game that it should, and so it was omitted from our tests. We would have very much liked to have seen how quad SLI handled the game, but unfortunately we will have to wait and hope a patch or driver update will allow this. The 7300 GS performed so poorly with this game that it wasn't included in our tests, and needless to say we don't recommend trying to play Rainbow Six: Vegas on this card. In fact, any current card that costs under $125 is going to have difficulties unless you run at lowest quality settings and a low resolution.
Here is the system we used for our performance tests.
System Test Configuration
CPU:
Intel Core 2 Extreme X6800 (2.93GHz/4MB)
Motherboard:
EVGA nForce 680i SLI
Intel BadAxe
Chipset:
NVIDIA nForce 680i SLI
Intel 975X
Chipset Drivers:
Intel 7.2.2.1007 (Intel)
NVIDIA nForce 9.35
Hard Disk:
Seagate 7200.7 160GB SATA
Memory:
Corsair XMS2 DDR2-800 4-4-4-12 (1GB x 2)
Video Card:
Various
Video Drivers:
ATI Catalyst 6.10
NVIDIA ForceWare 96.97
NVIDIA ForceWare 91.47 (G70 SLI)
Desktop Resolution:
2560 x 1600 - 32-bit @ 60Hz
OS:
Windows XP Professional SP2
High-End Performance
As we saw with other games like Oblivion and Double Agent, Rainbow Six: Vegas performs better on ATI cards than NVIDIA ones at the same price point. This is something that can possibly change as drivers are updated and game patches are released in the future. Something to keep in mind is in our benchmark for Vegas, average FPS of a little over 20 will mean relatively smooth frame rates throughout most of the game. There will however be times when action gets heated and you will experience choppiness on cards that score less than ~30 FPS in our particular benchmark scenario.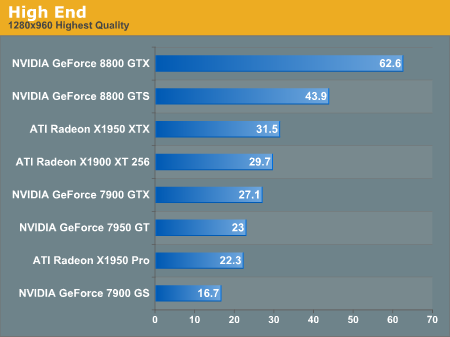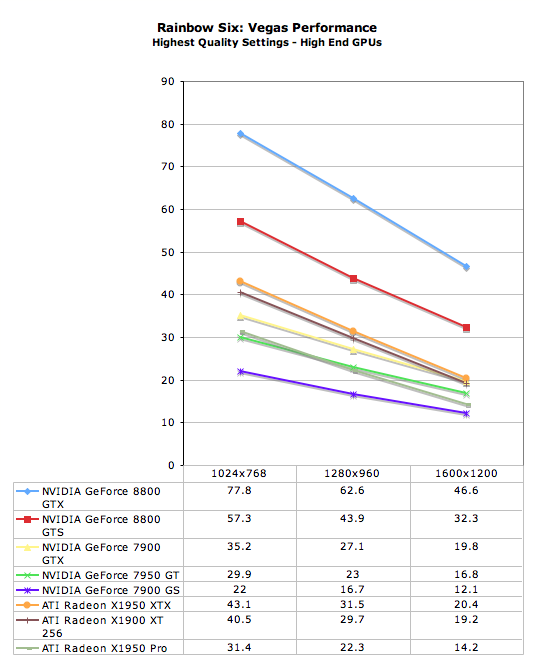 We can easily see from these results how much performance NVIDIA's 8800 series of cards are capable of over the rest of the competition. ATI doesn't actually have any direct competition to the 8800 right now, so those wanting the fastest performance in this or basically any other game will have to go with NVIDIA. (Don't plan on running the beta/release candidate of Vista on 8800 cards right now, however, as the Vista drivers are still not finalized.) This shows how, as we said earlier, the 8800 GTS and GTX are the only two cards that can really run the game smoothly at the highest resolution with the highest quality settings enabled.
The X1950 XTX almost runs the game smoothly at the highest settings, and with some overclocking, Vegas has a good chance of running perfectly fine at maximum details and 1600x1200 with this card. Similarly, the 7900 GTX, as powerful as it is, just can't manage acceptable performance in the game at 1600x1200 at reference speeds, but at one resolution down it looks and plays fine.