Out of Germany comes the WeTab, the first shipping MeeGo-based tablet, running Intel's new open source operating system on top of the venerable Atom N450 processor. It's a fairly standard Atom based tablet, pretty similar to the Exo PC and others, with the netbook internals, an SSD, and an 11.6" WXGA screen.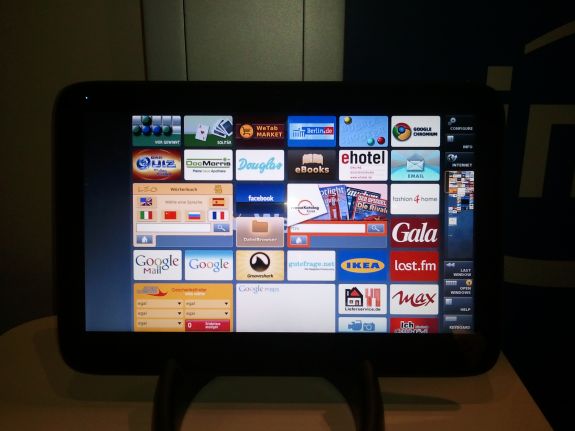 Neofonie's skin on MeeGo consists of a number of tiles on the homescreen, and scrolls through the application tiles with a thumb-based navigation on the sides of the screen. All of the settings and controls are also located on the sidebars, making both navigation and changing options pretty simple. While it's not the most intuitive UI to pick up immediately, once you get used to it, I can see it being pretty efficient to use. The keyboard is definitely better than the stock Windows 7 keyboard, but not quite iPad quality, since the keys are pretty small. Overall, the experience isn't as impressive as some of the skinned Windows UIs like the ExoPC, but it's quick and MeeGo is definitely noticeably more responsive than the Windows-based Atom tablets.

The claimed battery life of 6 hours suggests a 4 cell battery inside with around 32 Wh in capacity. Build quality is pretty good, with a solid chassis and a good feel in hand. At 1.8lbs, it's a bit heavier than the iPad, but since it's larger, you don't feel it as much.

Unfortunately, the screen is a pretty big letdown on the WeTab. The 11.6" WXGA panel has a decent resolution, producing crisp images, but the viewing angles are pretty bad and the responsiveness was not very good. There were pretty frequent missed presses throughout our hands-on experience with the WeTab, and it really puts a downer on the otherwise decent UI. For a device that is shipping next week, that's pretty disappointing, though it is possible that we were using an earlier prototype. If WeTab can figure out the touchscreen responsiveness, it could really push the MeeGo platform for tablets and carry the OS until the tablet-specific build of MeeGo is released early next year.