Here at IDF, Intel has been promoting the Atom platform pretty heavily, with the new dual core Atom N550 and all of the new Moorestown-based chips like the CE4200 and E6xx series. They've been demoing quite a few of the latest netbooks and tablets from their partners, including the OpenPeak Moorestown device we looked at on Monday, but for the most part the devices have been running Pine Trail, like the WeTab from yesterday's keynote.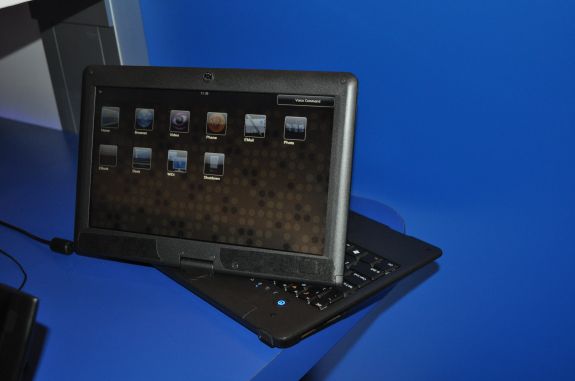 On the netbook side of the mobile device booth, they had an array of some of the newer netbooks, all stuff that's been already released. A couple were running MeeGo v1.0, and most of them had the Atom N450 underhood. The only really interesting ones were the Asus EeePC 1015PEM and the not-sold-in-America LG X140, both of which were fitted with the dual core N550. Intel was showing off the newfound 1080p playback ability for the dual core-equipped netbooks, a feat that previously required the Broadcom Crystal HD chip. Unfortunately, HD Flash video is still a no-go, and even videos playing from the hard drive max out the CPU and still manage to drop a few frames here and there. So dual core Atom netbooks can handle 1080p playback....kind of.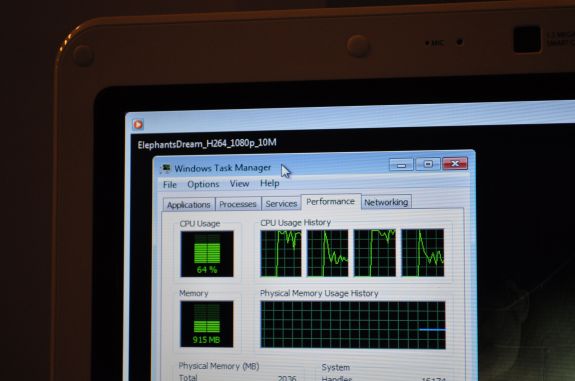 The tablets were more interesting, with a number of different Windows-based slates to go along with the MeeGo-based WeTab. All of them were running the N450, 1GB of memory, and 10.1" and 11.6" screens. The ExoPC slate was on hand, with its custom UI layer built on top of the standard Windows 7 desktop manager. The ExoPC was the tablet used in the WiDi demo from Paul Otellini's opening keynote, which raises some interesting theories as to what kind of hardware requirements exist for WiDi capability. There was also a 4G-enabled ExoPC unit at Intel's WiMAX booth. Beyond that was the rare sighting of a JooJoo tablet, along with some other Windows tablets designed by Chinese vendors.
I don't think that Pine Trail is the right platform for tablets - Windows is too heavy and cumbersome as is to offer a good user experience, and a custom skin like Exo PC's only adds to the performance hit that Windows brings with it. Even when running MeeGo, the battery life offered by Pine Trail tablets is pretty poor, usually only around 6 hours. This simply isn't enough to deal with the level of mobility the tablet market demands, and as such we find ourselves looking at devices that are basically updated UMPCs. Moorestown and Oak Trail based tablets running lighter operating systems like MeeGo or Android 3.0 are where the future of Intel internet tablets lie.