We managed to catch up with Ocosmos, the people behind the OCS1 gaming tablet from Douglas Davis' keynote this morning, and got some more information regarding the intruiging new tablet. As we noted before, it's running Windows 7, Intel's Oak Trail platform, two D-pads, and a screen that slides up to reveal a physical keyboard.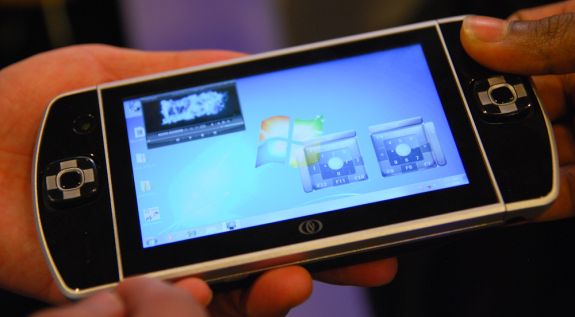 We can now flesh out the specs further, with the data sheet showing a 4.8" capacitive touch screen with WSVGA resolution (248 pixels per inch!), a 1.5GHz Atom Oak Trail with GMA 600, a 32GB SSD built in with expandable memory, integrated GPS, a 1.3 megapixel front facing camera, 3 megapixel rear camera, and a micro-HDMI support.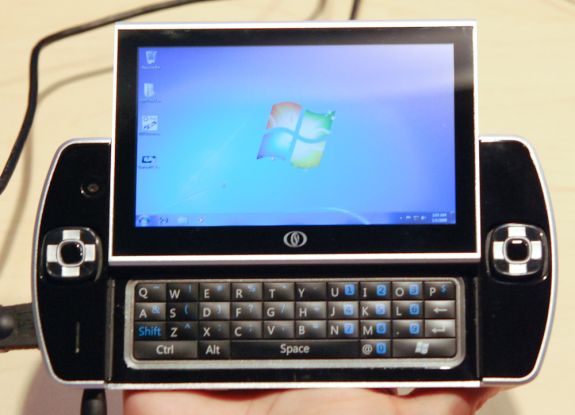 But the best part about it, other than the awesome form factor and specs for such a small device, is the gaming aspect. The D-pads slide and click in eight directions, can be used and pressed down like analog sticks, and act as the mouse throughout Windows. There are right and left triggers on the top of the device. It's like a PSP computer, with a real keyboard.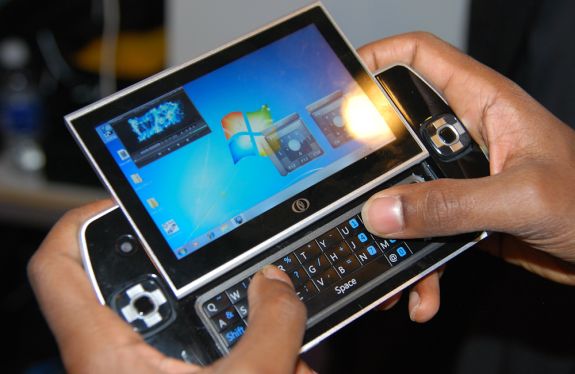 It's got a pretty hefty feel, which is expected since it's stuffed an entire Windows system into a 4.8" device form factor, and it fits nicely in your hand. The rear of the device is shaped such that the device is easy to hold when gaming and won't tire out one's hands. Unfortunately, due to the early Oak Trail silicon, the prototype was a barely functioning unit that made for a good industrial design/mechanical engineering sample, but things like the touchscreen and d-pads were not working. So the Ocosmos team has a bit of work ahead of them, but the OCS1 isn't slated to ship until early next year, and we eagerly await the day we can get our hands on a finished product.