Cables and Connectors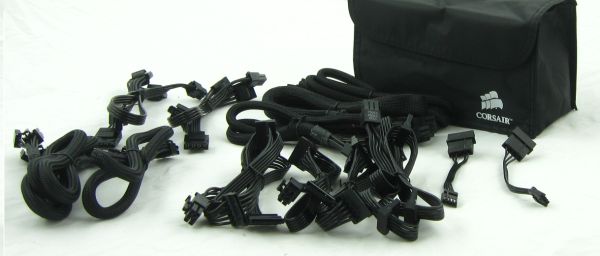 As already mentioned, the flat peripheral cables are a distinctive feature to Seasonic made PSUs. For the CPU and GPU connectors Corsair uses the usual cables and sleeving, and every surface and single connector are classical black.
Cables and Connectors
Modular
Main
20/24-pin 60cm
ATX12V/EPS12V
4+4-pin 60cm / 4+4-pin 60cm
PCIe
2x 6/8-pin 60cm / 2x 6/8-pin 60cm
Peripheral
2x Molex: 45cm / 58cm / 71cm / 85cm
2x Molex to Floppy 10cm Adapter
2x SATA: 45cm / 58cm / 71cm / 85cm
2x SATA: 45cm / 60cm
Cable lengths are reasonably long and the AX750 should work well in most cases, including full towers with bottom-mounted PSUs. The main 24-pin, 4+4 ATX12V/EPS12V, and PCIe harnesses all measure 60cm. There are two Molex/PATA and SATA harnesses with four plugs each, and two additional SATA harnesses with two connectors each. The longer harnesses are 85cm total while the two shorter SATA harnesses measure 60cm. With modern systems, Molex connectors are primarily used for fans and other peripherals, while SATA powers the HDDs/SSDs and optical drives.
The only potential issue is if you want to load up all the SATA connectors with a bottom-mounted PSU; the distance from the PSU to the first connector is only 45cm (give or take), with a fairly large 12-13cm gap between the connectors, so you'd want the HDD bays to be relatively close to the PSU rather than in the top portion of the case.