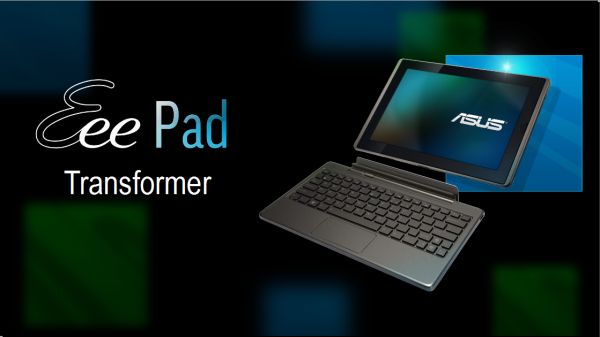 The Transformer is going to be the volume seller of the Eee Pad family. It sits squarely in the 10" Tegra 2 Android slate class, which is basically becoming the tablet equivalent of the mid-size car segment. The Transformer, at first glance, looks fairly standard, but it's got a couple of features that set it apart. We'll get to those in a bit, but let's look at the specs first.
Honeycomb and Tegra 2 are a given, with 512MB and 1GB RAM options available. The on-board flash storage comes in 16GB, 32GB, and 64GB sizes. The 10" screen is a WXGA (1280x800) IPS unit with 178 degree viewing angles. Again, ASUS uses IPS here—we'll see how many of the others are using IPS displays, but given the $399 starting price, it's nice to see that as a standard feature.
The same 5MP rear and 1.2MP front cameras from the MeMO are present on the Transformer too, though the LED flash apparently didn't make it. There's 2.4GHz 802.11n and Bluetooth 2.1 radios, but no word on built-in 3G connectivity. We'll be sure to ask ASUS about it when we meet them at CES, but it's difficult to imagine them shipping without mobile data as an option. The Transformer has a decent list of ports too—mini-HDMI, a combo audio/mic jack, an internal mic, micro-USB, SDHC card reader, and a docking port.

The docking port is where the Transformer gets interesting (and where it gets its name from). The Transformer has an optional keyboard docking station that effectively turns it into an Android netbook. It's a pretty attractive piece of kit when it's all put together, but I'm not sure how useful the touchpad will be in Android. Honeycomb might change that, but we'll need to wait to find out more about it. The docking station contains a second battery that doubles the Transformer's quoted 8-hour battery life, as well as some extra ports (I spied an extra USB port on the right side). The dock is an optional extra that I'm guessing will be in the range of $99 to $149, but if you're planning on using a keyboard on the go, it's probably well worth the money.

Speaking of pricing, the Transformer starts at $399. That sum will presumably get you the base 16GB/512MB RAM slate, while the other storage, connectivity, and memory options can push the cost up to $699. But at the entry level, you get a tablet with solid specs and an IPS display for $399, meaning that when it starts shipping in Q2, the base Transformer will definitely be a tablet to be reckoned with.