Hardware Impressions: Run of the Mill Motorola, aka Good Build Quality
The last Motorola phone I owned was the v70. Brian handled all of the 2nd generation Droid reviews, and while I've used them I never did so for an appreciable period of time. From the StarTAC to the v70, I will say I had some good experiences with Motorola hardware.
The Atrix 4G is no different. The phone is pretty light at 135 grams, that puts it in the class of the iPhone 4 and Optimus 2X (although the Atrix is lighter than both). Despite its weight, the Atrix 4G doesn't feel cheap - it just feels like a solid block of plastic. There's no discernible flex in the chassis, at least from my experience with the phone thus far. All gaps in the housing are both tiny and uniform. It's a well built product.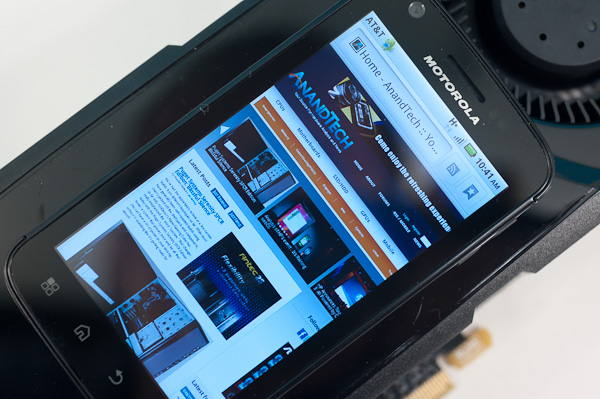 On the front is the 4.0" qHD PenTile LCD screen (960 x 540 resolution). At the top of the display is the front facing VGA camera, proximity sensors and notification LED. The LED is green when the Atrix 4G is plugged in and fully charged, it turns red when you are running low on battery and blinks green for all notification events.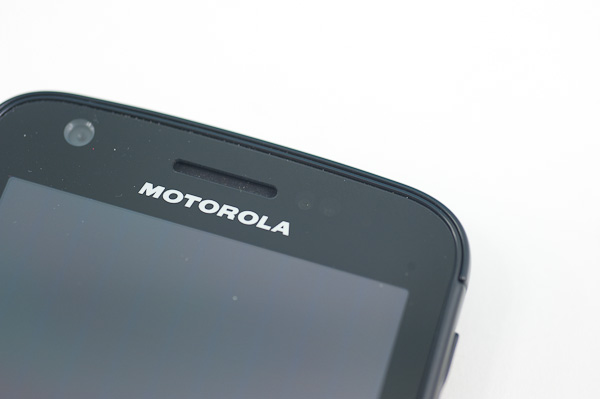 Along the bottom of the screen are the four Android buttons, all capacitive. The ordering is identical to the Droid X and LG Optimus 2X with the contextual menu coming first, followed by home, back and search in that order.
Along the right edge of the phone is easily one of the best feeling volume rockers I've ever used. The rocker itself is plastic but with very little play, it feels solid and stationary. Each click, up and down, is perfectly distinct. It's a good quality feeling button.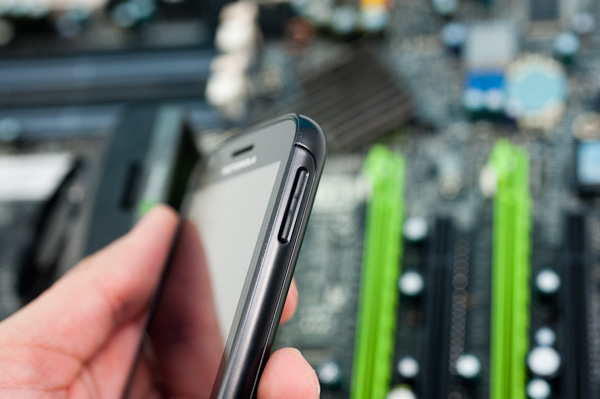 This is a Tegra 2 phone and thus the left edge has both a microUSB port for charging and a micro HDMI type D port for video output. The two ports are similarly sized and placed close enough together that I always worry about jamming a USB cable into the micro HDMI port. Don't you hate when that happens? Like the LG Optimus 2X, Motorola bundles a ~6 foot micro HDMI to HDMI type A cable with the phone.
The power/lock button is in a unique location on the Atrix 4G. It's angled between the top and rear planes of the phone.
The button's location is unusual at first but I must say it's pretty easy to get used to and after a few days I didn't have any complaints about it. It's not as easy to fumble around with in your pocket than a conventional top mounted switch, but it works and it keeps the outer rim of the phone pretty clean.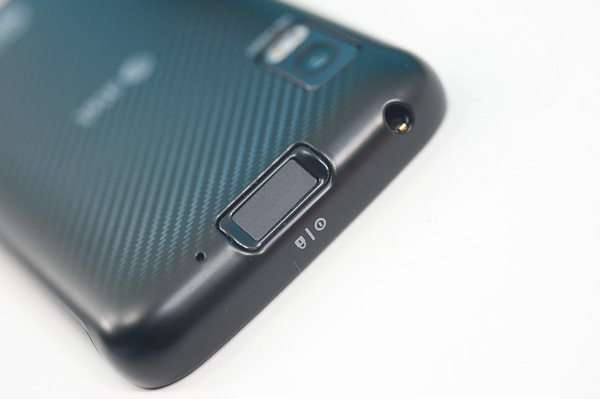 The phone's 1/8" jack is located up top. There's a small slit for the primary microphone on the face of the phone. The speakerphone and noise canceling mic input are both located around the back.
The back cover is a thin piece of plastic with a carbon fiber-like pattern printed on it. It's a pretty classy design and the back cover, like the rest of the phone, doesn't feel cheap.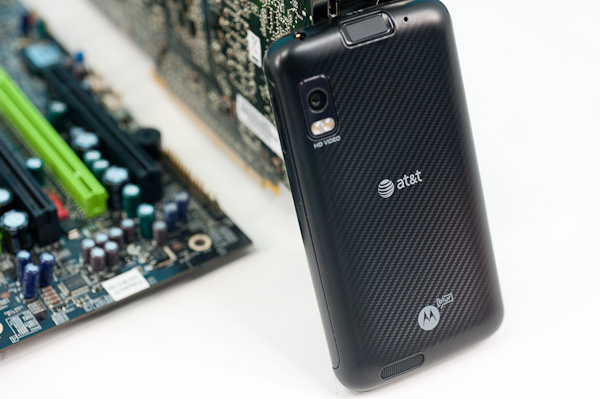 Motorola integrates a 5MP rear facing camera with LED flash on the back of the phone. The camera doesn't protrude beyond the back cover, instead it's recessed by a approximately 1mm.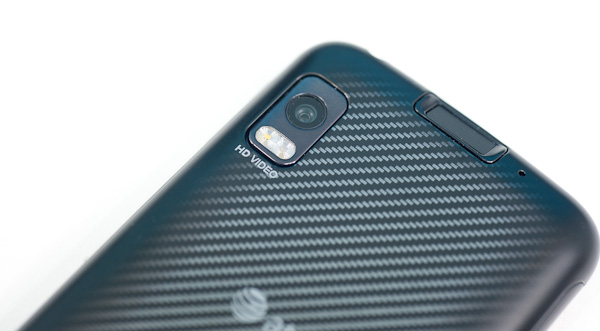 A side effect of Motorola's tightly assembled design is that there's no notch to jam your fingernail in to easily remove the back cover. You have to instead do a bit of prying at the bottom before you can get enough room to really pull the thing off.
There are snaps located on both sides of the back cover, the top and the bottom just cup around the phone chassis to hold itself in place.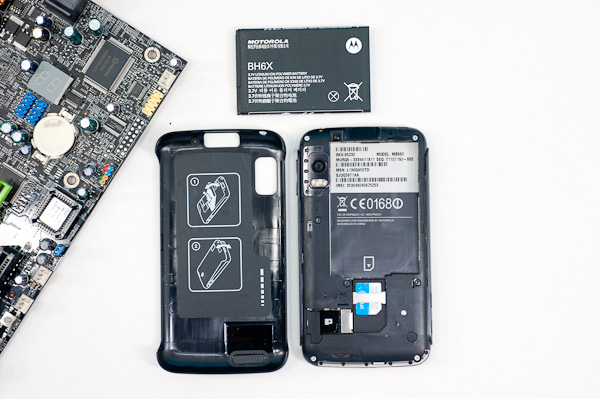 Inside the Atrix 4G is a very large ~7.0Whr battery. Motorola rates it between 1880mAh and 1930mAh. This is actually the first time I've seen a variable rating printed on a smartphone battery.
Like the Optimus 2X, the Atrix 4G's microSD slot is accessible without removing the battery. You do need to take out the battery to get to the SIM slot however. The Atrix 4G ships with 16GB of on-board NAND, so the microSD slot remains unpopulated by default. Of that 16GB only 14GB is available to Android (and of that ~11GB is for media storage). The remaining 2GB is presumably used for Motorola's webtop Linux environment. I managed to copy to the Atrix 4G's internal NAND at a peak of 10.5MB/s over USB.
Physical Comparison
Apple iPhone 4
Motorola Droid 2
Google Nexus S
LG Optimus 2X
Motorola Atrix 4G
Height
115.2 mm (4.5")
116.3 mm (4.6")
123.9 mm (4.88")
123.9 mm (4.87")
117.8mm
Width
58.6 mm (2.31")
60.5 mm (2.4")
63.0 mm (2.48")
63.2 mm (2.48")
63.5mm
Depth
9.3 mm ( 0.37")
13.7 mm (0.54")
10.88 mm (0.43")
10.9 mm (0.43")
10.95mm
Weight
137 g (4.8 oz)
169 g (5.9 oz)
129 grams (4.6 oz)
139.0 grams (4.90 oz)
135.0 grams
CPU
Apple A4 @ ~800MHz
Texas Instruments OMAP 3630 @ 1 GHz
1 GHz Samsung Hummingbird
NVIDIA Tegra 2 Dual-Core Cortex-A9 (AP20H) @ 1 GHz
NVIDIA Tegra 2 Dual-Core Cortex-A9 (AP20H) @ 1 GHz
GPU
PowerVR SGX 535
PowerVR SGX 530
PowerVR SGX 540
ULV GeForce @ 100-300 MHz
ULV GeForce @ 100-300 MHz
RAM
512MB LPDDR1 (?)
512 MB LPDDR1
512 MB LPDDR1
512 MB LPDDR2 @ 600 MHz data rate
1024 MB LPDDR2 @ 600 MHz data rate
NAND
16GB or 32GB integrated
8 GB integrated, preinstalled 8 GB microSD
16 GB Integrated
8 GB integrated (5.51 GB internal SD, 1.12 phone storage), up to 32 microSD
16 GB integrated, up to 32 microSD
Camera
5MP with LED Flash + Front Facing Camera
5 MP with dual LED flash and autofocus
5 MP with Autofocus, LED Flash, VGA front facing, 720P Video
8 MP with autofocus, LED flash, 1080p24 video recording, 1.3 MP front facing
5 MP with autofocus, LED flash, 720p video recording, VGA MP front facing
Screen
3.5" 640 x 960 LED backlit LCD
3.7" 854 x 480
4" Super AMOLED 800 x 480
4" Super AMOLED 800 x 480

4" PenTile LCD 960 x 540
I should mention that the name Atrix 4G refers to the fact that the phone supports HSPA+, not because it is an LTE device. I've only done a limited amount of network performance testing but so far I've peaked at 3.1Mbps down and 938Kbps up. Average performance in Raleigh, NC seems to be in the 1 - 3Mbps range downstream. My upstream performance has been limited to a UMTS-like 300Kbps, however I need more time to figure out why I'm not getting consistently higher upload speeds on the Atrix.