LaCie released its first Thunderbolt-equipped storage solution called Little Big Disk (LBD) last week, and some people have already received their units. A user ender21 over at MacRumors Forums has posted some early benchmarks and a small teardown of the 1TB version of LBD. The 1TB unit comes with two 500GB 7200rpm drives configured in RAID 0, so the SSDs are user-installed. LaCie also has plans for SSD based LBD but the availability is unknown at the moment.
Benchmarks
For this test, a 6.22GB QuickTime video file was used. The file was moved from OWC Extreme 6G 120GB to the LBD, and back, to test average transfer speeds. The SSD configuration was also tested with a RAM disk to eliminate possible bottlenecks caused by the internal SSD.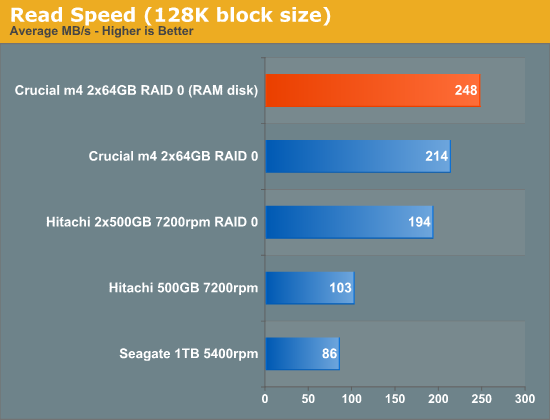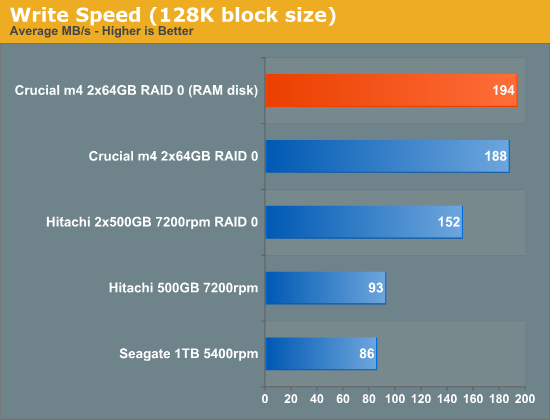 What is surprising is that the SSDs in RAID 0 deliver so poor performance. We are looking at only 20-30MB/s increase (40-50MB/s with RAM disk) in performance over two 7200rpm HDs in RAID 0, while even a single Crucial M4 should deliver speeds of over 500MB/s with incompressible data, such as a video file like in this test. It's possible that the SATA controller in LBD is SATA 3Gb/s, since at least the hard drives are 3Gb/s variety (not that they could take advantage of SATA 6Gb/s anyway). Even that wouldn't explain the poor performance though, because Crucial m4 gets speeds of around 270MB/s when connected to SATA 3Gb/s, so we should be looking at figures around 500MB/s when running RAID 0 with two drives. Thunderbolt can't be the limiting factor due to its maximum transfer rate of 1.25GB/s.
Hopefully we will find out what is causing the low transfer speeds when we get our review unit, or if there is simply an error in these figures.
Teardown
The teardown doesn't reveal anything special. There are two 2.5" 7200rpm drives inside the chassis. This is a 1TB model with two 500GB hard drives, which turned out to be made by Hitachi, but it's possible that other brands are used as well. Upgrading the hard drives doesn't look too hard and there aren't many screws on the way either.
The circuit board is shown in one of the pictures but there isn't anything surprising. The actual Thunderbolt chips seems to be covered by something, so we don't see its model number either.
Thanks to Rick for providing us the benchmarks and pictures!
Source: MacRumors Forums