Sony VAIO SE: IPS for Under a Grand
When I saw the VAIO SE at the Sony booth at CES 2012, it was already a slightly older laptop and normally I wouldn't have given it much time, but one thing clearly stood out from all of the other laptops I've reviewed in the past several years: the display. I've seen some really poor TN panels over the years, and I've also seen a few good TN panels, but it took all of two seconds to determine that yes, this laptop actually had something other than a TN display. The Sony rep confirmed that it uses an IPS display, and at that point I made it very clear that we really wanted to review this laptop. Even though it first launched back in September 2011, IPS displays are such a rarity that I had to try and get one for review. Thankfully, Sony fulfilled our wishes—sending along their VAIO Z2 as well as an added bonus. (Dustin already handled that review, if you missed it.)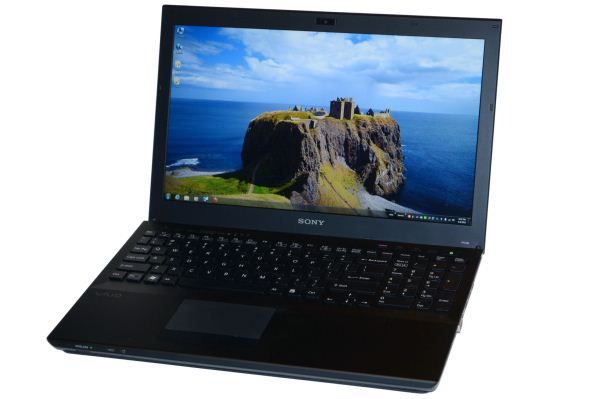 On paper and at first glance, there's a lot to like with the VAIO SE. Unlike most laptops in this size range, the LCD is actually a 15.5" panel (as opposed to the many 15.6" and the older 15.4" offerings). While some might want something slightly smaller like a 14" laptop, for 1080p displays this seems to be the sweet spot. Get any smaller and the prices start to skyrocket (e.g. the VAIO Z2), and for those of us with less than perfect eyesight it can also be a bit of a strain to read text on a 13.1" 1080p display. Besides a great display, the SE also includes plenty of memory, switchable graphics that will let you decide between (gaming) performance or longer battery life, and the main body of the laptop tips the scales at just 4.40 lbs. (2kg) and is slightly less than an inch thick (24.6mm). And if you need more battery life, Sony even offers a sheet battery that basically doubles the battery capacity (at the cost of thickness and weight). Let's hit the spec sheet first, where we've bolded the items in our ~$1250 review sample as well as listing the alternative configuration for the basic $930 model.
Sony VAIO SE Specifications
Processor
Intel Core i5-2450M (dual-core 2.50-3.10GHz, 35W)
Intel Core i5-2540M (dual-core 2.60-3.30GHz, 35W)
Intel Core i7-2640M (dual-core 2.80-3.50GHz, 35W)
Chipset
Intel HM67
Memory
4GB (1x4GB onboard + empty SO-DIMM slot)
6GB (1x4GB onboard + 1x2GB DDR3-1333)
8GB (1x4GB onboard + 1x4GB DDR-1333)
Graphics
AMD Radeon HD 6470M 512MB or
AMD Radeon HD 6630M 1GB DDR3
(480 cores, 485/1600MHz Core/RAM clocks)
Display
15.5" WLED Matte 16:9 1080p (1920x1080)
(Unknown: MS_0025)
Hard Drive(s)
500GB 7200RPM HDD
750GB 5400RPM HDD
(Toshiba Toshiba MK7559GSXP)

256GB RAID 0 SSDs (128GBx2)
512GB RAID 0 SSDs (256GBx2)
1024GB RAID 0 SSDs (512GBx2)
Optical Drive
CD/DVD Burner
Blu-ray Combo Drive (Matshita UJ152)
Blu-ray Burner
Networking
Gigabit Ethernet(Realtek RTL8168/8111)
802.11n WiFi (Intel WiFi+WiMax 6050)
Bluetooth 3.0 (BCM2070)
WiDi 2.0 Ready
Audio
Stereo Speakers
Headphone jack
Capable of 5.1 digital output (HDMI/SPDIF)
Battery
6-cell, 11.1V, ~4.4Ah, 49Wh
6-cell, 11.1V, ~4.4Ah, 49Wh Sheet Battery(Optional)
Front Side
WiFi On/Off Physical Switch
Left Side
Optical Drive
Headphone Jack
Right Side
Memory Card Readers
Gigabit Ethernet
VGA
HDMI 1.4a
1 x USB 3.0
2 x USB 2.0
Kensington Lock
AC Power Connection
Back Side
Exhaust vent
Operating System
Windows 7 Home Premium 64-bit
Windows 7 Professional 64-bit
Windows 7 Ultimate 64-bit
Dimensions
14.97" x 10.08" x 0.97" (WxDxH)
(380mm x 256mm x 24.6mm)
1.84" (46.7mm) high with sheet battery
Weight
4.40 lbs (2.0kg)
5.77 lbs (2.62kg) with sheet battery
Extras
HD Webcam
103-Key backlit keyboard (1.7mm stroke)
Flash reader (SD, MS Pro Duo)
MS Office 2010 Starter or Home/Student
120W Power Adapter
Optional 49Wh Sheet Battery
Optional Dock
Warranty
1-standard warranty
2- and 3-year extended warranties available
Pricing
Starting Price: $980
Reviewed Configuration: $1530
Our unit has the newish Core i7-2640M instead of the older i7-2620M, not that the extra 100MHz matters much. Graphics consist of Intel's HD 3000 from the CPU, with an AMD HD 6630M available via a manual switch. "Stamina" selects the IGP and "Speed" selects the discrete GPU, and after a 5-10 second delay (and assuming you don't have any programs running that prevent the switch), you can swap between the two. As far as performance goes, the HD 6630M is a decent entry level laptop GPU—don't even bother with the HD 6470M/6490M for gaming, as they're not powerful enough to handle anything more than low quality, low resolution gaming—but with a 1080p display we certainly would have liked to see the option for something a bit beefier.
The rest of the specs include all the typical stuff, along with a USB 3.0 port and Blu-ray combo drive ($80 extra for Blu-ray). Sony also shipped us the sheet battery (a $150 extra) and 8GB RAM ($85 extra). The weakest link in the specs is easy to spot: that Toshiba 750GB hard drive has plenty of capacity, but the 5400RPM spindle speed is going to put the dampers on some tasks and definitely doesn't help with boot or shut down times.
Other than the hard drive, what's not to love? You can get a decent quality IPS display in a mainstream laptop, with switchable graphics providing the ability to game or run for hours off the mains. If you stick with the base model, you can get almost everything you really need from a modern laptop for under $1000 (the VPS-SE290X we received currently starts at $979, though we've seen the price drop as low as $929). The main sticking point with the entry model is the downgraded HD 6470M GPU, which is only a minor upgrade from Intel's HD 3000. It's pretty easy to spec out a unit with less memory and storage but get a 7200RPM 500GB hard drive with the HD 6630M graphics for roughly the same price of $1020. (And if you don't like to deal with bloatware, you can pay $50 extra for Windows 7 Professional and get the laptop with Sony's Fresh Start—no Norton Antivirus, and possibly a few other missing "extras".) All told it's a pretty promising package, but let's dig a little deeper and see if there are any concerns.