Samsung Series 7 General Performance
We start as usual with our general performance application benchmarks. We're reaching the point where we now have quite a few notebooks in our updated Mobile Benchmark suite, and we've tried to select some reasonable comparison points. Here's the list of laptops we'll be using for our charts, along with a brief overview of their specs; note that the Dell XPS 15 results are still "preliminary"—we're still hoping for a BIOS update that will improve the overall experience without requiring the use of utilities like ThrottleStop. Also, the ASUS N56VM/N56VZ we previewed used different hardware than what currently ships, specifically it has a Fermi-based GT 630M instead of a Kepler-based GT 650M. The full specs for each laptop can be found in their respective reviews, which we've linked in the table below.
We have quite a few SSD-equipped laptops in our list, which will mostly influence the PCMark results. As mentioned already, the Samsung Series 7 uses Condusiv Technologies' (formerly Diskeeper Corporation) ExpressCache software to provide SSD caching, but the end result ends up feeling more like a hard drive than an SSD—though whether that's the small 8GB SSD or the software itself is difficult to say. The Dell XPS 15 we reviewed last month uses Intel's SRT and definitely felt more like an SSD, and even Seagate's Momentus XT (also with 8GB of cache) can help compared to a straight HDD. The $5 saved by going with the HM76 instead of HM77 doesn't look so good when we see the impact it has on general performance.
Note that once again, we've run PCMark 7 using Intel's IGP as well as the NVIDIA dGPU; the presence/lack of Intel's Quick Sync technology can have a sizeable impact on the overall PCMark score, and in particular the Entertainment, Creativity, and Computation scores are affected. For the other laptops, we've used the best score for each chart (e.g. IGP for the Computation results). The Series 7 results are in green, with the similarly equipped Dell XPS 15 results in yellow. We also have results for the ASUS N56VM/N56VZ prototype with both HDD and SSD (light blue) storage, so you can get a feel for the range of performance that the storage solution creates.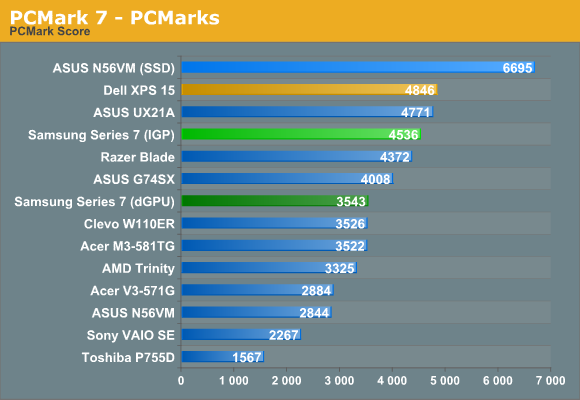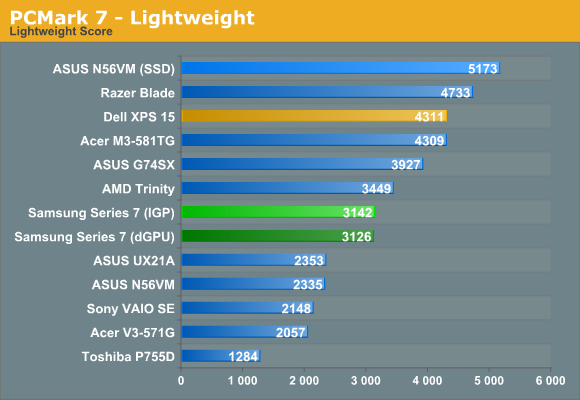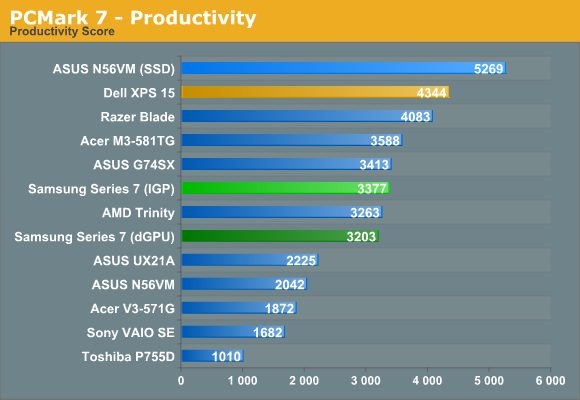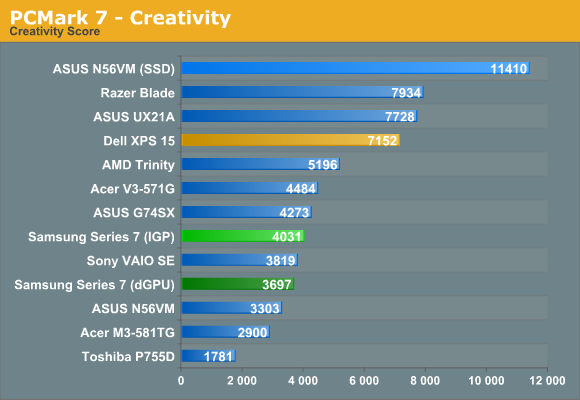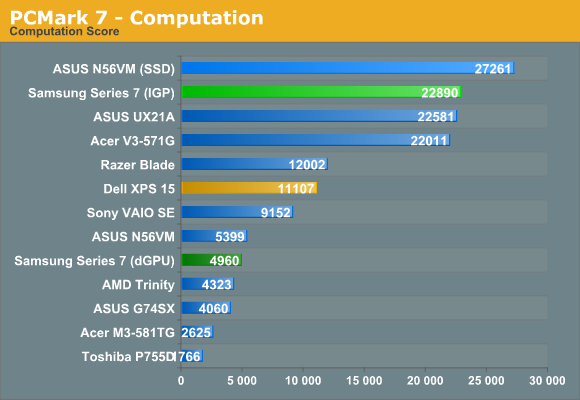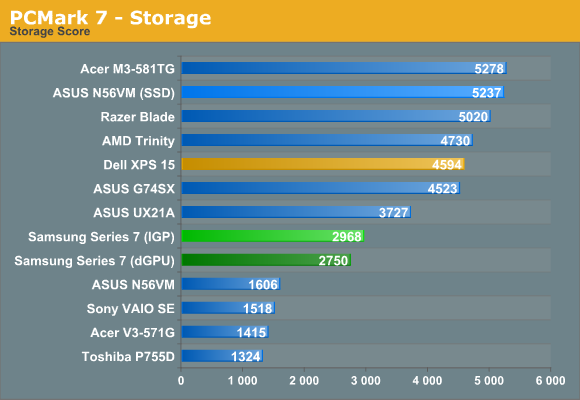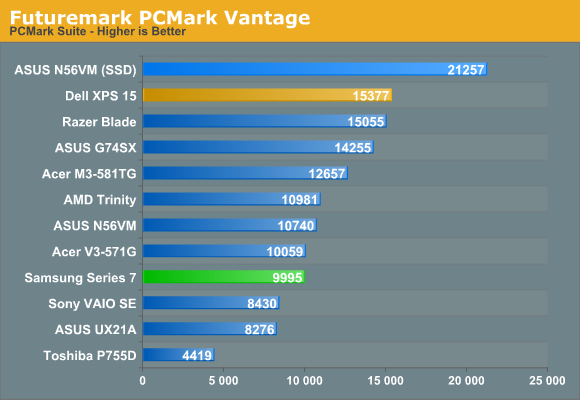 The overall PCMark 7 scores looks pretty competitive, coming in just below the similarly equipped Dell XPS 15. However, that's not the whole story, and when we drill down into the individual scores we get a better idea of what's going on. For whatever reason (possibly drivers), Samsung's Series 7 notebook scores exceptionally well in the Entertainment test, and it also generates the expected ~22K score in the Computation suite. Both suites heavily leverage Intel's Quick Sync technology, but the XPS 15 results are rather low by comparison while other scores are higher (thanks to a faster storage setup). Acer's V3 is in a different dilemma, with no solid state storage, and that really puts the brakes on in PCMark 7. It's a decent start for Samsung, but the Storage subtest shows what we mentioned earlier with a score much lower than any of the other SSD/SSD caching solutions.
PCMark Vantage in this case is potentially more useful, as it doesn't skew so badly with Quick Sync (and Intel IGP drivers). Here the Samsung actually just matches the Acer V3, which is pretty telling considering they have similar hardware other than the GPU and SSD cache. For that matter, Acer's use of a 5400RPM Toshiba drive makes it one of the slowest in terms of storage. In short, while some tests show the Samsung Series 7 storage coming in much faster than a plain old HDD, in practice we felt it was often only marginally better than an HDD.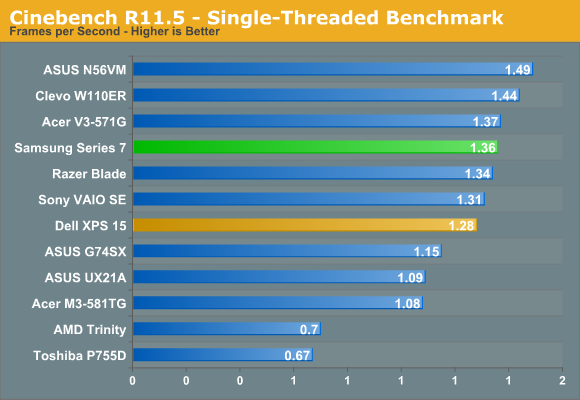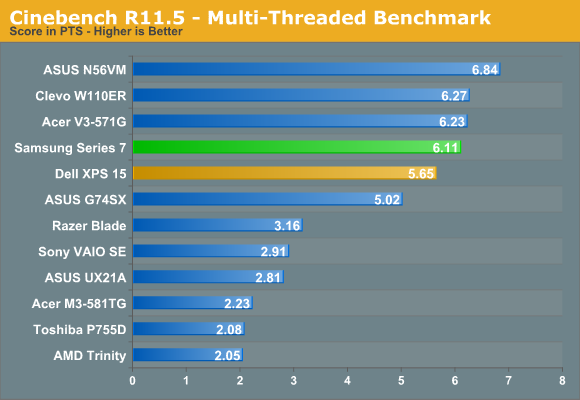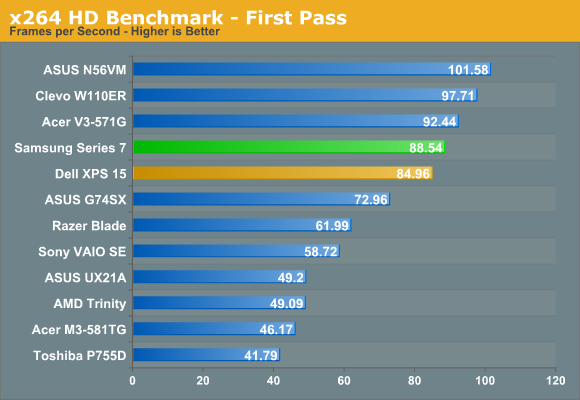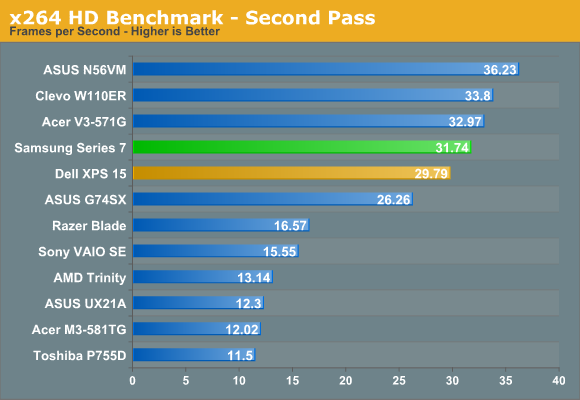 Our CPU-centric tests are interesting as well, with the Samsung scoring about where expected but still a bit slow. Acer uses an i7-3610QM processor with the same clock speed range as the i7-3615QM, and yet it ends up faster in all of the CPU tests. It's not that Samsung is throttling; it's just not quite as optimized and can't hit max Turbo Boost as often as some of the competing laptops. If you need every ounce of CPU performance, there are obviously faster laptops and notebooks out there, but for most consumers any of the quad-core Ivy Bridge processors will be more than sufficient (and perhaps even overkill).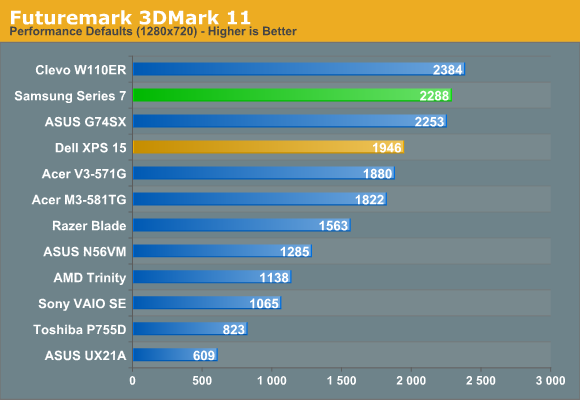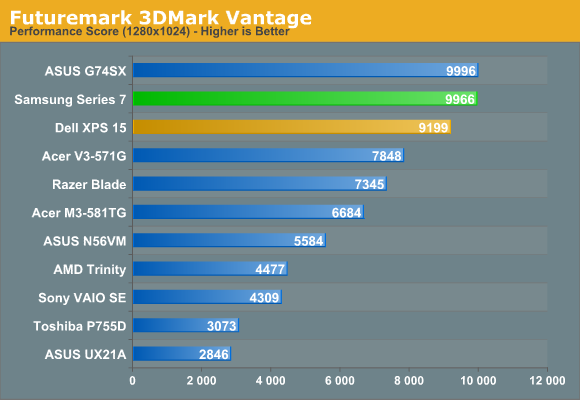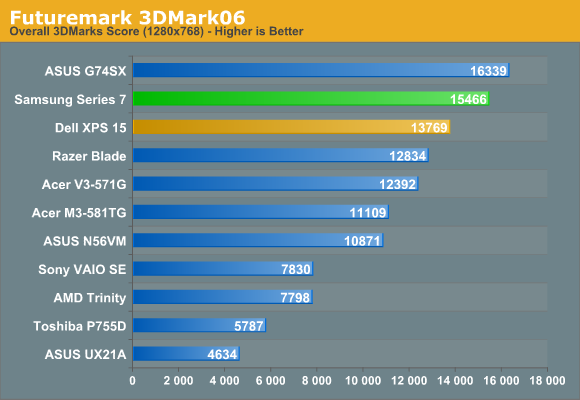 We wrap up our initial application performance with a quick look at 3DMark, and here the GT 650M is able to put in a showing. Clevo uses the same GPU in their W110ER, only with DDR3 memory. 3DMark11 doesn't appear to mind the lack of bandwidth, but we'll see in a moment how that carries over to actual gaming results—at lower detail settings/resolutions it shouldn't hurt, but in particular 1080p gaming will benefit from the presence of GDDR5. Also as expected, the GT 650M GDDR5 is consistently faster than the GT 640M GDDR5 in the XPS 15.