Performance vs. Transfer Size
ATTO does a good job of showing us how sequential performance varies with transfer size. Most controllers optimize for commonly seen transfer sizes and neglect the rest. The optimization around 4KB, 8KB and 128KB transfers makes sense given that's what most workloads are bound by, but it's always important to understand how a drive performs across the entire gamut.
As ATTO uses compressible data, SandForce based drives have an advantage due to their real-time compression engine. There isn't really anything surprising here as the V300 is on par with the other SandForce based drives. Read performance at smaller transfer sizes has never been SandForce's biggest strength but the write performance is strong at all IO sizes thanks to compression.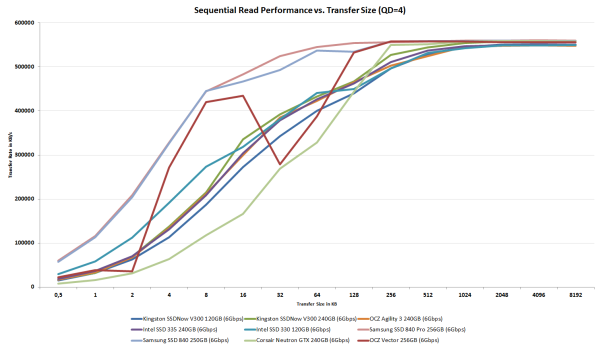 Click for full size