ROCCAT's Kone XTD and Kone Pure in Practice
The software for ROCCAT's Kone mice is almost frighteningly complete and even daunting to use, but how do the mice handle once configuration is done and you're ready to go? Do you even have to configure them to get mileage out of them in the first place?
As it turns out, not really. I found that the default settings for the mice were surprisingly good. The default sensitivity setting of 800 dpi is definitely sluggish, but the next step up at 1600 dpi is just about perfect. I'll never be a twitch gamer but it's nice to know there's an almost comedic amount of headroom beyond 1600 dpi. Users are liable to be confused by the back button being used for "Easy-Shift" instead, but that's a minor grievance.
In Productivity
As day to day mice, the Kone XTD and Kone Pure are both very comfortable and easy to use. While peripherals are undoubtedly very subjective, I found that the grips of both mice fit my hands securely, and that the buttons actuated with the right amount of force and in the right places. Contrast this with Thermaltake's Level 10 M, which for all its adjustability still demanded a larger paw and a different grip. I've heard other people absolutely enamored by the Level 10 M, by the way, so if you enjoyed the grip of that mouse the Kone may feel a bit small or may not suit your mousing style.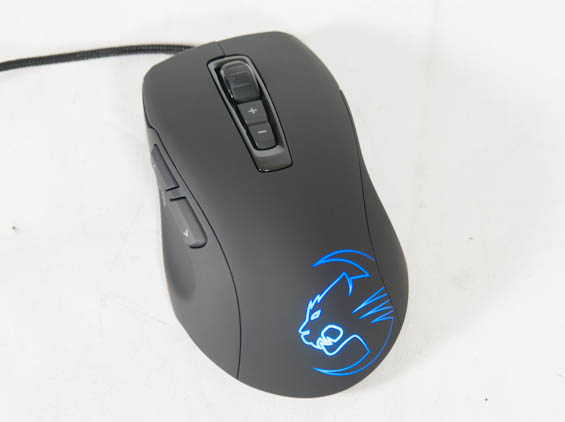 The slightly smaller body of the Kone Pure did prove to be a little problematic, though. While the overall grip feels slightly better due to the lack of glossy stripes, the the Pure is lower to the mouse pad, and I found my pinky routinely brushing the pad. I have fairly small hands to begin with, so I wonder if the Pure might not be just a touch too small for some users. The XTD, on the other hand, fit perfectly.
In Gaming
There isn't much to say as far as gaming is concerned. I fired up F3AR (which I still consider to be grossly underrated) for a test drive and found the default 1600 dpi sensitivity to be ever so slightly too high, but still well within the realm of playability and easy enough to adjust to. The reality is that with the way different games handle any mouse you're probably going to have to make some adjustments, though the spectrum isn't quite as wide as it used to be.