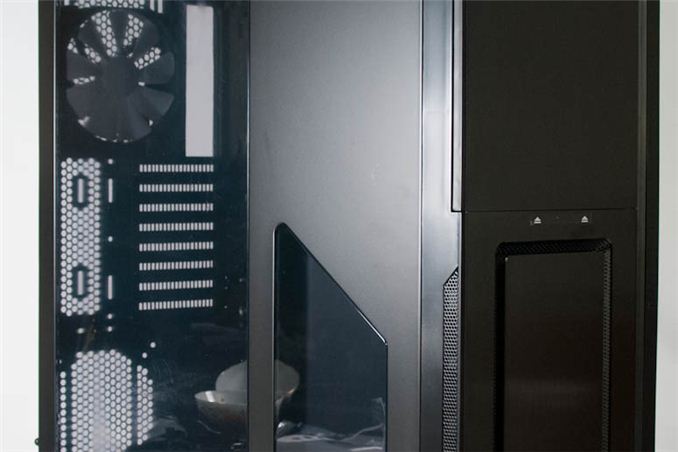 Phanteks has been around for a little while producing CPU coolers, but the new Enthoo Primo is their first enclosure and it's clearly designed to get your attention. There's an almost amusing amount of restriction involved in trying to produce a case that adheres to the ATX standard, and a lot of the more original thinking in case design that's come out of the past few years has been essentially about circumventing the inherent weaknesses of the standard. Corsair's recent Carbide Air 540 is a good example, and the Enthoo Primo offers an alternative take.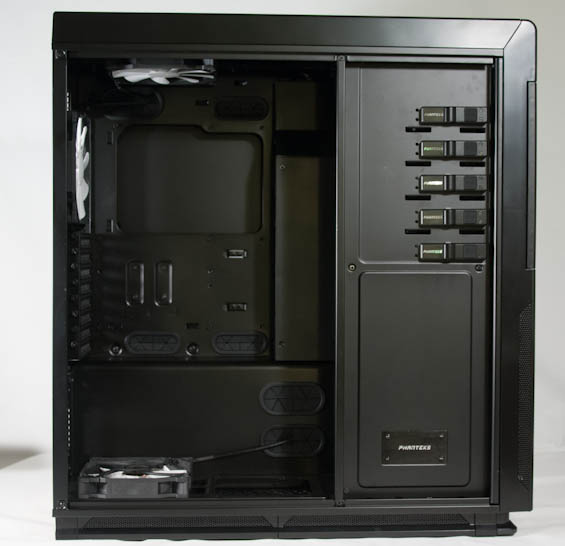 What we're essentially dealing with is a standard ATX enclosure design that's been fragmented into semi-discrete chambers. Phanteks is still dealing in the black monolith motif (and this plastic, steel, and aluminum beast is heavy), but the interior of the case segregates the motherboard and primary components from the power supply and from the storage. There's a removable plate that even covers the routing holes to keep the interior looking as clean as possible, while the storage is entirely hidden. Phanteks also gets some mileage out of a bottom intake fan by raising the bottom of the Enthoo Primo and giving it enough clearance for air to enter even while the case is on carpet.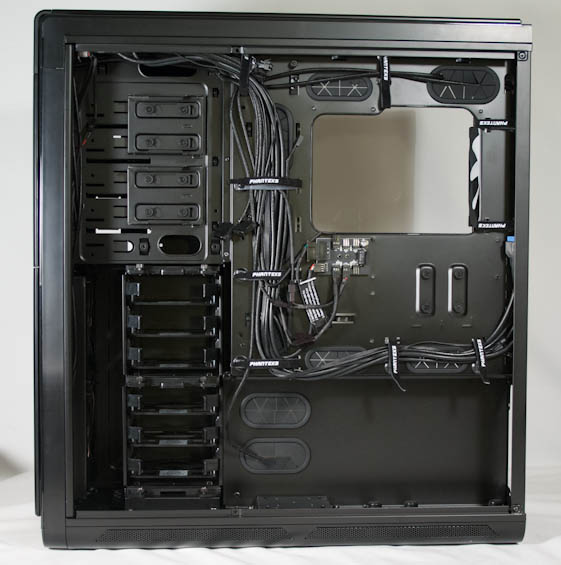 The separate chambers behind the motherboard tray tell you all you need to know. The power supply has been rotated ninety degrees, making the case taller but also cleaning up cable routing by offering a healthy amount of space to tuck cabling into. The two 3.5" drive cages are both removable, and above them are a set of five 5.25" drive bays and two trays that hold two 2.5" drives each. Pay close attention as well to the velcro cable wraps behind the motherboard tray, as well as the unique fan hub. We've seen fan hubs before and this one initially reminded me of the hubs NZXT employs, but the Phanteks offering is different: it connects to a single PWM header on the motherboard, and provided that header can provide enough power, it effectively allows the motherboard's PWM control to control all of the case fans.
Phanteks Enthoo Primo Specifications
Motherboard Form Factor
Mini-ITX, Micro-ATX, ATX, SSI EEB, E-ATX
Drive Bays
External
5x 5.25"
Internal
6x 2.5"/3.5", 4x 2.5"
Cooling
Front
2x 140mm intake fans (supports 120mm)
Rear
1x 140mm exhaust fan (supports 120mm)
Top
1x 140mm exhaust fan (supports 3x 140mm or 4x 120mm)
Side
2x 120mm/140mm fan mounts
Bottom
1x 140mm intake fan (supports 4x 120mm or 2x 140mm)
Expansion Slots
8
I/O Port
2x USB 3.0, 2x USB 2.0, 1x Headphone, 1x Mic
Power Supply Size
ATX (supports two)
Clearances
HSF
207mm
PSU
240mm
GPU
257mm with bracket; 350mm without bracket
Dimensions
9.84" x 25.59" x 23.62"
250mm x 650mm x 600mm
Special Features
Supports 420mm/480mm radiator in top
PWM-controlled fan hub
Toggleable blue LED lighting for trim and front fans
Price
MSRP $249
As is the custom for modern cases, Phanteks keeps things pretty modular and there is a healthy amount of room for installing a custom liquid cooling loop. Of particular note is the aforementioned shield in the primary compartment, which is also intended as a place to mount a reservoir. Most of the fan mounts have removable filters (all but the rear exhaust mount), and the case is designed in such a way that if you can put a fan somewhere, you can put a radiator there too.