Hot Test Results
From the table below, it can be seen that the output power quality of the Seasonic S12G is very high. The maximum voltage ripple that our instrumentation recorded is a mere third of the ATX design guide suggested limit (the limits are 120 mV on the 12V line, 50 mV on the minor voltage lines), under full load and inside the hotbox no less. Cross-load testing negatively affects the power quality of any power supply but its effect on the Seasonic S12G is small, with the 12V line registering up to 54 mV while delivering 512W. Cross-load testing has virtually no effect on the minor voltage lines, the performance of which did not degrade any further than during standard testing.
Line
Regulation
(20-100% load)
Voltage Ripple (mV)
20% Load
50% Load
75% Load
100% Load
CL1
12V
CL2
3.3V + 5V
3.3V
2.1%
6
8
12
14
6
12
5V
2.6%
8
12
12
16
6
16
12V
1.7%
14
22
30
46
54
16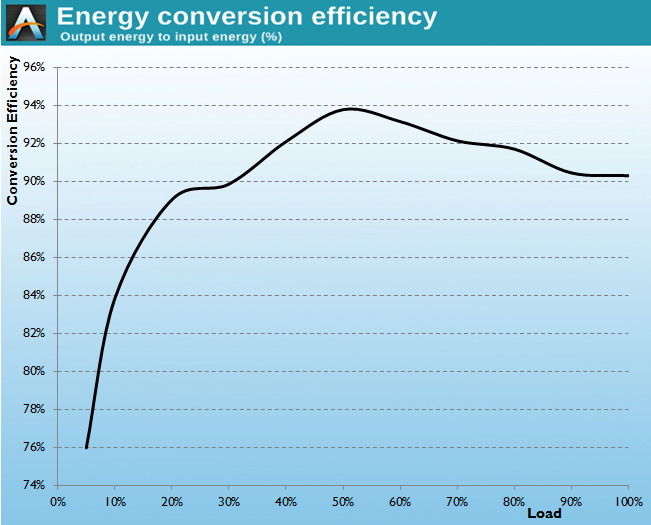 The impact that the higher ambient temperature has on the energy conversion efficiency is rather small, reducing the efficiency of the Seasonic S12G by about 0.5% across the entire load range. As such, the Seasonic S12G easily retains its 80 Plus Gold efficiency certification status even inside a very hot environment. The average efficiency between 20% and 100% load is an extremely high 91.6%.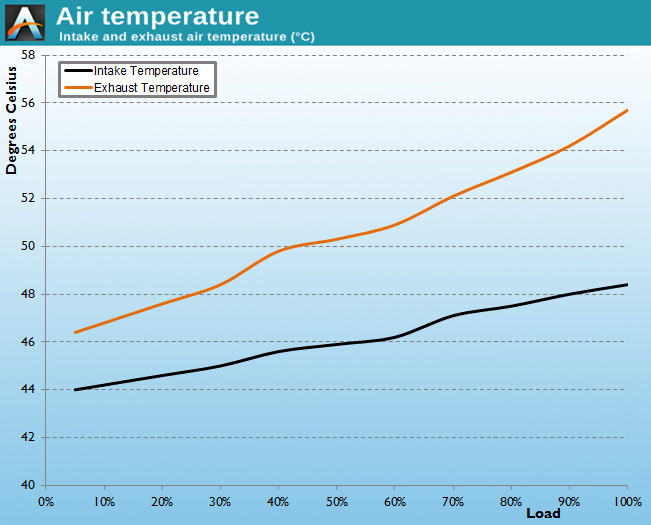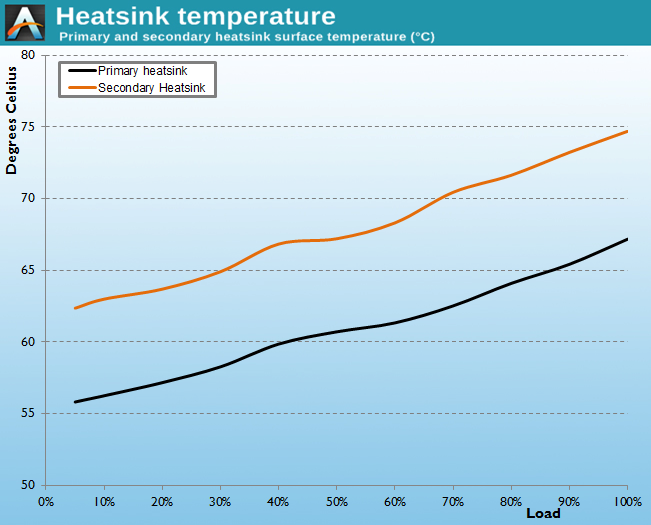 The difference between our cold and hot tests is an increase of over 20°C ambient and, naturally, all of the temperature readings increase significantly. We dare say that the temperatures of the heatsinks rise quite a bit beyond our expectations of an 80 Plus Gold unit by Seasonic; however, the heatsinks are rather small and the design of the power supply apparently focuses on low-noise operation, so sacrifices are made in the area of temperatures.
The low-noise aptitude of the Seasonic S12G becomes apparent when we see that the fan hardly exceeds 38 dB(A) under the harshest of conditions, which is an audible figure but hardly louder than three or four 3.5" mechanical disks -- and never mind the GPUs that would be required to hit such loads. Nevertheless, unless you somehow manage to maintain the unit at maximum load inside a >50 °C environment, the Seasonic S12G will not get nearly hot enough to cause problems.