As I mentioned previously, the overall component choices are fairly strong. AVADirect's engineers have done a lot to add little bits and pieces here and there to improve performance and reduce noise. I've mentioned before and will say again: several small fans running at low speeds can do the job of a couple of fans running at high speeds, and do it quieter. Yet I can't help but feel like this build is...overengineered.
The key to a quality quiet build is the right component choices. Cases like NZXT's H630 that have sound dampening materials are at their best when they take already quiet hardware and make it silent. Cooling a GTX 780 and an i7-4770K in a case of this size isn't actually a tremendously difficult task, yet AVADirect has complicated things in multiple places.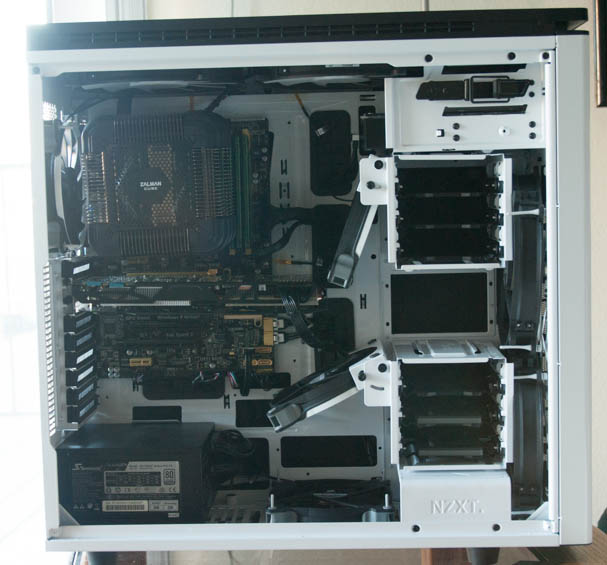 My biggest complaint has to do with the rubber fan mounts. Silent case manufacturers don't use these, and in my quietest build (comparable to what AVADirect has done here), I still used screws on all the fan mounts. In fact, these rubber mounts are borderline redundant with the Corsair fans included, as those fans already have vibration dampening built into their mounts. The problem with what AVADirect chose here is that the system shipped with half the fans out of the mounts. I went ahead and asked AVADirect for a statement regarding these fan mounts and received this:
The fans were mounted using rubber mounts, which may slip through the openings during shipping. They reduce noise, but they're not very sturdy. They should be replaced with mounts that have bigger backing, so that they don't slip through the holes of the case during shipping.
This is half true. They should be replaced with screws.
I'm also of the opinion that AVADirect should've forgone the BitFenix Recon fan controller in favor of in-line resistors on the fans. User adjustable fan control is nice, but the system doesn't actually need it, and certainly not something as robust as the BitFenix Recon. You'll see later on that thermals aren't a major issue outside of Haswell's inherent toastiness, the system is quiet, and there's very little tweaking left to be done, so the simplest approach would be the best one in my estimation. There's no reason to give the end user control over fan speeds, the system is already where it needs to be.
Finally, as a minor nitpick, I can understand why the Zalman Cube cooler was chosen, but a closed loop liquid cooler like NZXT's Kraken X40 could also conceivably do the job as well as or better with the same noise level. Pump noise is a non-issue in a case like this, and two slow 140mm fans sandwiching the radiator could hypothetically achieve better performance in the same external noise envelope.
AVADirect has done a fine job assembling a powerful system with excellent airflow and noise characteristics (sub-30dB under load), they just need to streamline it.