Load Delta Power Consumption
Power consumption was tested on the system while in a single MSI GTX 770 Lightning GPU configuration with a wall meter connected to the OCZ 1250W power supply. This power supply is Gold rated, and as I am in the UK on a 230-240 V supply, leads to ~75% efficiency under 50W and 90%+ efficiency at 250W, suitable for both idle and multi-GPU loading. This method of power reading allows us to compare the power management of the UEFI and the board to supply components with power under load, and includes typical PSU losses due to efficiency.
We take the power delta difference between idle and load as our tested value, giving an indication of the power increase from the CPU when placed under stress. Unfortuantely we were not in a position to test the power consumption for the two 6-core CPUs due to the timing of testing.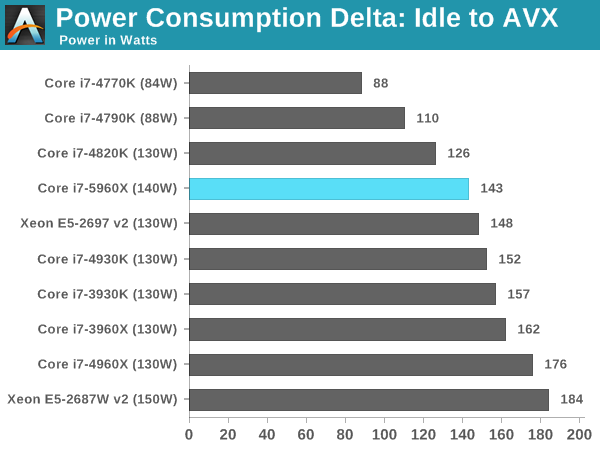 Because not all processors of the same designation leave the Intel fabs with the same stock voltages, there can be a mild variation and the TDP given on each CPU is understandably an absolute stock limit. Due to power supply efficiencies, we get higher results than TDP, but the more interesting results are the comparisons. The 5960X is coming across as more efficient than Sandy Bridge-E and Ivy Bridge-E, including the 130W Ivy Bridge-E Xeon.
Test Setup
Many thanks to...
We must thank the following companies for kindly providing hardware for our test bed:
Thank you to OCZ for providing us with PSUs and SSDs.
Thank you to G.Skill for providing us with memory.
Thank you to Corsair for providing us with an AX1200i PSU and a Corsair H80i CLC.
Thank you to MSI for providing us with the NVIDIA GTX 770 Lightning GPUs.
Thank you to Rosewill for providing us with PSUs and RK-9100 keyboards.
Thank you to ASRock for providing us with some IO testing kit.
Thank you to Cooler Master for providing us with Nepton 140XL CLCs and JAS minis.
A quick word to the manufacturers who sent us the extra testing kit for review, including G.Skill's Ripjaws 4 DDR4-2133 CL15, Corsair for similar modules, and Cooler Master for the Nepton 140XL CLCs. We will be reviewing the DDR4 modules in due course, including Corsair's new extreme DDR4-3200 kit, but we have already tested the Nepton 140XL in a big 14-way CLC roundup. Read about it here.