Moto Voice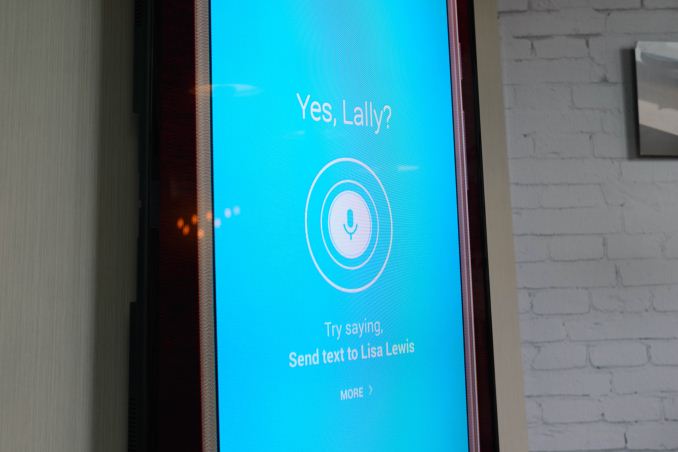 While the original Moto X introduced Touchless Controls, the new Moto X takes things further. Now named Moto Voice, the new Moto X now allows for any five syllable phrase to be used. In addition, it's possible for third party apps to plug into Moto Voice. Motorola demonstrated this by updating a Facebook status using voice controls, and it was said that YouTube and Whatsapp could be used through voice control as well. I believe that this is still using a TI chipset to enable voice control, although I need to take some time to dig for the exact chipset. Motorola noted that it will be able to distinguish between masculine and feminine voices quite well, and it should be able to be reasonably accurate at distinguishing between people even in situations where the owner and another person have masculine/feminine speech patterns. This system is still low power as always compared to running hotword detection off of the application processor (AP).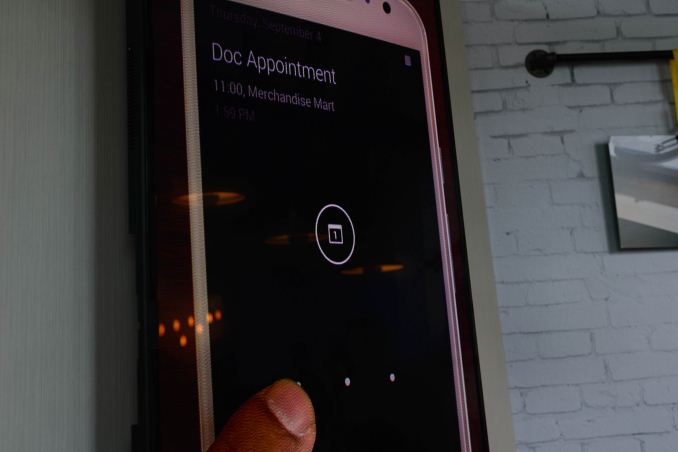 Moto Display is also present as the second generation of Active Display, and is now proximity based along with motion-based actions, which works by using the three IR transmitters and one IR receiver. This continues to use a low power DSP that is likely another TI solution. Motorola demonstrated how their solution is an order of magnitude lower in power compared to the same functionality implemented by a Play Store app for phones that lack Moto Display/Active Display. This was done wiring up a second gen Moto X and competing device to a power monitor.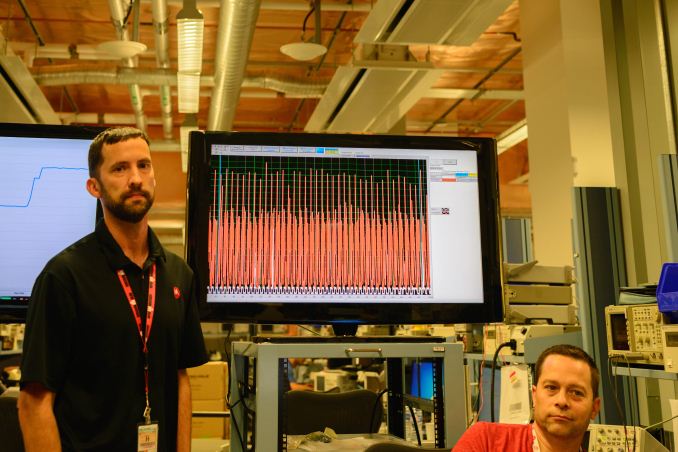 Finally, Moto Actions adds some new gestures that leverage the previously mentioned IR transmitters and receivers. While some phones already have a similar feature, the main advantage of Motorola's implementation is that the extra IR transmitters give much more leeway in how the gestures are performed. This means that a hand wave can be done at greater distances and with less need to wave directly over the top of the phone. This same hardware is used to enable the motion-based actions for Moto Display, which will turn on if it detects a hand wave or a face.
Attentive Display
While we're still on the subject of sensor utilization, Attentive Display is another surprisingly well-implemented feature. Instead of constantly using the front facing camera to check whether or not to turn off, the feature relies upon the IR system to first detect whether there is a face in front of the phone, and then uses the front facing camera if a face is detected. Motorola claims that this change makes it possible for Attentive Display to save battery instead of hurting battery life like some competing solutions. In practice, I noticed that this is effective enough to actually tell when I'm not looking at the display, but the need for the front facing camera to verify means that this system doesn't work in low light. I'd definitely like to see some form of low light system to make this feature work before I'd be willing to use it all the time with a very short display time-out.
Sound
While this is a relatively short section, it's still important as Motorola has implemented four microphones that are tuned for a variety of scenarios from driving to cafeteria-style scenarios, and also a custom noise cancellation solution that is neither provided by Audience nor Qualcomm. This helps greatly with Moto Voice, which is a major feature of note for the new Moto X.
On the speaker side, we see the same TFA9890 amplifier that first appeared in the Moto X, although a front facing speaker is used instead of a rear facing speaker. This drives approximately twice as much power to the speakers at maximum than what we see with the TFA9887 which is in some HTC devices.
Camera
For Motorola, this is camera represents a huge departure. While in the past they were almost exclusively an OmniVision customer, the OV10820 was likely a driving force in the move away from OmniVision for this generation. Instead, Motorola has moved to a Sony IMX135 13MP sensor, which is the same sensor that we've seen in the Samsung Galaxy S4, LG G2, LG G3, and a whole host of other smartphones. The new ring flash is said to reduce the severe shadowing that usually comes with flash photos, and the camera also runs a continuous buffer of photos and will automatically detect photos that are blurry or out of focus and will save photos from before and after the photo was taken in order to suggest them as replacements for a photo if they're sharper and in focus. Motorola also showed off a highlight reel feature that automatically generates short videos if it detects a large number of photos and videos taken in a single area.
Final Words
Normally, it's rare for me to take so long with a launch article, but this time Motorola has gone above and beyond what happens at a normal session before launch. Instead of just some time with the new devices, a few presentation slides, and relatively little information, we received a full tour of Motorola's new Chicago offices, which included an exclusive look at the RF labs and the extensive Faraday cage that runs all the way around the lab. While normally we see a trickle of information, this was an avalanche.
Overall, the new Moto X seems promising. The new metal frame, display, new customization options, better audio experience, and new sensor-based features could prove to be an intriguing option when compared to the other smartphones coming out at this time.
The new Moto X will be available later this month, with prices as low as 99.99 USD on contract and 499.99 USD in the US. It will also be available in Latin America, Asia, and Europe. Moto Maker will be available on AT&T, Verizon, Telcel in Mexico, Phones 4U in the UK, Orange in France, and Phone House in Germany.