BitFenix Neos Exterior
As we mentioned on the previous page, the Neos is available in multiple chassis/faceplate color combinations. BitFenix supplied us with both the black and white chassis of the Neos, shipping us a black/black and a white/white model of the case. The company also supplied us with the corresponding windowed side panels of each model.
Aesthetically, the Neos is based on a very simple, straightforward, and clean design. The chassis is just an ordinary SECC steel body, without any aesthetic modifications, while the faceplate basically is a metallic mesh on a plastic frame. The only aesthetic improvement is the rounded edges of the faceplate and the metallic mesh. This does not mean that the Neos is bad looking – a minimalistic design actually is much better than an extravagant "aggressive" appearance for most users.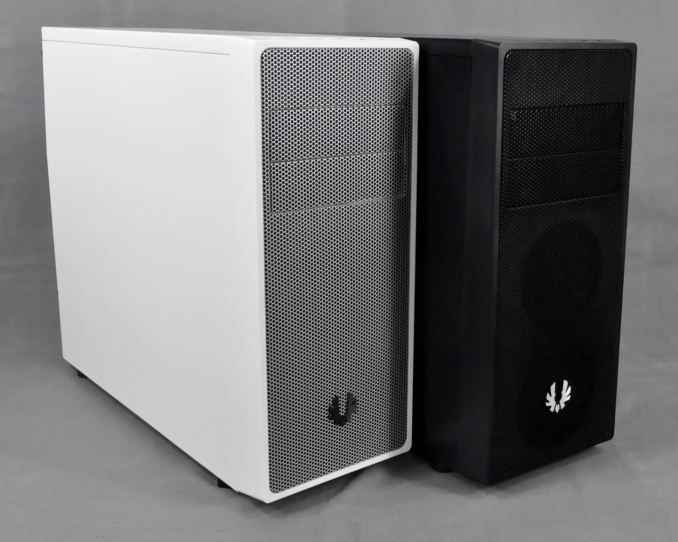 Structurally, the Neos makes use of a thin (0.7-0.8 mm) SECC steel chassis, which is adequate for a case of this size and acceptable considering the price range of the case. The plastic frame of the faceplate seems good as well. The metallic mesh however can be an issue, as it can be easily disformed or damaged, especially when handling the 5.25" covers if you're not careful.
Aside from the aluminum company logo, the faceplate of the Neos is entirely plain. BitFenix moved the I/O ports and buttons to the top of the plastic faceplate frame. From left to right, we can see a round power on button, a rectangular reset button, the 3.5" audio jacks, two LED lights (power and disk activity), one USB 2.0 port, and one USB 3.0 port. (Note that providing a single USB 2.0 and USB 3.0 is a bit odd, as they usually come in pairs so effectively you lose one of each with this arrangement.) The positioning of the I/O ports and buttons limited the number of 5.25" bays to just two, but they should be more than sufficient for most users.
The removal of the faceplate reveals two filters. First, a foam-type filter is right behind the metallic mesh of the faceplate – this is sure to get dirty very easily. The second filter is a nylon net-type filter, covering the 120mm intake fan openings.
A look at the back of the case reveals that the Neos has its PSU compartment down at the bottom of the case, as well as two rubber grommets for the tubing of liquid cooling setups. These openings can also be used for cables, if required. The feet of the case are nearly 2.5 cm tall, which is a forced requirement as the intake of the PSU is below the case. A nylon net filter can be found there, removable towards the rear of the case, limiting the amount of dust that will be introduced into the PSU.