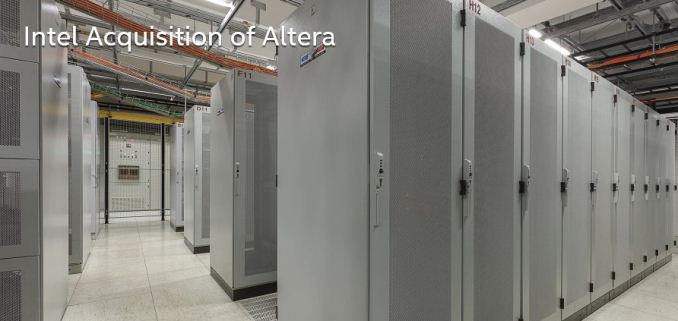 Today Intel has announced that they are buying Altera in an all-cash deal of $16.7 billion. The deal, having been rumored for a while now, will see Intel pick up Altera for their Field Programmable Grid Array (FPGA) experience, with Intel intending to both continue FPGA development and integrate FPGAs into some of their future products.
In the FPGA space Altera is one of the two major competitors, and alongside rival Xilinx the two companies comprise the bulk of the market. Prior to this sale Altera already had a close relationship with Intel, with Altera using Intel's 14nm process for their latest generation of Stratix FPGAs.

As one of only a few external companies known to be using Intel's 14nm process, Altera's FPGA's have been a natural complement to Intel's ASIC business. On a business side there's minimal overlap, but more importantly on the technical side FPGAs are good candidates for early production on a lower-yielding node. Since FPGAs are just large arrays of programmable logic and RAM, they can easily compensate for defects, allowing for a greater number of chips to be shipped for revenue early-on than a more complex ASIC.
Given Intel and Altera's already close working relationship, today's deal was not unexpected. Purchasing Altera allows Intel to bring their FPGA production entirely in-house, not just producing FPGAs but better aligning them to Intel's development plans as part of their integrated device manufacturing model. However more significantly, this gives Intel access to top-tier FPGA technology, which they can use to augment other products.
Intel is already talking about the possibilities they see for Altera's FPGA technology in the IoT and datacenter markets, but also the company has confirmed that they will be integrating FPGA technology into some of their future Xeon products, to allow customers to essentially build-out semi-custom processors via the FPGA component. Intel already does on-package FPGAs for certain customers, so this would represent the logical extension of that process by bringing the FPGA fully on-die.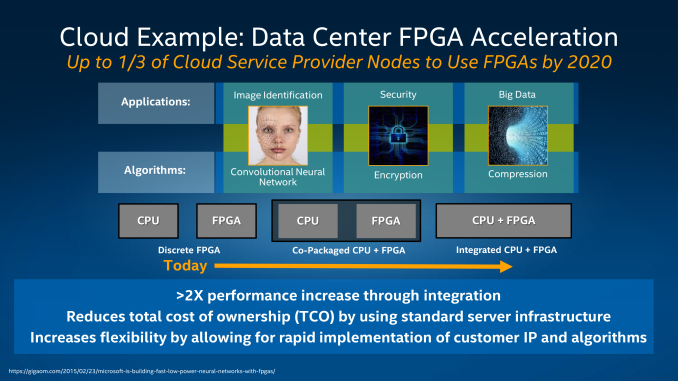 For Intel this also represents a chance to further branch out in the markets they cover. The PC and server market has continued to treat the company well, even as PC sales have slowed, but having so far struggled to capture a major piece of the mobile space from ARM and its partners, Intel has been looking at other avenues of growth. In this case FPGAs represent a high-margin business on their own, one that's increasing in revenue as ASIC development costs continue to rise, and a good match for Intel given their traditional manufacturing advantage.
Source: Intel