Conexant today announces a new high-end HD audio codec for notebooks, ultrabooks and tablets. The CX8200 features a fully-integrated Class-D smart amplifier with real-time speaker sensing and protection. The chip offers programmable hardware 14-band equalizer and dynamic range compression blocks.
An increasingly required feature for audio codecs is the inclusion of voice wakeup and recognition. All of today's Android devices voice wakeup capabilities are enabled by specialized audio codec ICs such as from Qualcomm or Cirrus Logic (Formerly Wolfson Microelectronics). The CX8200 is able to check this feature-box and satisfies Google requirements for Chromebook integration as well as support for Intel Automatic Speech Recognition.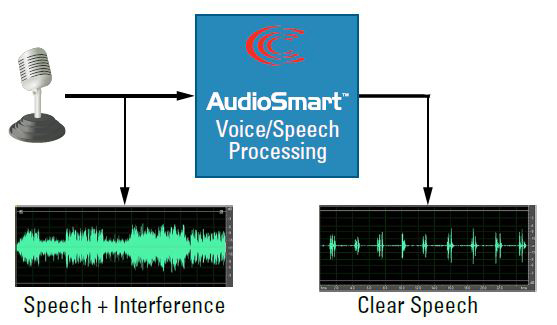 The codec is able to use a proprietary 'SoftAware' link to interconnect amplifier hardware sensors with software algorithms. The dataflow between hardware sensors and software enables dynamic updates to the algorithms performing speaker control and Acoustic Echo Cancellation functions, which radically improves overall system performance.
"Conexant offers a complete range of audio solutions that provide consistent benefits for all of the devices/applications in the mobile PC ecosystem," noted Saleel Awsare, Conexant vice president and general manager. "Our software radically improves the quality of voice and audio performance and is tightly coupled with our next generation CODEC and amplifier products for a truly innovative, comprehensive solution. With the CX8200, we're giving consumers an enterprise-class speakerphone experience – effectively a new appliance – on the same PC or tablet platform that they're already using every day for communication and collaboration."